Top 10 Best Dayclubs & Pool Parties in Miami, FL
[2023 GUIDE]
With over 100 venues in Miami, there are many places to choose from whether you're looking for a crazy night out or a lounge atmosphere. Don't worry! We're going to list out the best dayclubs & pool parties in Miami that you should definitely check out.
Hyde Beach
Best pool party in Miami!
Hyde Beach offers artful mixology and cuisine from Jose Andrés — all in an over 8,000 square-foot indoor/outdoor space with a gorgeous pool and beach access.
1701 Collins Ave Miami Beach, FL 33139 United States
Miami Beach
11 AM - 6 PM Daily
Dress Code: Swim Wear
$$$$
Nikki Beach
Hot spot on the beach offering seafood amid chic decor plus a DJ-fueled scene at night. DISCOTECH EXCLUSIVE PERK - get a FREE bottle of champagne included with any VIP table reservation!
1 Ocean Drive Miami Beach, FL 33139 United States
Miami Beach
11 AM - 6 PM Mon - Thurs 11 AM - 6 PM Fri - Sun
Dress Code: Swim Wear & Casual
$$$
Surfcomber Pool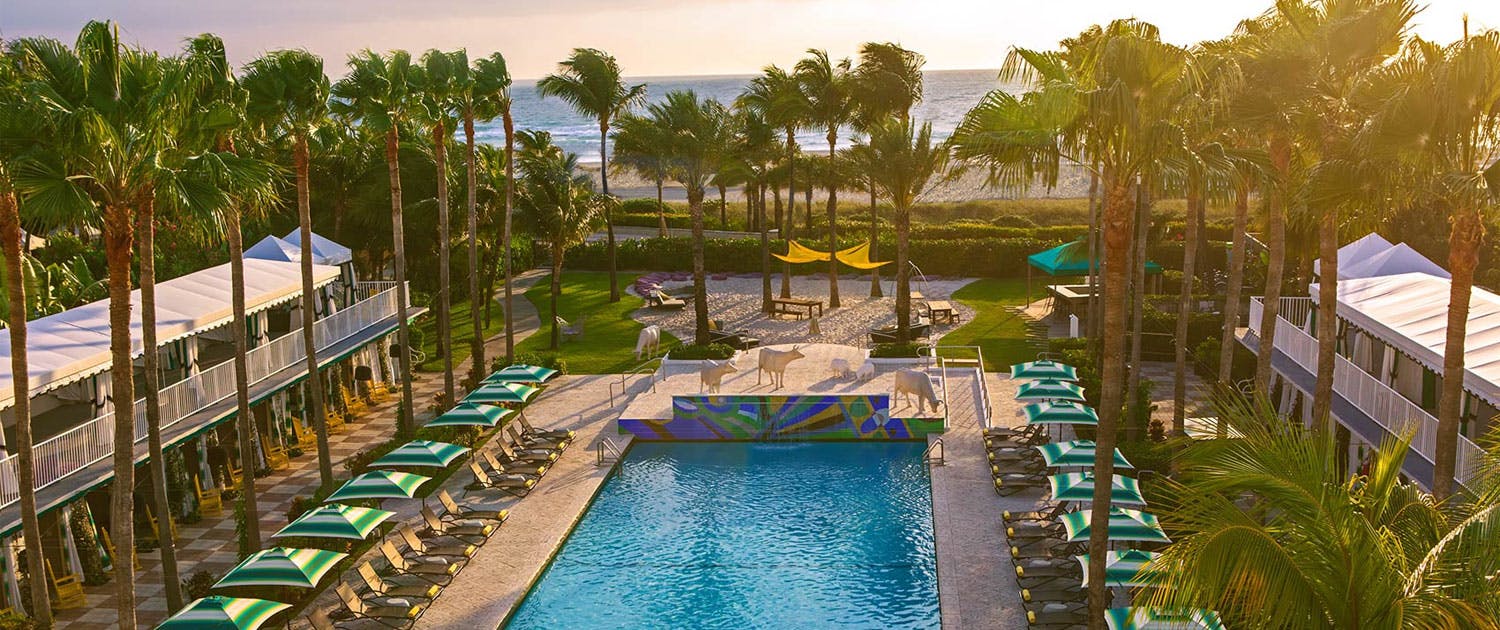 Lushly landscaped with birds of paradise, pink hibiscus and night blooming jasmine. Designed to lead you comfortably from the sensory experience of the lobby, to yet another - a pool, surrounded by palms and the ocean. DISCOTECH EXCLUSIVE PERK - get a FREE bottle of Mumm champagne with every cabana reservation!
1717 Collins Ave Miami Beach, FL 33139 United States
Miami Beach
Dress Code: Pool Wear & Casual
$
Strawberry Moon
The dynamic duo that is Pharrell Williams and David Grutman have debuted their latest restaurant in Miami, Strawberry Moon inside their new hotel, The Goodtime Hotel. The 30,000-square-foot outpost serves up a variety of casual Mediterranean dishes and cocktails aside the hotel's whimsical pastel Art Deco decor. This is the second time the two have collaborated on a restaurant, debuting Swan together in the Miami Design District in 2018.
601 Washington Ave Miami, FL 33139 United States
South Beach
$$$$
The Clevelander
Overlooking the ocean, this vibrant hotel is across from Lummus Park and 0.8 miles from the shops on Lincoln Road.
1020 Ocean Dr Miami Beach, FL 33139 United States
Miami Beach
Dress Code: Pool Wear & Casual
$$$
Altitude Pool (Brickell)
SLS Brickell
Altitude Pool deck offers a seductive urban oasis of glamor and comfort. Enjoy dedicated poolside service, while you luxuriate in signature cocktails and light fare. Spend the day poolside at SLS Brickell (note: this is not Hyde Beach at the SLS in Miami) with one of our new Cabana packages at Altitude Pool Deck. Whether you need a relaxing day in the sun, or want to bring the whole family, we have curated packages for you to experience our rooftop oasis at SLS Brickell.
1300 S Miami Ave Miami, FL 33130 United States
Brickell
$$
Baia Beach Club
Get ready to make reservations: Baia Beach Club has announced its grand opening. The waterfront restaurant, with a bar, lounge and pool deck from which to view Miami's spectacular sunsets, opens this month. The casual chic spot is part of a $20 million property-wide renovation of the Mondrian South Beach on West Avenue.
1100 West Ave. Miami Beach, FL 33139 United States
West Avenue
$
Kiki On The River
A former fish market, the glamorous Greek restaurant Kiki on the River transports diners to the Mediterranean. The food, executed by veteran chef Steve Rhee, includes tender seasoned octopus ($18), lightly fried saganaki cheese ($16), grilled then baked sea bass (MP), and fried potatoes with lemon and oregano ($9). Find a table around sunset on the restaurant's charming patio overlooking the Miami River. The view, along with the rustic furnishings, whitewashed walls, and lush greenery, is enchanting. You might even forget you're in Miami. Hours are 5 to 11 p.m. Monday through Wednesday, noon to 11 p.m. Thursday, noon to midnight Friday and Saturday, and 1 p.m. to midnight Sunday.
450 NW N River Dr Miami, FL 33128 United States
Downtown
$$$
Joia Beach
Joia beach restaurant and beach club is an upmarket, trendy establishment in a relaxed, unpretentious, and comfortable atmosphere. we take guests on a journey of all the senses, from our music selection to our food and beverages. globally inspired bites and platters designed for sharing, handcrafted cocktails, and live DJs and entertainment redefine south beach dining and transport guests to a place of pure joia.
1111 Parrot Jungle Trail Miami, FL 33132 United States
Watson Island
$
Kimpton Epic Hotel
Kimpton EPIC is an urban resort in Downtown Miami. Sun-worship poolside, relax at Exhale spa and enjoy cocktails on Area 31's patio. Downtown hotels in Miami blend urban sophistication with fun in the sun.
270 Biscayne Blvd Way Miami, FL 33131 United States
Downtown
Varies depending on events
Dress Code: Casual/Swimwear
$$
There are many other dayclubs & pool parties available in Miami like
Check out the venues section for the full list of pool parties.
Miami Pool Parties FAQ
What time does the headlining DJ usually start performing in Miami dayclubs & pool parties?
The headlining DJ will usually start performing around 1:00 PM.
How long do DJs play in Miami?
The headlining DJ or artist usually plays a 1 to 2 hour set.
What is the dress code like at Miami pool parties?
Dress code is beach-themed attire. Wear what you would wear to jump into a pool or ocean. Pool attire. Swimwear, flip flops, hats, etc are all ok. Jerseys and wifebeaters (undershirts) are not allowed. Hats are okay.
How can I get into Miami pool parties for free?
Some Miami pool parties have a free ladies guest list, and have a free even ratio guest list – free if you have the same number of girls (or more) in your party.
Keep in mind that many Miami pool parties are more exclusive and require bottle service to get in. You can sign up for the guest list on our events page.
How can I book bottle service for Miami pool parties?
You can book bottle service directly on Discotech by visiting the Miami page.
How much is bottle service at Miami dayclubs & pool parties?
Bottle service and table minimums at pool parties can get pretty expensive in Miami, but every pool party is different.
The best way to find out is to visit the events page and choose the event you're thinking of going.
Should I buy tickets to get into Miami pool parties?
If the pool party has tickets, we recommend buying tickets during holiday weekends and for big name artists. The ticket line is generally faster and shorter than the guest list.
Many pool parties in Miami are bottle service only – meaning you must book a table reservation in order to get inside.
Which Miami pool parties play EDM and electronic music?
Which Miami pool parties play hip-hop?