Best Pearl Jam Songs of All Time – Top 10 Tracks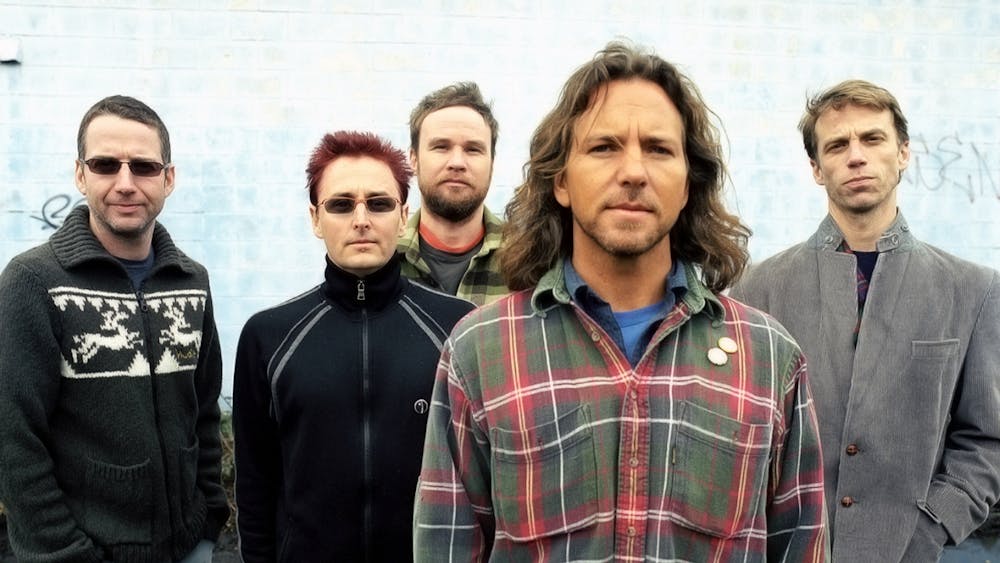 Follow Pearl Jam!
Follow Pearl Jam to get alerts about upcoming events and special deals!
Pearl Jam is an American rock band that formed in Seattle, Washington in 1990.
Pearl Jam has performed in venues such as: Bridgestone Arena, Chesapeake Energy Arena, Enterprise Center, The Forum, Gila River Arena, Hyde Park, Madison Square Garden, Oakland Arena, Pepsi Center, Scotiabank Arena
Pearl Jam has upcoming events in Ziggo Dome, Hyde Park
Without further ado, here are Pearl Jam top 10 tracks of all time:
1. Alive
2. Even Flow
3. Black
4. Jeremy
5. Last Kiss
6. Yellow Ledbetter
7. Just Breathe
8. Daughter (Remastered)
9. Better Man
10. Sirens
Pearl Jam Details
Pop, Rock
Pearl Jam is an American rock band that formed in Seattle, Washington in 1990. The band's original line-up consisted of Eddie Vedder (lead vocals), Jeff Ament (bass), Stone Gossard (rhythm guitar), Mike McCready (lead guitar), and Dave Krusen (drums). The band's current drummer is Matt Cameron, formerly of Soundgarden, who has been with the band since 1998.
Formed after the demise of Ament and Gossard's previous band Mother Love Bone, Pearl Jam broke into the mainstream with its debut album Ten. One of the key bands of the grunge movement in the early 1990s, Pearl Jam was nevertheless criticized early on as being a corporate cash-in on the alternative rock explosion. However, its members became noted for their refusal to adhere to traditional music industry practices as their career progressed, including refusing to make music videos and engaging in a much-publicized boycott of Ticketmaster. Rolling Stone described the band as having "spent much of the past decade deliberately tearing apart their own fame."
Since its inception, the band has sold 30 million records in the U.S., and an estimated 60 million albums worldwide. Pearl Jam has outlasted many of its contemporaries from the alternative rock breakthrough of the early 1990s, and is considered one of the most influential bands of the decade, and "the most popular American rock band of the 1990s". Pearl Jam continues to generate hit albums, tour successfully, and garner critical acclaim into the 21st century
Compared with the other grunge bands of the early 1990s, Pearl Jam's style is noticeably less heavy and harkens back to the classic rock music of the 1970s.Pearl Jam has cited many punk rock and classic rock bands as influences, including The Who, Neil Young, and the Ramones. Pearl Jam's success has been attributed to its sound, which fuses "the riff-heavy stadium rock of the '70s with the grit and anger of '80s post-punk, without ever neglecting hooks and choruses."
Pearl Jam has broadened its musical range with subsequent releases. By 1994's Vitalogy, the band began to incorporate more punk influences into its music.The band's 1996 album, No Code, was a deliberate break from the musical style of Ten. The songs on the album featured elements of garage rock, worldbeat, and experimentalism. After 1998's Yield, which was somewhat of a return to the straight-ahead rock approach of the band's early work, the band dabbled with experimental art rock on 2000's Binaural and folk rock elements on 2002's Riot Act. The band's latest album, 2006's Pearl Jam, was cited as a return to the band's early sound.
Critic Jim DeRogatis describes Vedder's vocals as a "Jim Morrison-like vocal growl." Vedder's lyrical topics range from personal ("Alive", "Better Man") to social and political concerns ("Even Flow", "World Wide Suicide"). When the band started, Gossard and McCready were clearly designated as rhythm and lead guitarists, respectively. The dynamic began to change when Vedder started to play more rhythm guitar during the Vitalogy era. McCready said in 2006, "Even though there are three guitars, I think there's maybe more room now. Stone will pull back and play a two-note line and Ed will do a power chord thing, and I fit into all that
Clive Davis announced in February 2006 that Pearl Jam had signed with his label, J Records, which like Epic, is part of the Sony BMG group. The band's eighth studio album, Pearl Jam, was released on May 2, 2006. A number of critics cited Pearl Jam as a return to the band's early sound, with Mike McCready having compared the new material to Vs. in a 2005 interview. "World Wide Suicide", a song criticizing the Iraq War and U.S. foreign policy, was released as a single and topped the Billboard Modern Rock chart; it was Pearl Jam's first #1 on that chart since "Who You Are" in 1996.
To support Pearl Jam, the band embarked on its 2006 world tour. It toured North America, Australia and notably Europe; Pearl Jam had not toured the continent for six years. The band served as the headliners for the Leeds and Reading festivals, despite having vowed to never play at a festival again after Roskilde. Vedder started both concerts with an emotional plea to the crowd to look after each other. He commented during the Leeds set that the band's decision to play a festival for the first time after Roskilde had nothing to do with "guts" but with trust in the audience.
In 2007, Pearl Jam recorded a cover of The Who's "Love, Reign o'er Me" for the Mike Binder film, Reign Over Me; it was later made available as a music download on the iTunes Music Store. The band embarked on a 13-date European tour, and headlined Lollapalooza in Grant Park, on August 5, 2007. The band released a CD box set in June 2007, entitled Live at the Gorge 05/06, that documents its shows at The Gorge Amphitheatre, and in September 2007 a concert DVD, entitled Immagine In Cornice, which documents the band's Italian shows from their 2006 tour was released.
Pearl Jam has "no set date" for returning to the studio. Since December 2006, band members have been demoing material on their own while remaining in contact via email. In an interview with Billboard.com in April 2007, McCready stated he had presented some ideas to Stone Gossard and Matt Cameron in separate sessions; he said "When we get it all together, we'll decide to do a record," adding, "That may be a year from now or half-a-year from now."