Top 10 Best Nightclubs in Phoenix/Scottsdale, AZ
[2021 GUIDE]
With over 42 venues in Phoenix/Scottsdale, there are many places to choose from whether you're looking for a crazy night out or a lounge atmosphere. Don't worry! We're going to list out the best clubs in Phoenix/Scottsdale that you should definitely check out.
Riot House
Best nightclub in Phoenix/Scottsdale!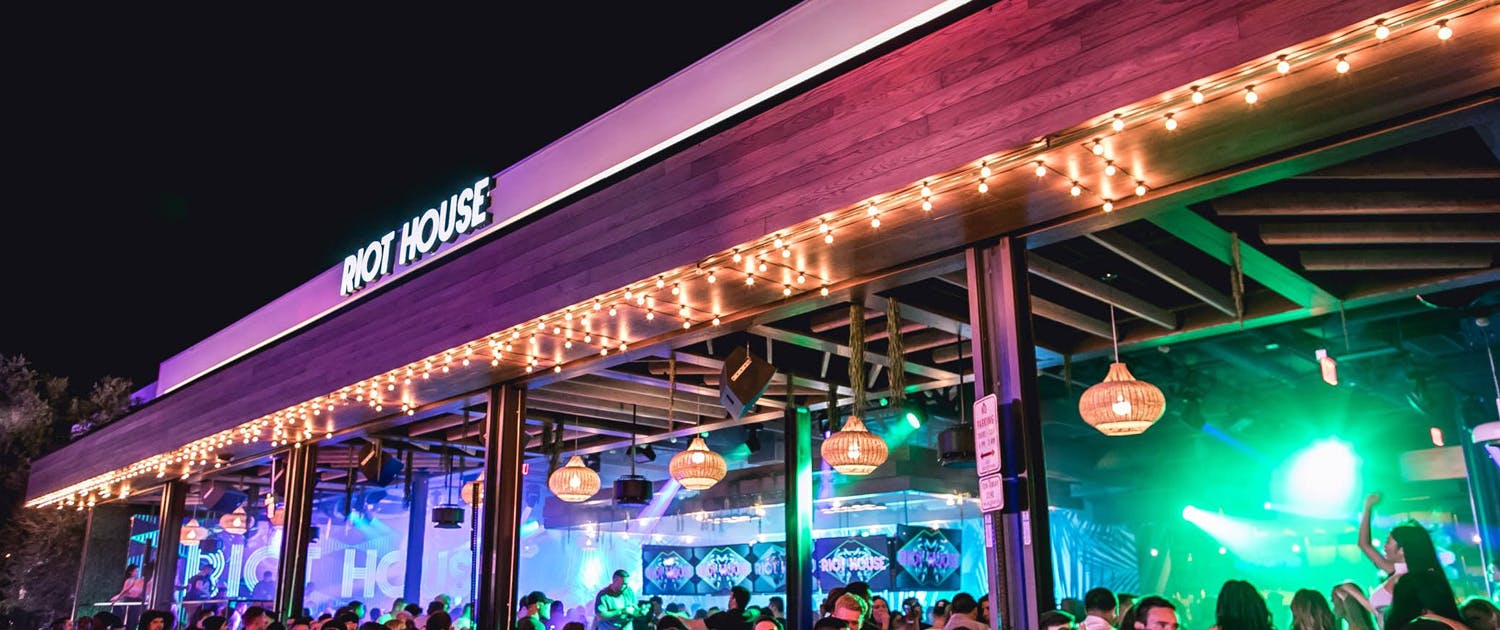 Riot House is a South Beach themed nightclub where sophistication meets excitement. The 12,000 square feet versatile space features a large center bar, well-balanced sidebar, a large dance floor, multiple private booths where guests can arrange for bottle service, an amazing tropical themed menu, and the best Audio Visual system in the state. Its opulent modern design is visible throughout the venue from the dynamic use of gold, marble, and sandalwood. At Riot House, guests are able to enjoy all types of entertainment and enjoyment, the venue hosts brunch as well as football watch parties every weekend during the season with game day food/drink specials. Open Thursday through Sunday, they have 4 nights of exhilarating nightlife for all types of party goers to enjoy. Come find out why they love to say, "Let's Start a Riot!" at this amazing venue.
4425 N Saddlebag Trl Scottsdale, AZ 85251 United States
Old Town Scottsdale
5 pm - 2 am Friday- Sunday, 8 pm - 2 am Thursday
Dress Code: Casual
$$
Bottled Blonde
The Bottled Blonde is the casual hybrid between restaurant and nightclub. Located in the heart of Old Town Scottsdale's bustling Entertainment District, guests will be able to enjoy the best pizza and beer in town. The 7,500 square foot space takes the al fresco concept to the next level and plays the rustic beauty of the restaurant up until it looks like it was meant to be the scene of the best nightlife in the area. By combining aspects of the classic Italian kitchen, German beer garden, and East Coast brewery, the Bottled Blonde is able to offer to its customers a space that feels distinctly American and communal with the blending of cultures. After the kitchen closes after dinner, the venue transforms into a full fledged, high energy club party with bottle service and live DJs spinning. Whether you're there because you want to enjoy some grub and have a relaxing evening or you want to get drunk and let loose on the dance floor, the Bottled Blonde is there to make all your dreams a reality.
7340 E Indian Plaza Scottsdale, AZ 85251 United States
Old Town Scottsdale
Dress Code: Trendy
$$
Whiskey Row
Dierks Bentley's Whiskey Row is an American Gastropub unlike any other. This one of a kind restaurant, bar, and nightclub stands out with its award-winning food/drinks, exhilarating nightlife, and a rock n roll vibe inspired by Dierks himself, in their jam packed space. With a 360° stage and a huge 24 ft TV to watch all of the sporting events and entertainment around, guests will never have a second to feel bored in this intense and lively venue. Whiskey Row is also one of the most high-tech bars in Arizona. Their iPad technology system keeps tabs on managing the audio and video system from anywhere in the room, which allows them to provide their guests with truly stellar music and performances to get down to. The atmosphere of Whiskey Row is tailored to meet patron's every need, from a highly trained and welcoming staff that rush to provide guests with amazing drinks and service, to a pumping playlist that keeps playing all not long, to the phone charging stations at the bar, at Whiskey Row you'll find everything to have the ultimate clubbing experience.
4420 N Saddlebag Trail Scottsdale, AZ 85251 United States
Old Town Scottsdale
Dress Code: Trendy
$$
INTL
INTERNATIONAL is a boutique Champagne Bar/Nightclub that was conceived through years of travel across the world. International brings Scottsdale the best party experiences and culture from every corner of the globe. We feature state of the art sound and visual effects with premier bottle service, mixology, and live entertainment.
4405 N Saddlebag Trail Scottsdale, AZ 85251 United States
Old Town Scottsdale
Dress Code: Strict
$$$
El Hefe
El Hefe Super Macho Taqueria is not your typical taco joint in Scottsdale, Arizona. While most folks are spending Sunday evening winding down, the party is just getting going at the popular Mexican themed restaurant and nightclub. The place has a relatively relaxed, easy environment, making it a perfect spot to grab a bite and some drinks with friends featuring dishes made up of delicious tortillas and some of the best tacos in town as well as beer-garitas throughout the day. After darkness falls, the atmosphere morphs into an electric dance party fueled by strong drinks and great music that provides endless entertainment throughout the night. Every weekend, the "super macho taqueria" and nightspot serves up its 4-2-10 Sunday party, which features a large variety of drinks, great music, and endless dancing. The in-house DJ spins a lively mix of Top 40's, hip-hop, and electro-house hits every night that will have guests get up from their table or booth to go join the party on the dance floor.
4425 N Saddlebag Trail Scottsdale, AZ 85251 United States
Old Town Scottsdale
Dress Code: Trendy to Strict
$$
Casa Amigos
Casa Amigos combines Mexican flair with Scottsdale style, creating a chic space that embodies the warm beauty of the southwest. In this red brick enclosed structure, a lively restaurant and bar concept comes to life that showcases bright walls accented with colorful custom artwork and traditional Mexican tile work. The club was designed by an HGTV designer and features an expansive patio which is transformed in the ultimate dance floor at night with pulsing colorful lights and a stellar sound system thumping out Top 40's beats. There's also a boutique bowling alley upstairs called Skylanes, which adds to the after-dark action and flashing lights aesthetic, and an island bar that never stops pouring a bevy of tasty margaritas as well as VIP sections for tables with bottle service. When the sun goes down, Casa Amigos turns into a high-energy nightclub.
7320 E Indian Plaza Scottsdale, AZ 85251 United States
Old Town Scottsdale
Dress Code: Casual
$$
Hi Fi
The latest creation from the nightlife development company Evening Entertainment Group, Hi Fi is a music focused, retro inspired club that is open well into the night with a creative and extensive menu of cocktails, boozy milkshakes, and classic American food. The massive structure of Hi Fi juxtaposes old school rock n' roll theme art and accents with advanced audio/visual components to create a space that is both modern and rustic. Two centerpiece design features dominate the visuals: a vintage speaker wall erected with wood-framed speakers and throwback black and white televisions, giving way to the showstopper – a digital graffiti wall that will project an ever-evolving array of 3D images that will morph the mood throughout the night. Hi Fi has dual spaces for guests that are both inside and outdoors which are separated by glass garage doors. The outdoor patio features a 360° island bar, an elevated lounge-style seating area, plus two community tables, outdoor high-tops, and resort-style lounge furniture.
4420 N Saddlebag Trail Scottsdale, AZ 85251 United States
Old Town Scottsdale
Dress Code: Trendy
$$
Three Wisemen
Three Wisemen is the brainchild behind Scottsdale business owners Gem Ray and Bunti Singh, who set out to create something that stands out among the rest of the lively Entertainment District of Old Town Scottsdale. "We love the energy and the dynamics of Old Town Scottsdale," said owner Gem Ray who went on to say their goal was to bring "a new concept for all patrons to have something a little different in the Entertainment District." Located south of Maya Day + Nightclub next to Joe's New York Pizza, the spot not only serves as a bar but it also serves up feel-good comfort foods like tamales, elotes, gyros, and turkey legs. Ray recommends ordering the turkey burger and chips. Designed by several of the bar's teams members, the interiors feature walls with a weaved-like structure, low lighting, a central bar, TVs and more, perfect for kicking back and sipping on some whiskey.
7323 E Shoeman Ln Scottsdale, AZ 85251 United States
Old Town Scottsdale
Dress Code: Casual
$$
Aura
AURA Nightclub, Venue, and Lounge located at 411 South Mill Avenue Tempe AZ 85281 is the hottest spot for entertainment, dancing, and cocktails.
411 S Mill Ave #201 Tempe, AZ 85281 United States
Tempe
8pm - 2am Wed, 10pm-2am Thu-Sat
Dress Code: Casual
$$
Monarch Theatre
Sovereigns of heavy bass, deep house, and genuine downtown performance entertainment, the proprietors mutually known as Solstice Management Group expanded the distinct city presence on the Washington Street block through the investment and development of the Monarch Theatre venue.
122 E Washington St Phoenix, AZ 85004 United States
Downtown Phoenix
Dress Code: Strict
$$
Phoenix/Scottsdale Nightclubs FAQ
What time does the headlining DJ usually start performing in Phoenix/Scottsdale clubs?
The headlining DJ will usually start performing around 12:00 AM.
How long do DJs play in Phoenix/Scottsdale?
The headlining DJ or artist usually plays a 1 to 2 hour set.
What is the dress code like at Phoenix/Scottsdale nightclubs?
Guys can wear nice jeans and a form fitting plain t-shirt or a nice button down shirt. Girls can wear jeans or a comfortable but stylish dress if they prefer. Of course guys and girls can never go wrong with dressing up even more – there is no such thing as overdressing when it comes to clubs.
How can I get into Phoenix/Scottsdale nightclubs for free?
Some Phoenix/Scottsdale nightclubs have a free ladies guest list, and have a free even ratio guest list – free if you have the same number of girls (or more) in your party.
Keep in mind that many Phoenix/Scottsdale nightclubs are more exclusive and require bottle service to get in. You can sign up for the guest list on our events page.
How can I book bottle service for Phoenix/Scottsdale nightclubs?
How much is bottle service at Phoenix/Scottsdale clubs?
Bottle service and table minimums at nightclubs can get pretty expensive in Phoenix/Scottsdale, but every nightclub is different.
The best way to find out is to visit the events page and choose the event you're thinking of going.
Should I buy tickets to get into Phoenix/Scottsdale nightclubs?
If the nightclub has tickets, we recommend buying tickets during holiday weekends and for big name artists. The ticket line is generally faster and shorter than the guest list.
Many nightclubs in Phoenix/Scottsdale are bottle service only – meaning you must book a table reservation in order to get inside.
Which Phoenix/Scottsdale nightclubs play EDM and electronic music?
Which Phoenix/Scottsdale nightclubs play hip-hop?
Neighborhood Guides & Articles about Phoenix/Scottsdale