Best Sublime with Rome Songs of All Time – Top 10 Tracks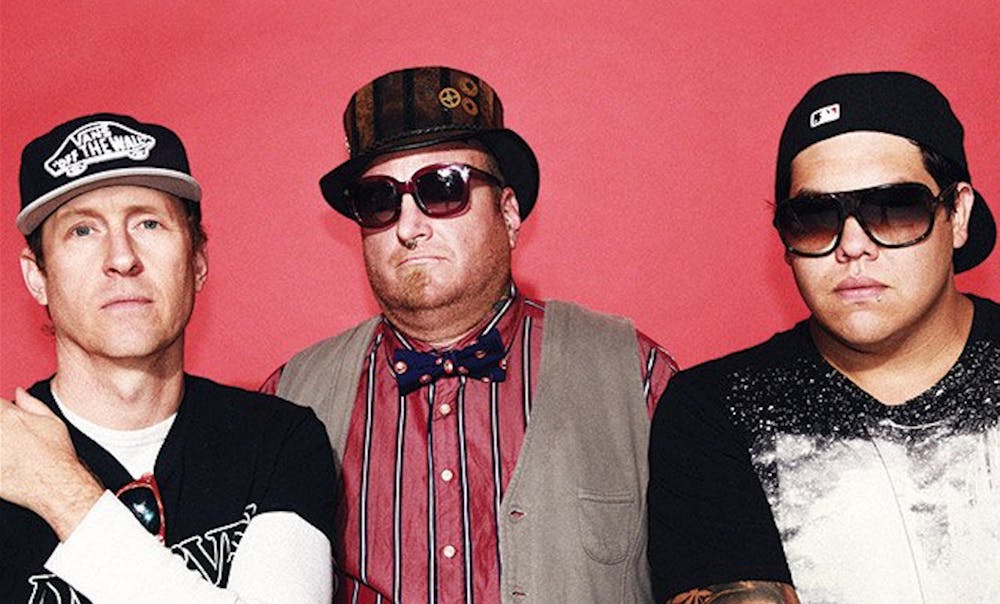 Follow Sublime with Rome!
Follow Sublime with Rome to get alerts about upcoming events and special deals!
One day, about two years ago, Bud Gaugh, the drummer for Sublime, one of the most beloved and commercially successful rock bands of the '90s, received a call from Eric Wilson, Sublime's bassist and Gaugh's long-time but somewhat estranged friend.
Sublime with Rome has performed in venues such as: North Island Credit Union Amphitheatre, Ak-Chin Pavilion, Marquee Theatre, White River Amphitheatre, Red Rocks Amphitheatre, Amphitheater at White River State Park, Art with Me, August Hall, Azura Amphitheater, Blossom Music Center
Sublime with Rome has played in major festivals like Art with Me, California Roots Festival, Oceans Calling Festival, Hangout Festival
Sublime with Rome has upcoming events in Walmart Arkansas Music Pavilion, Dos Equis Pavilion, The Cynthia Woods Mitchell Pavilion, Germania Insurance Amphitheater, Ak-Chin Pavilion, USANA Amphiteatre, Shoreline Amphitheatre, FivePoint Amphitheatre, North Island Credit Union Amphitheatre, RV Inn Style Resorts Amphitheater
Without further ado, here are Sublime with Rome top 10 tracks of all time:
1. Blackout
2. Take It or Leave It
3. Wherever You Go
4. Goodbyes
5. You Better Listen
6. Light On
7. Sirens (feat. Dirty Heads)
Sublime with Rome, Dirty Heads
8. Wicked Heart
9. Only
10. Can You Feel It (feat. Wiz Khalifa)
Sublime with Rome Details
Rock, Rap / Hip-Hop
One day, about two years ago, Bud Gaugh, the drummer for Sublime, one of the most beloved and commercially successful rock bands of the '90s, received a call from Eric Wilson, Sublime's bassist and Gaugh's long-time but somewhat estranged friend. Wilson said he had been working with a kid he thought Gaugh should meet -- a 20-year-old singer and guitarist named Rome Ramirez. "The call came out of the blue, we hadn't talked in a couple of years," Gaugh recalls. "Eric said, 'This guy Rome can play guitar like a mofo and he's got a platinum voice.' It really struck me because those are almost the exact same words he used before he introduced me to Brad."
"Brad," of course, is Bradley Nowell, the singer and guitarist who joined childhood friends Wilson and Gaugh in Long Beach, CA, in 1988 to form Sublime, which, over the course of its three albums -- 1992's double-platinum 40oz. to Freedom, 1994's gold Robbin' the Hood, and 1996's 5x-platinum self-titled major-label debut -- delivered an irresistible blend of ska, reggae, punk, surf rock, and hip-hop that captured the imagination of fans around the world, and has now sold more than 17 million albums worldwide. Nowell died of a heroin overdose two months prior to the release of Sublime, which reached No. 13 on the Billboard Top 200, sold six million copies, and spawned such hits as "What I Got," "Santeria," and "Wrong Way," which remain radio staples across with country. ("Date Rape," from 40oz. to Freedom, is the all-time most requested song on influential Los Angeles rock radio station KROQ, which has listed Sublime as its No. 3 act in its annual "Biggest Bands" list for the last six years.) Profoundly affected by Nowell's death, Sublime's two surviving members never considered performing the group's music live without their frontman.
It took the talent and enthusiasm of Rome Ramirez -- a genial, now 23-year-old newcomer and gifted songwriter and musician -- to serve as a catalyst to bring the two old friends back together. Growing up in the Bay Area, Rome was introduced to Sublime's music by his uncle, and credits the band with inspiring him to first pick up a guitar and learn to play at age 11. "It was the first time I ever really wanted to make music as opposed to just listen to it," he says. Rome began singing and writing songs as a teenager and was playing solo gigs around the Bay Area when he met Wilson (the two were recording at the same studio).
After several months jamming out Sublime songs with Rome, Wilson made that call to Gaugh. Now Gaugh, Wilson, and Rome have formed Sublime With Rome, which will release its debut album, Yours Truly (produced by Butthole Surfers guitarist Paul Leary), and entertain fans with a set-list of new songs and Sublime favorites when the band hits the road over the next year.
The trio knew they were on to something special after performing their first big show with Rome at Cypress Hill's Smokeout Festival in October 2009 for 20,000 people, followed by a sold-out tour in March 2010 that inspired spontaneous sing-alongs and writhing mosh-pits at every stop. "When we walked out on stage, there was a feeling of excitement," Gaugh recalls of Smokeout. "People were cheering and waving their arms and shouting 'We love you.' It took me by surprise. I didn't realize how emotional I was going to feel. I had to pause for a minute to settle down. My heart started racing and tears started welling up in my eyes because I was thinking of Bradley. Then we got started and it was just really cool. Seeing the smile on Eric's face, and his excitement over playing this music again, that was enough for me. I knew then that it was definitely coming from a good place."
It was a similar feeling, Rome says, when Wilson introduced him to Gaugh at Gaugh's home eight months before. The trio set to work jamming, playing songs by their common favorites, the Misfits, Circle Jerks, Bob Marley, and Led Zeppelin, before getting into such Sublime songs as "What I Got," "Don't Push," "New Thrash," and "Garden Grove." "It was awesome," Rome says of the jam session, which lasted 10 hours. 'Like I always say, 'If nothing else, at least I got two best friend brothers talking to each other again.' That's priceless."
"It felt really good to play the songs," Gaugh says. "I feel like we are paying homage to the music that we created and to the legacy of the band in the simple fact that there's a need for this music to continue to be heard by new generations." Seeing Rome's enthusiasm was a huge inspiration for both him and Wilson. "You can't fake it in this business," he says. "It's art. It has to be real and true otherwise nobody will believe it. I saw that desire to create something real in Rome's heart."
The result is Yours Truly, which both picks up where Sublime left off and builds on what they've accomplished, thanks to the fresh infusion of energy from Rome, who brought Gaugh and Wilson lyrics, melodies, and chords he'd written over the past few years. Songs like first single "Panic" (already a Top 5 Modern Rock hit), "Take It Or Leave," and "You Better Listen" are reminiscent of vintage Sublime, while songs like "Lover's Rock" and "Murdera" pick up on the reggae dancehall style the band had begun exploring in 1996. "Paper Cuts" has a distinct punk flavor, while "PCH" and "Spun" have more of a rock-pop feel. "The songs we wrote in 1996 were on the cusp of where we were intending to go, but our musical abilities just weren't up to speed yet," Gaugh says. "So that was a jumping-off point. We also had to consider what has happened in music since then. Hip-hop has changed, rock has changed, and now there are all these other bands who have a similar sound to us. So we thought, 'What are our influences now? We've gone through Latin and African jazz, blues, and psychedelic music. Where would we be right now if all three of us were still together?'"
Pressed to describe Yours Truly, Gaugh says, "It's just good music. It's got a good feel in the beat. Rome's lyrics are relatable and written about real-life situations. I've been told on a number of occasions, 'Wow, your music really helped me get through a tough time,' so I think people identify with it. That's the great thing about our fans. I love them to death because they are some of the craziest music-loving people in the world. They take ownership of it, like, 'This is my band. This is my music.'"
Of course, not far from everyone's mind was what Bradley Nowell might think. "I just have to refer back to that moment at Smokeout when I looked across the stage and saw an ear-to-ear grin on Eric Wilson's face and thought, 'Why wouldn't Brad want this? Why wouldn't Brad want his two best friends to be loving each other and performing the wonderful music that we created together on stage?' That's what I think he'd think."