Top 10 Best Pool Parties in Bali, ID
[2021 GUIDE]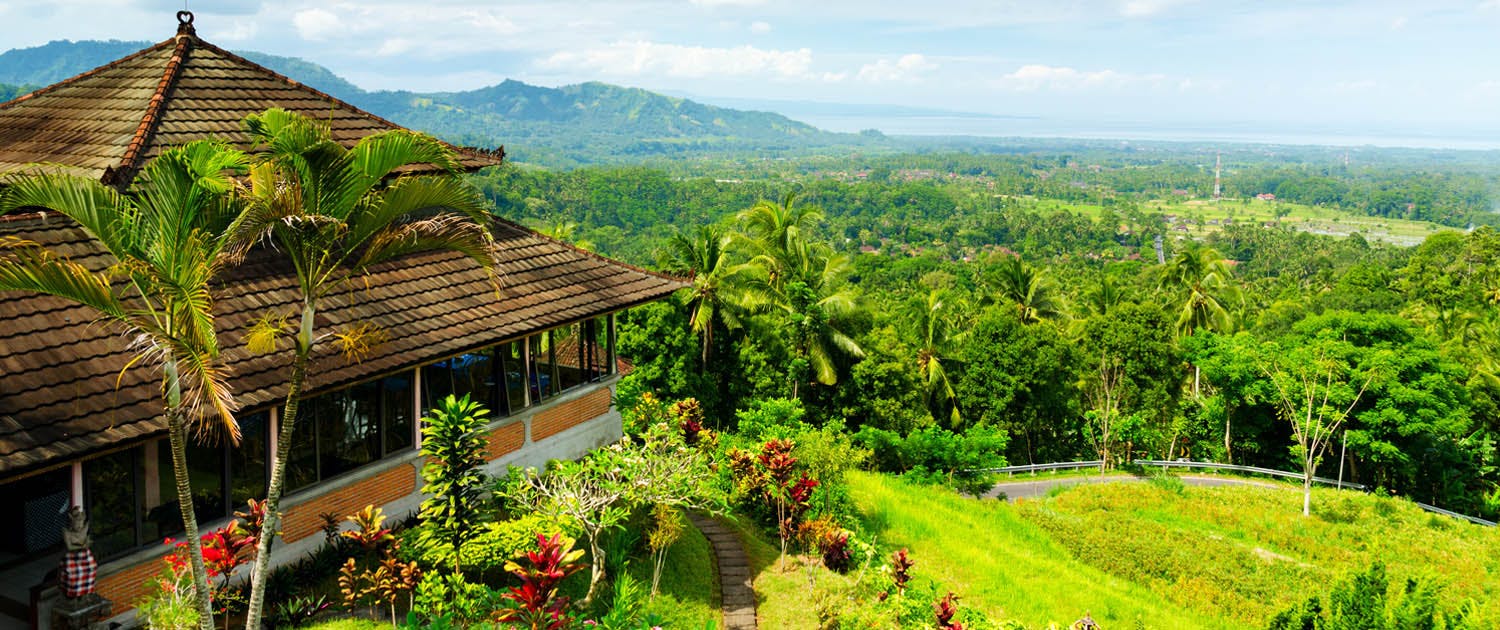 Here's the list of the best dayclubs in Bali that you should definitely check out.
Omnia
Best pool party in Bali!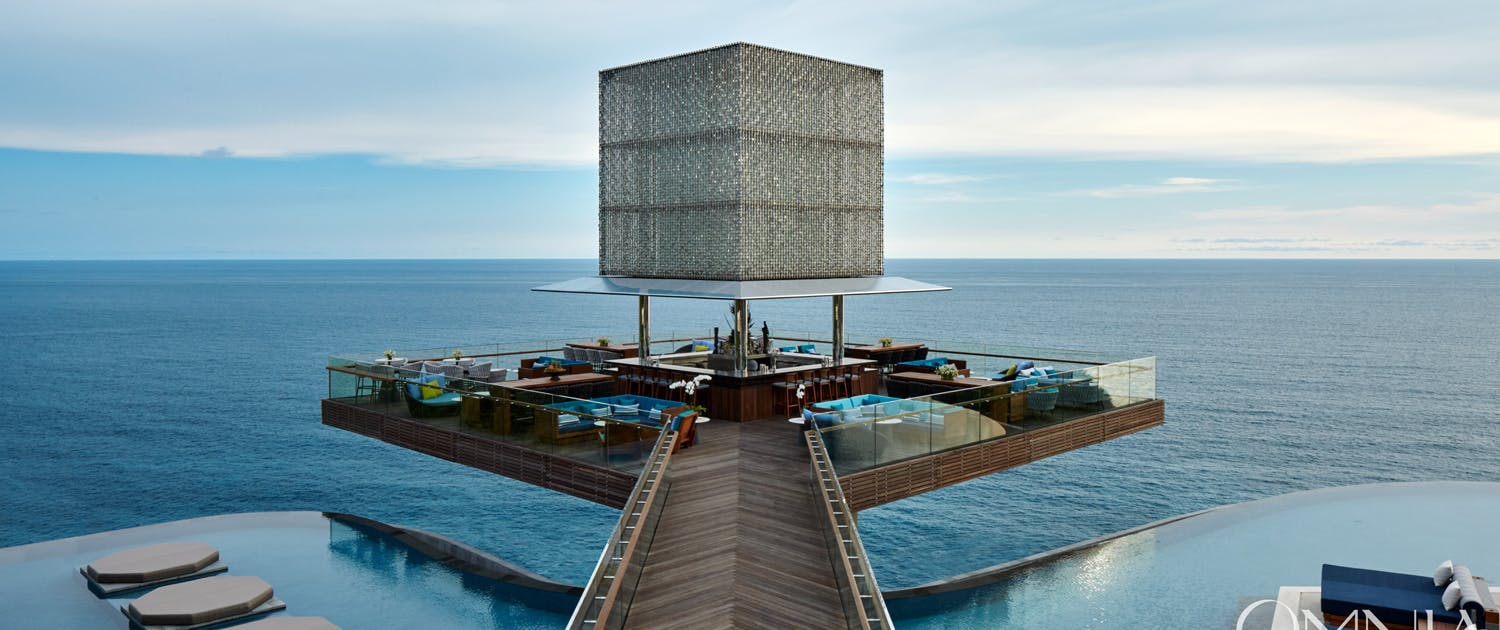 Boasting majestic and uninterrupted views of the Indian Ocean, OMNIA Bali has arrived! Located on the south-western tip of the Bukit Peninsula of Bali, Indonesia, OMNIA provides an all-day dayclub destination where the experiences are uniquely found and many in number.
Jl. Belimbing Sari | Banjar Tambiyak, Desa Pecatu Bali, ID 80364 Indonesia
Uluwatu
11 am - 10:30 pm Sat - Sun
Dress Code: Casual/Swimwear
$$
Potato Head Beach Club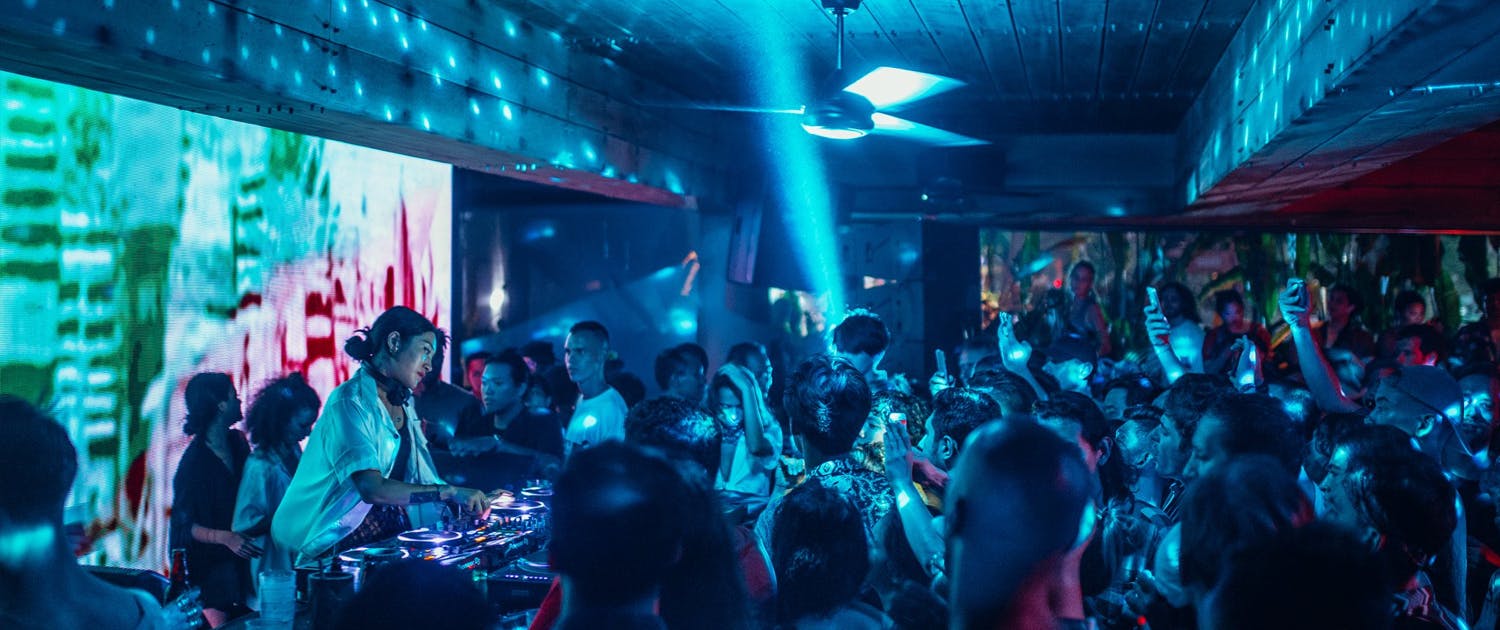 Potato Head Beach Club is one of the most happening chill-out venues in Seminyak, joining the array of world-class hotspots that line this upscale, cosmopolitan coastal village. The venue is next door to the W Retreat, and its access from the main Jalan Petitenget road is similar to W's, with a long and narrow lane that transports you to a world of drinks, dining and partying on a large lawn beachfront. From the end of the driveway, you'll see the quirky architecture of the beach club, particularly its trademark towering feature comprising a patchwork of old and worn teakwood window shutters. Designed by 'cinematic' architect Andra Matin, the signature structures and main venue resembles a stadium or coliseum, and the thin curved path into the beach club even makes you feel like a gladiator entering battle
Jl. Petitenget No. 51 Bali, ID 83061 Indonesia
Seminyak
10 am - 2 am Daily
Dress Code: Casual/Swimwear
$$
Finns Beach Club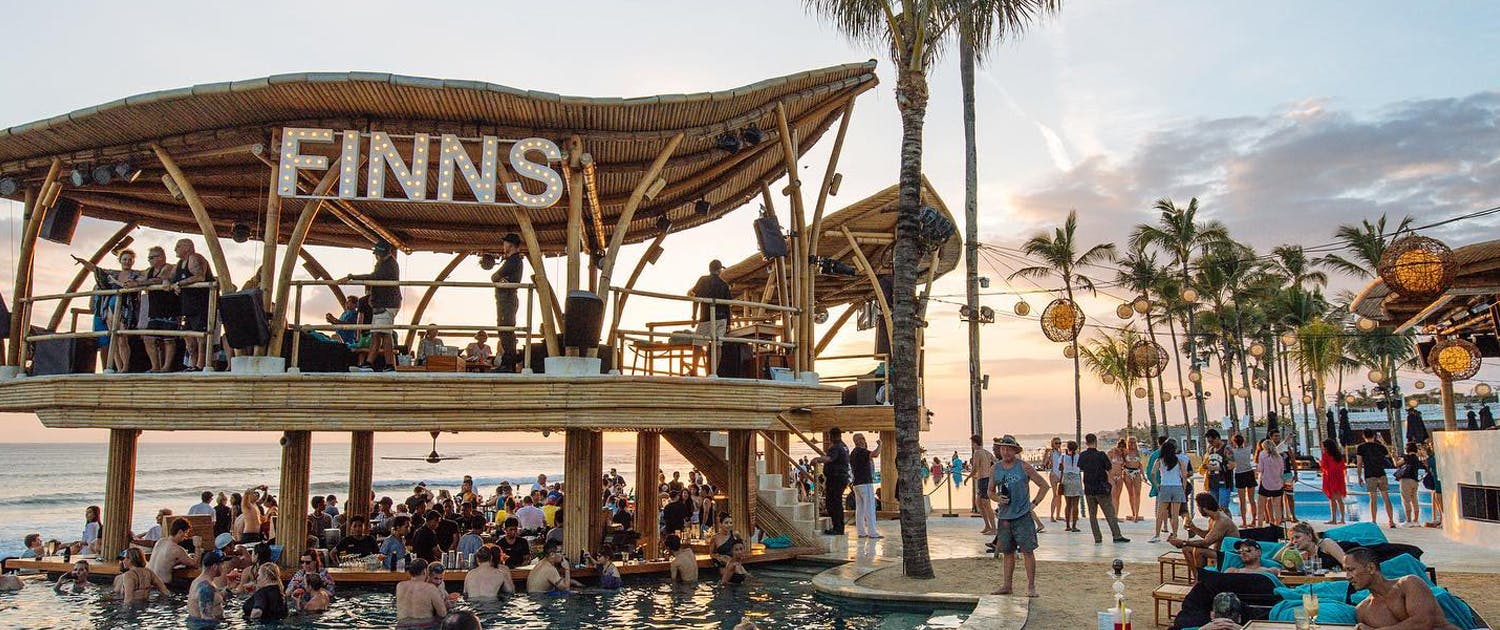 Absolute beachfront in front of Berawa surf break, but only 10 minutes from Seminyak, Finns Canggu brings everything you love about Finns plus more!
Jalan Pantai Berawa, Canggu Badung Bali, ID Bali Indonesia
Tibubeneng
9 AM - 11 PM
Dress Code: Casual/Swimwear
$$
Ku De Ta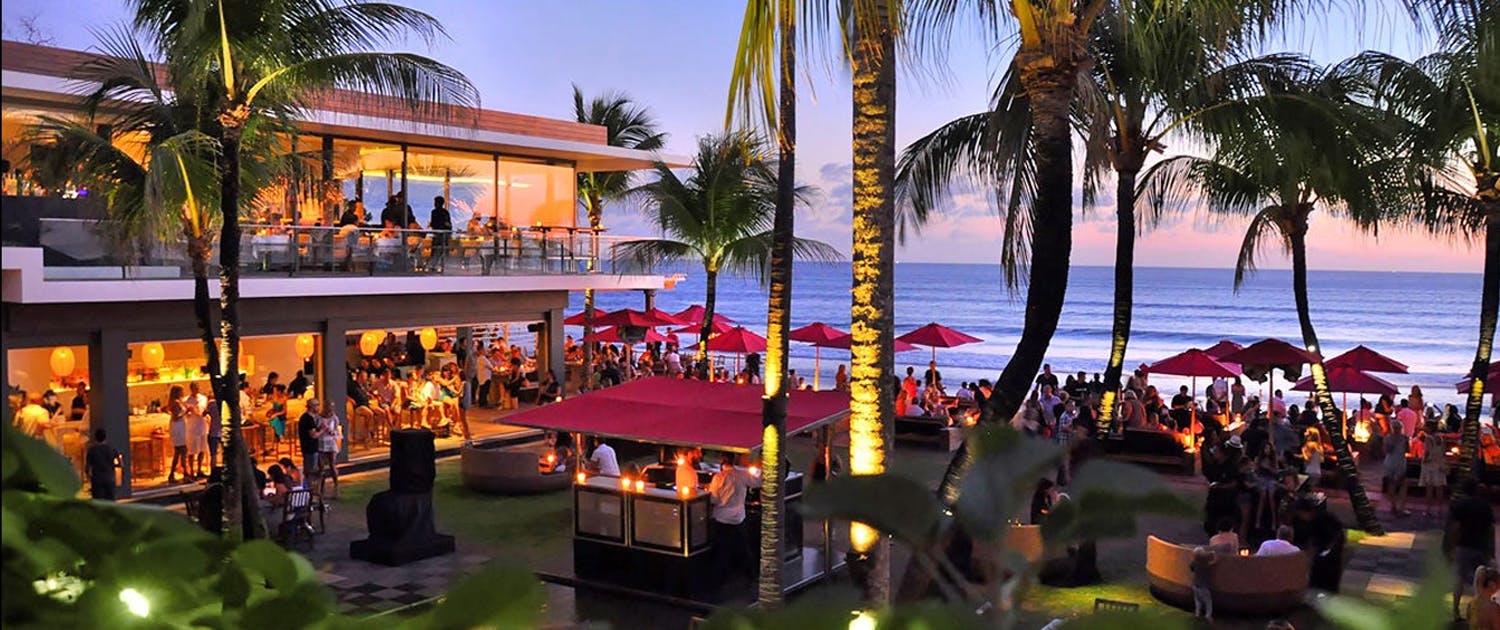 As Bali's original sunset destination, Ku De Ta is a restaurant, bar and beach lounge set to an eclectic soulful soundtrack with panoramic views across the Indian Ocean. Open from 8am until late, they serve a variety of dining options from informal grazing to relaxed fine-dining throughout their open plan venue.
Jl. Kayu Aya no.9 Bali, ID 80361 Indonesia
Seminyak
8 am - 1 am Daily
Dress Code: Casual/Swimwear
$$
Jungle Fish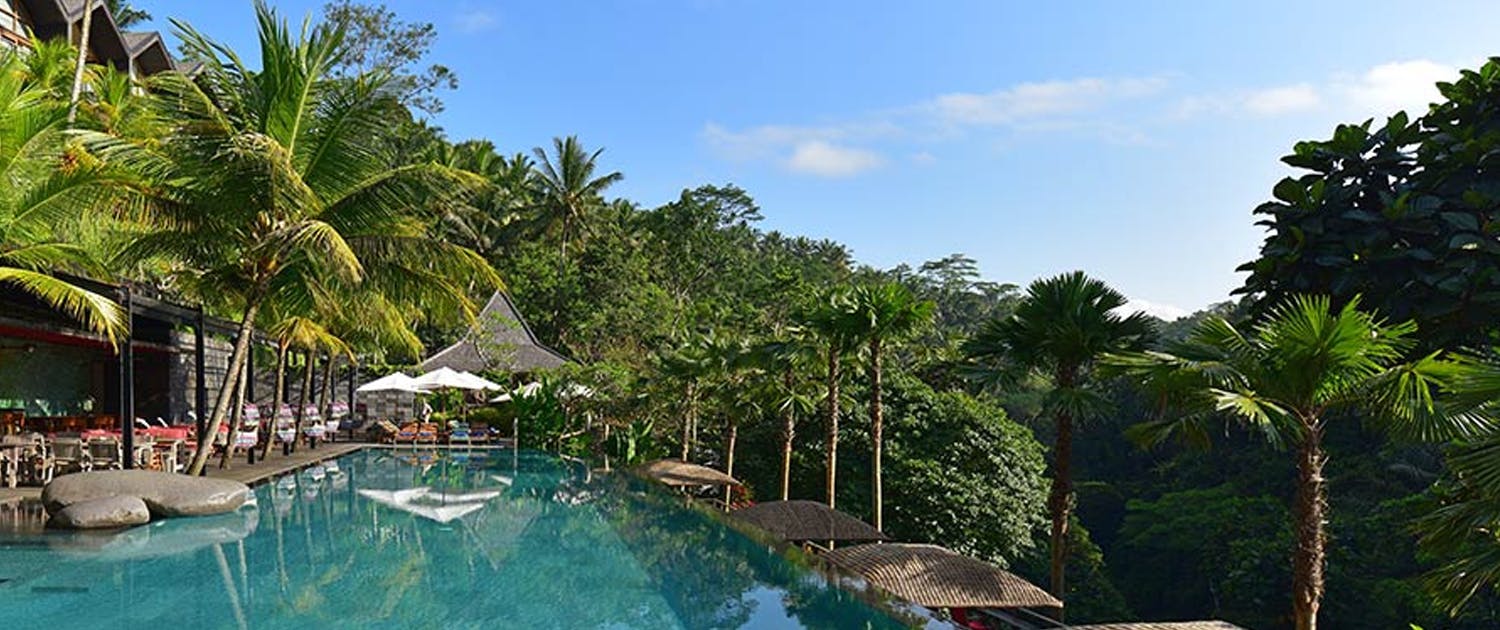 Jungle Fish Pool Bar is Ubud's famous open-air, split-level restaurant with a pool and swim-up bar in Bali, that fuses Balinese elegance with understated mid-20th century Danish styling. Our resident and non-resident pool guests can enjoy its Indonesian and International menu selection, and also its classy club-like swim-up pool bar section, where you can listen to music, while enjoying a cocktail and snacks.
Jalan Raya Sebali Bali, ID 80561 Indonesia
Ubud
7:30 AM - 11 PM
Dress Code: Casual/Swimwear
$$
Single Fin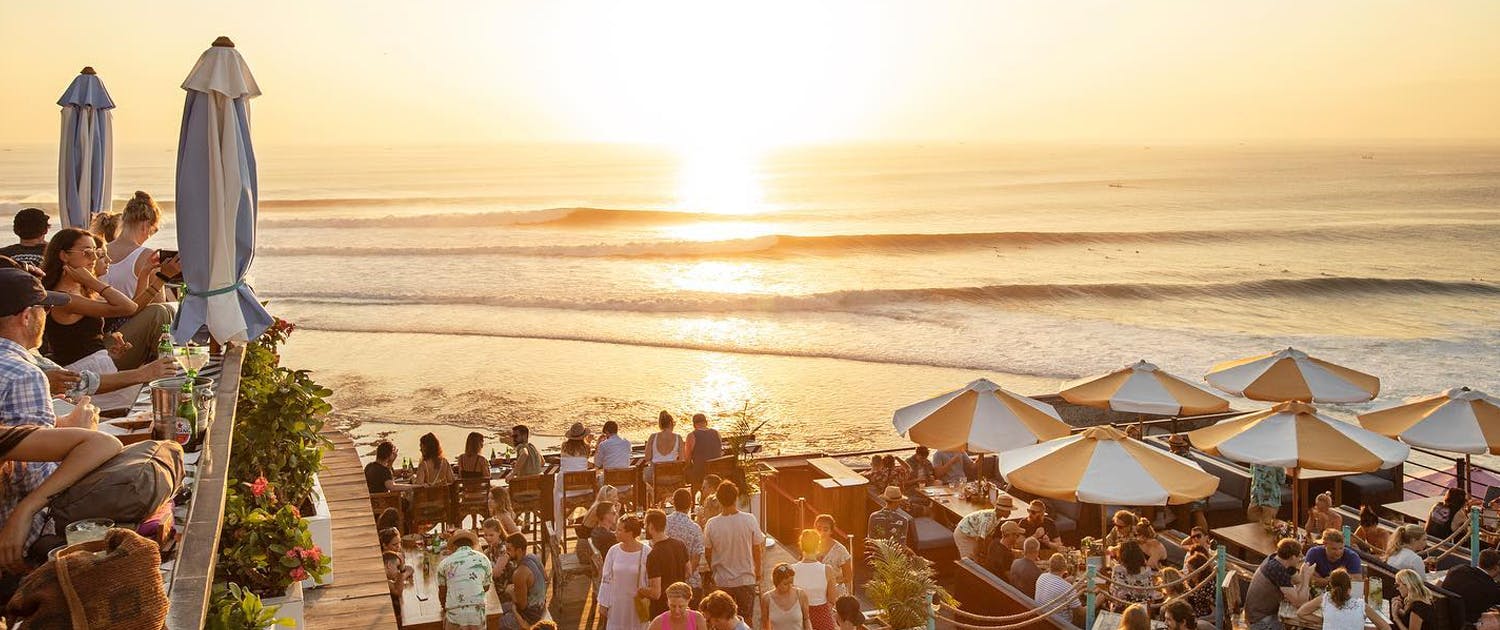 Single Fin is Uluwatu's hippest cliff-top bar that evolved from a surfers' hangout into a fully-fledged sunset chill-out and live entertainment spot. The bar is usually packed at sunset and over the weekends when jam sessions take place.
Jl. Labuan Sait Bali, ID 80361 Indonesia
Uluwatu
8 AM - 12 AM
Dress Code: Casual/Swimwear
$$
Tropicola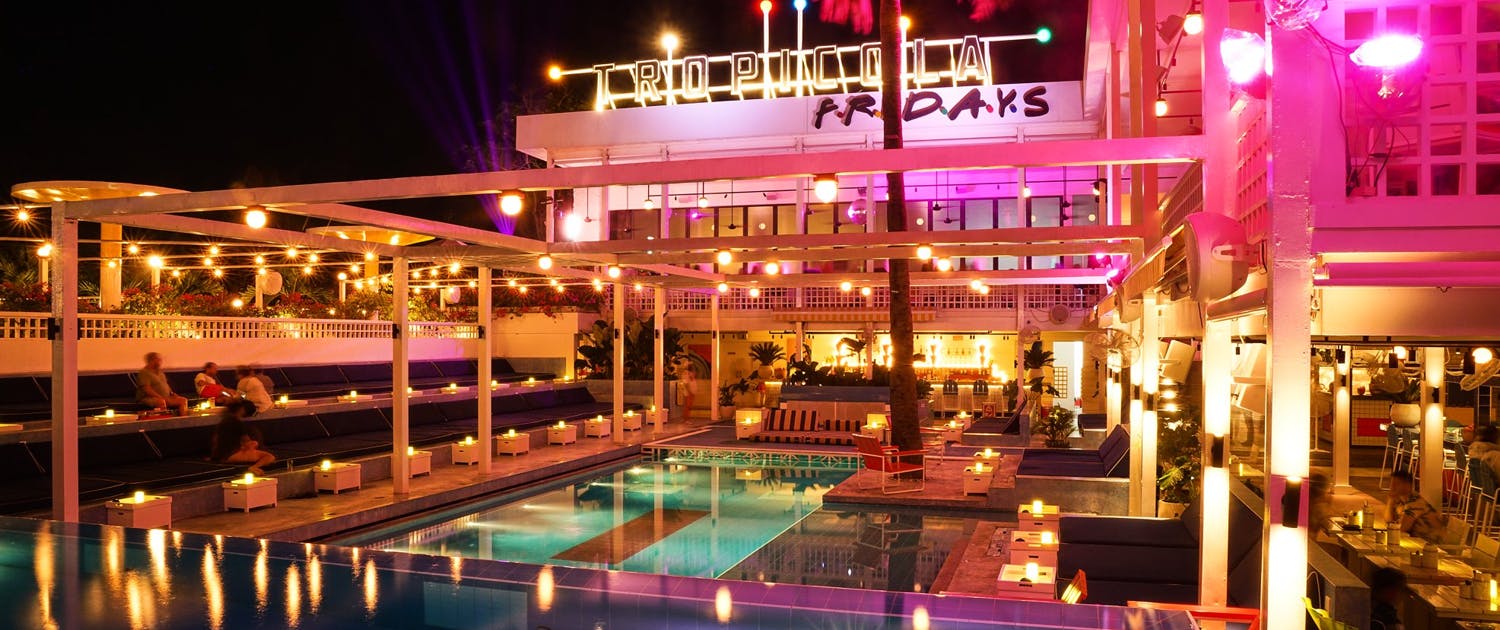 Tropicola provides for long lazy days and fun, balmy nights. It's a mansion and playground for the new jet set that deliberately evokes nostalgia from another era, bringing a Slim Aarons picture to life for friends to relax and party by the beach from 11am to midnight every day.
jalan pantai batu belig no 5 Bali, ID 80361 Indonesia
Seminyak
11 am - 10 pm Daily
Dress Code: Casual/Swimwear
$$
Ulu Cliffhouse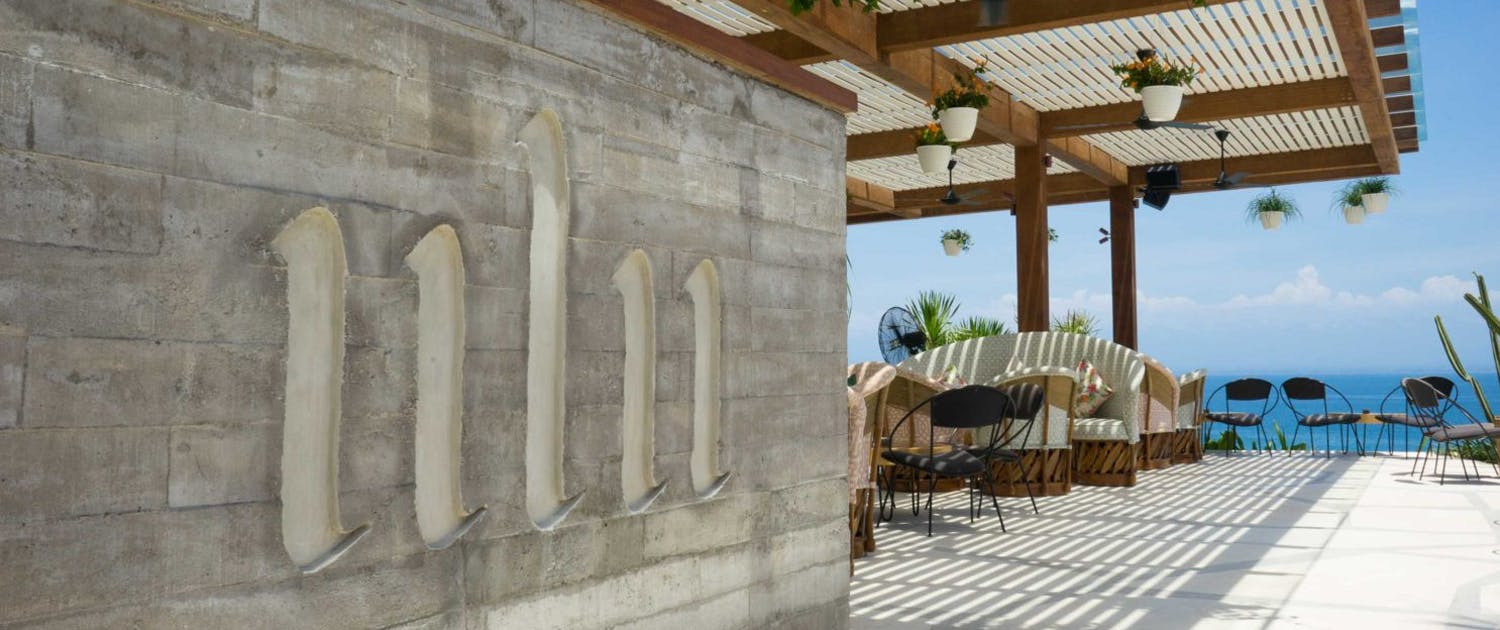 A BREATHTAKING EXPERIENCE ON THE CLIFFS OF ULUWATU Harnessing the energy and boldness from the rolling waves and vast expanse of ocean below, Ulu Cliffhouse embraces the raw natural beauty of the Bukit Peninsula with its stunning Uluwatu location and a design that combines intimate spaces and tantalising experiences in a cliff top playground
Jl. Labuan Sait Raya No. 315 Bali, ID 80361 Indonesia
Uluwatu
11 AM - 10 PM Sun - Thu, 11 AM - 12 AM Fri - Sat
Dress Code: Casual/Swimwear
$$$
Karma Beach Club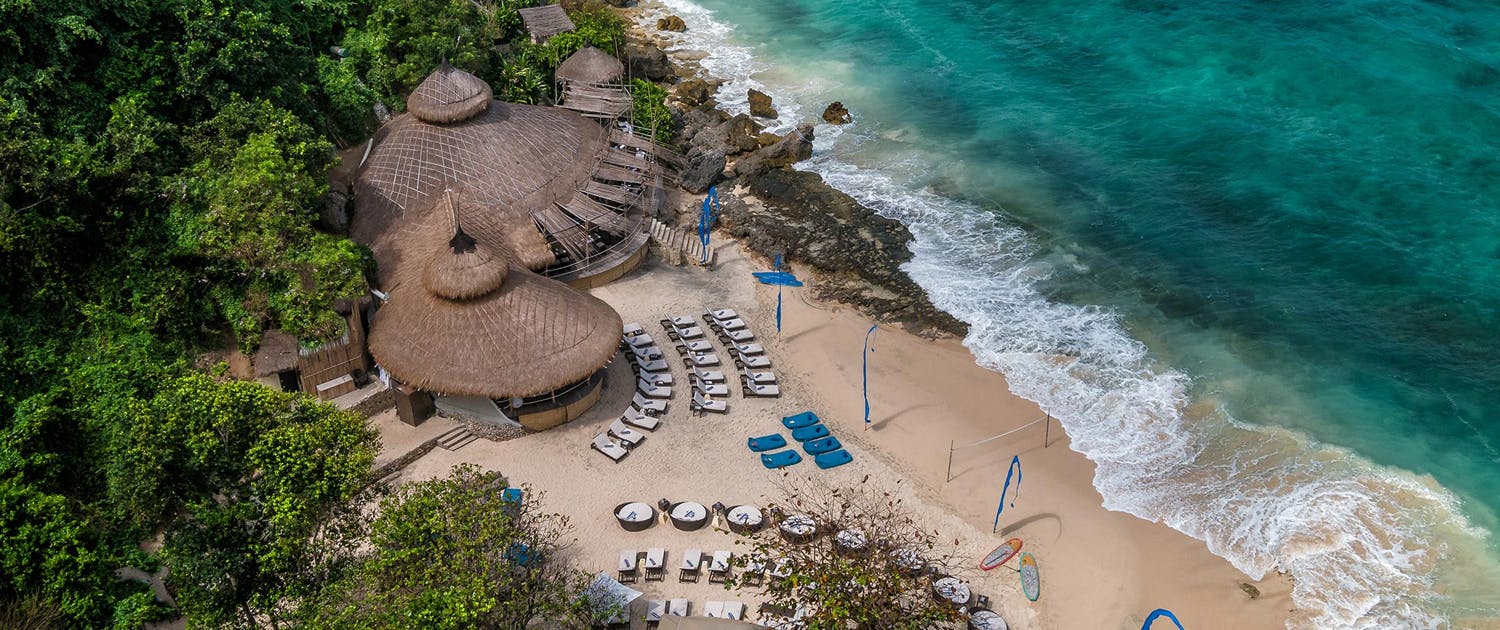 Karma Beach Bali is Karma Kandara's internationally renowned beachfront venue, elevating laid-back, jet set style to new heights. The newly re-branded Karma Beach Bali is styled after a sensual, wind-swept beach cabana and the restaurant is organically designed with locally grown yellow bamboo, classic thatched roofing, white-washed timber furnishings and sexy misting fans to keep hot guests cool. Karma Beach Bali is one of the only truly private beach venues on Bali, personally selected by Chairman John Spence for its stunning beauty and intimate seclusion.
Karma Kandara Bali, Jalan Villa Kandara Bali, ID 80362 Indonesia
Ungasan
9 AM - 10 PM
Dress Code: Casual/Swimwear
$$
La Brisa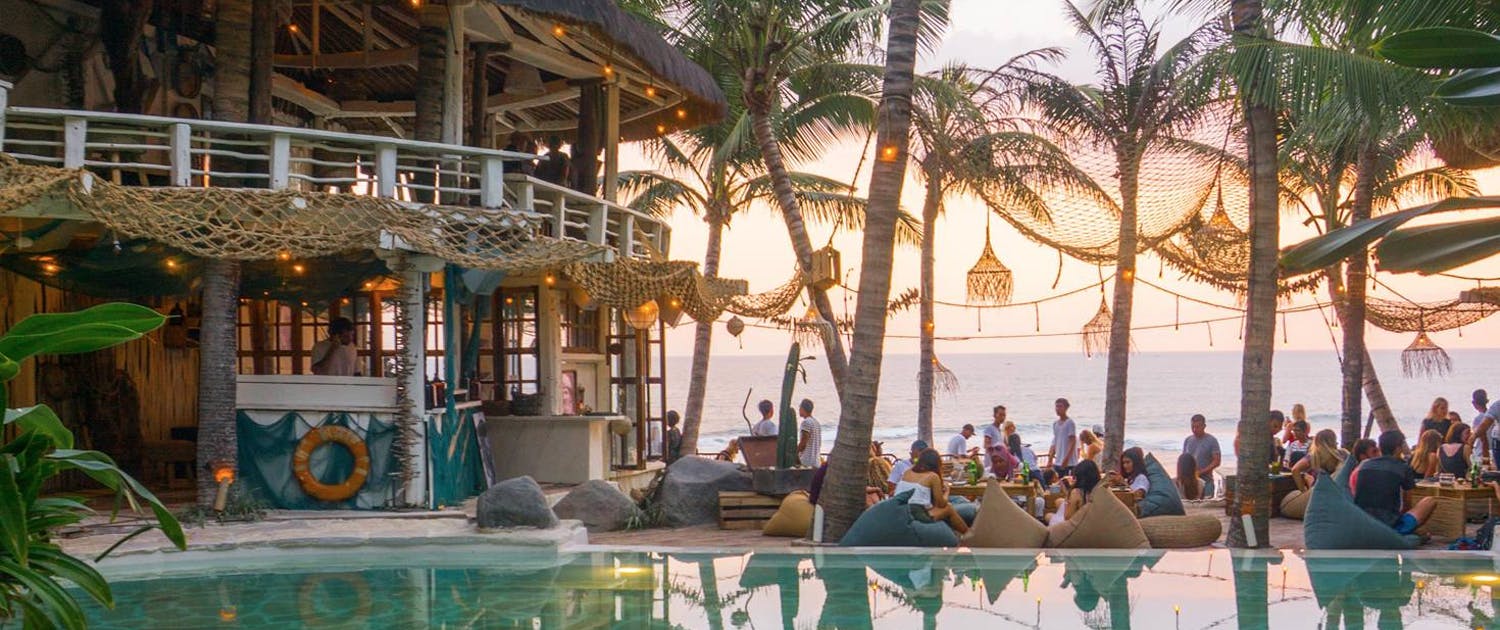 Nestled on the foreshore of Echo Beach, one of the most well known beaches in Bali, La Brisa is home to an absolutely breathtaking, sustain ably sourced food and genuine Balinese hospitality. The very concept of the beach club is written in the name -La Brisa which means sea breeze wild and enchanting yet pleasantly soothing. La Brisa Bali built using reclaimed wood from more than 500 old fisherman boats, and expertly hand decorated, La Brisa today is one of the trendiest, yet sustainable eco-friendly venues in the island that radiates true Balinese character and serves up some of the lip smackingly delicious food and cocktails.
Jalan Pantai Batu Mejan Bali, ID 80361 Indonesia
Canggu
7 AM - 11 PM
Dress Code: Casual/Swimwear
$$
Bali Pool Parties FAQ
What time does the headlining DJ usually start performing in Bali dayclubs?
The headlining DJ will usually start performing around 1:00 PM.
How long do DJs play in Bali?
The headlining DJ or artist usually plays a 1 to 2 hour set.
What is the dress code like at Bali pool parties?
Dress code is beach-themed attire. Wear what you would wear to jump into a pool or ocean. Pool attire. Swimwear, flip flops, hats, etc are all ok. Jerseys and wifebeaters (undershirts) are not allowed. Hats are okay.
How can I get into Bali pool parties for free?
Some Bali pool parties have a free ladies guest list, and have a free even ratio guest list – free if you have the same number of girls (or more) in your party.
Keep in mind that many Bali pool parties are more exclusive and require bottle service to get in. You can sign up for the guest list on our events page.
How can I book bottle service for Bali pool parties?
You can book bottle service directly on Discotech by visiting the Bali page.
How much is bottle service at Bali dayclubs?
Bottle service and table minimums at pool parties can get pretty expensive in Bali, but every pool party is different.
The best way to find out is to visit the events page and choose the event you're thinking of going.
Should I buy tickets to get into Bali pool parties?
If the pool party has tickets, we recommend buying tickets during holiday weekends and for big name artists. The ticket line is generally faster and shorter than the guest list.
Many pool parties in Bali are bottle service only – meaning you must book a table reservation in order to get inside.
Which Bali pool parties play EDM and electronic music?
Which Bali pool parties play hip-hop?