Best Of Monsters And Men Songs of All Time – Top 10 Tracks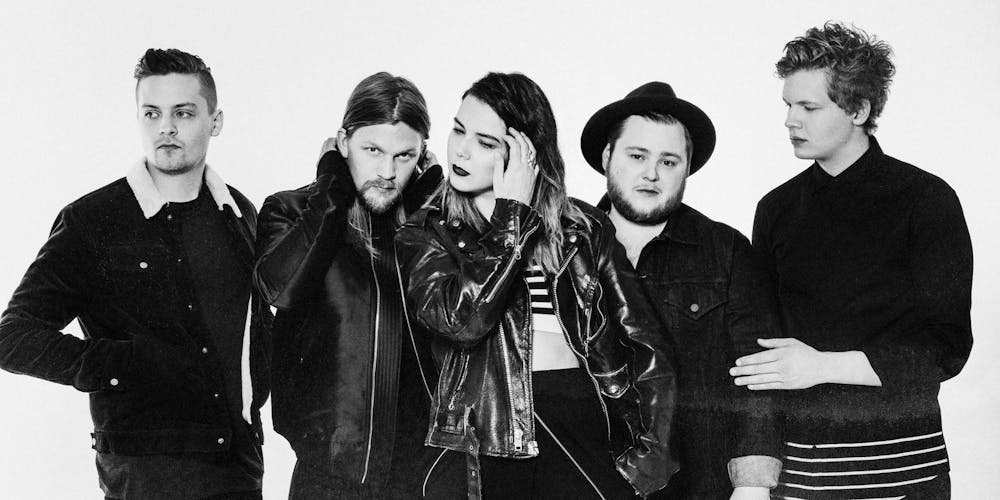 Follow Of Monsters And Men!
Follow Of Monsters And Men to get alerts about upcoming events and special deals!
Of Monsters and Men is an amiable group of five day dreamers who craft folkie pop songs.
Of Monsters And Men has performed in venues such as: The Anthem, Aragon Ballroom, Bill Graham Civic Auditorium, BottleRock, Crystal Ballroom, The Fillmore, Governors Ball, The Midland, Mission Ballroom, Palladium
Of Monsters And Men has played in major festivals like BottleRock, Governors Ball
Without further ado, here are Of Monsters And Men top 10 tracks of all time:
1. Little Talks
2. Dirty Paws
3. Mountain Sound
4. Crystals
5. Alligator
6. King And Lionheart
7. Destroyer
8. Visitor
9. Love Love Love
10. Circles
Of Monsters And Men Details
Rock
Of Monsters and Men is an amiable group of five day dreamers who craft folkie pop songs. But last year, the normally mild-mannered six pack transformed into total rock stars after stomping out their competition during Musiktilraunir, a yearly battle of hte bands in their native Iceland.
"We just kind of...won", recalled co-singer/guitarist Nanna Brynds Hilmarsdottir. "We weren't expecting it at all. So I said, 'Everybody come to my place!'" Beer-swilling friends spilled out of her flat. "I was like, 'Oh fuck, my neighbors aren't liking me right now.'"
Those neighbors won't be making noise complaints anymore. WIth the group's bright, trumpeting single "Little Talks" winning over one blog at a time, Nanna and her bandmates (co-singer/guitarist Ragnar "Raggi" Porhallsson, guitarist Brynjar Leifsson, drummer Arnar Rosenkranz Hilmarsson, and bassist Kristjan Pall Kristjansson) are well on their way to becoming citizens of the world.
Their rapid rise transpired in just one year. Nanna, who began as the acoutic act Songbird, recruited extra hands to bolster her sound for a solo show. She liked how her vocals commingled with Raggi's, so they started writing songs together and in 2010 morphed into Of Monsters and Men. As victors of 2010's Musiktilraunir, the new group earned a slot on the influential Iceland Airwaves festival later that year, followed by Seattles's radio station KEXP posting "Little Talks" from a Living Room Session filmed there, setting the telltale ripple effect in motion.
By the Summer of 2011 "Little Talks" hit No. 1 in the band's native country, and "people around the world seemed to be listening to us," marvels Raggi. The band was asked to perform again at Iceland Airwaves 2011, where KEXP then anointed the group as "easily the most buzzed about band." Thogh their reach is growing broader, the group's appeal has reamined distinct: Their music is as fantastical as it is pretty. For inspiration, they often reference random stories they've read. The chanting, tribal "Six Weeks" was inspired by the true tale of American frontiersman Hugh Glass, seemingly left for dead after 86ing a bear that attacked him. Explains Nanna, giggling: "I was reading a post about the six most badass guys in history." As for the swelling, epic "From Finner"? "It's about a whale that has a house on its back" says Raggi "on which people travel across the ocea, exploring different places and having adventures." They also dig deeper past legends of grizzly men and whale riders. "Little Talks", for instance, explores loneliness and insanity, while "Love Love Love" ruefully ruminates on heartbreak. "If you listen to the lyrics, they're not as uplifting," he says. "But our music is meant to be fun to sing along to."
In September 2011, Of Monsters and Men threw another party - a more thoughtful gathering to celebrate their full-length debut, My Head Is an Animal. (The album, which was released in Iceland and hit No. 1 there soon after, was released worldwide in April 2012). For both occasions, they cut out animal masks for attendees to wear, making them makeshift monster-men/women. "Iceland can be a very isolated country and that translates to the music," Nanna says, adding, "We get stuck in our little world."