Top 6 Best Nightclubs in Off the Strip, Las Vegas, NV
[2022 GUIDE]
With over 85 venues in Las Vegas, there are many places to choose from whether you're looking for a crazy night out or a lounge atmosphere. Don't worry! We're going to list out the best clubs in Off the Strip, Las Vegas that you should definitely check out.
Tempo Ultra Lounge
Best nightclub in Off the Strip, Las Vegas!
Tempo Ultra Lounge is the new rebranded version of Tempo After Hours. New location at 1000 E. Sahara Ave. Open 10pm-6am on weekend nights!
1000 E. Sahara Ave Las Vegas, NV 89104 United States
Off the Strip
10 PM - 6 PM Thu - Sun
Dress Code: Strict
$$
Terrace Afterhours
Terrace Afterhours is an open-air rooftop afterhours party running Saturday nights into Sunday morning. Dance under the stars to the best house and tech in Las Vegas while you soak in epic strip views and breathtaking sunrises.
6007 Dean Martin Dr. Las Vegas, NV 89118 United States
Off the Strip
2 AM - 8 AM Sun
Dress Code: Casual
$$
Legacy Club
Circa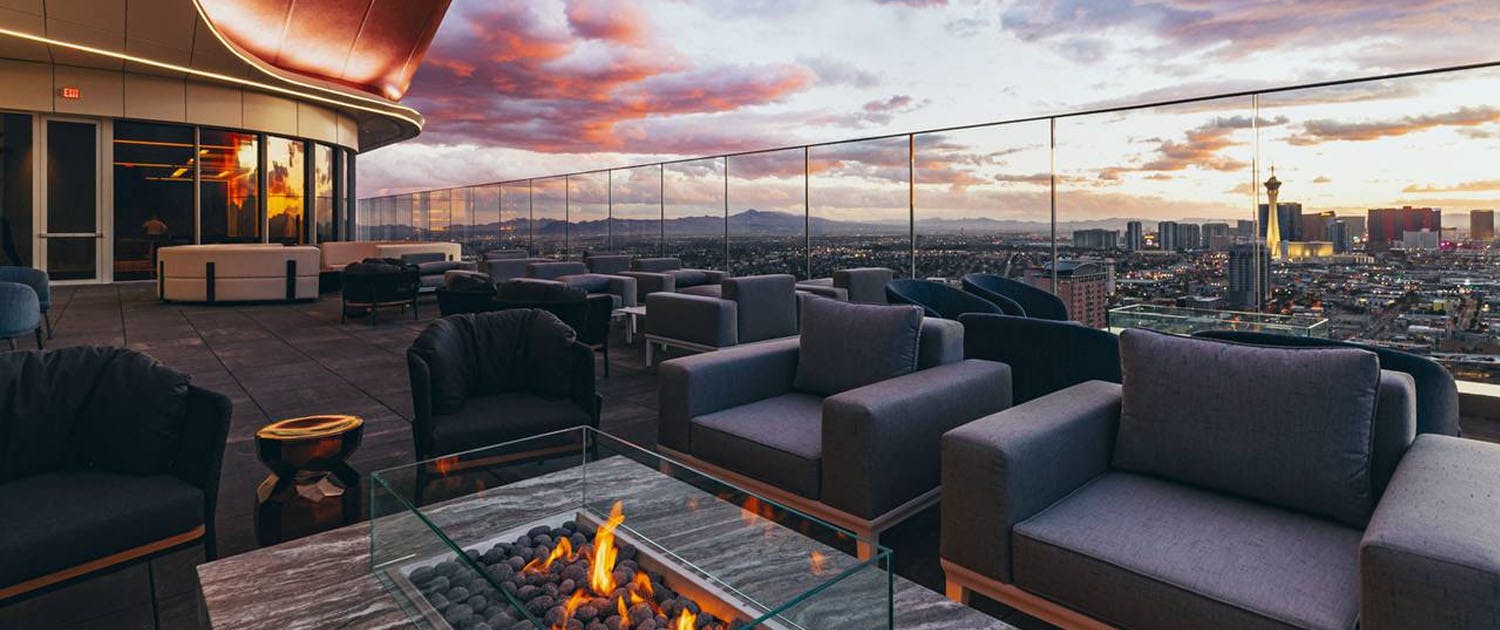 Stevens, who also owns Golden Gate and The D, wanted to do something "special" on Circa's top floor, eventually choosing a lounge area over a possible rooftop restaurant concept. "This was actually the last element of Circa that we designed," Stevens said of Legacy Club. "We wanted to do something to utilize the height. We sent drones up a few years back, just to get a sense of the views. I thought this concept would be better than a hotel room and better than a restaurant because we wanted to give people an opportunity to take some photos, get a cocktail, then turn it over from there."
8 Fremont Street Experience Las Vegas, NV 89101 United States
Off the Strip
$
Apex Social Club
The Palms
At nightfall, the party is just getting started high in the Vegas sky. Located on the iconic 55th floor of the Palms Casino & Resort, Apex will offer an Instagram-worthy panoramic 360-degree view of Las Vegas, which, thanks to its distinct outdoor patio, also turns the 8,000-square-foot-space into an open-air social club. Contemporary, yet approachable finishes accompanied by sounds from local and national DJ's will greet guests upon arrival to Apex. Guests will also be surrounded by four one-of-a-kind art sculptures, which will serve as a focal point to the room, creating a sophisticated, upscale vibe. To complement the stunning view and venue, bartenders and mixologists will craft to-die-for cocktails and age-old favorites served over a graphite and sapphire bar. Guests can also indulge in VIP bottle service, all while peering down on the bustling city below. You know what they say, a good view never goes out of style, but trust us, you've never seen Vegas like this.
4321 W Flamingo Rd Las Vegas, NV 89103 United States
Off the Strip
10 PM - 4 AM Thursdays - Sundays
Dress Code: Strict
$$$
Artisan
The Artisan Hotel is Las Vegas' first small non-gaming boutique hotel. Experience the VIP treatment where you'll find artworks from contemporary and classic artists and enjoy a nightclub that goes into afterhours.
1501 W Sahara Ave Las Vegas, NV 89102 United States
Off the Strip
Varies depending on events
Dress Code: Casual
$
Palms Pool
Palms Casino Resort Las Vegas reopened on April 27 following a more than $600-million renovation that began in 2019. Don't miss out on the biggest Memorial Day Weekend Party with Maxim Magazine on May 28.
4321 W Flamingo Rd Paradise, NV 89103 United States
Off the Strip
Dress Code: Swimwear
$$$
There are many other clubs available in Off the Strip, Las Vegas like
Check out the venues section for the full list of nightclubs.
Las Vegas Nightclubs FAQ
What time does the headlining DJ usually start performing in Las Vegas clubs?
The headlining DJ will usually start performing around 12:00 AM.
How long do DJs play in Las Vegas?
The headlining DJ or artist usually plays a 1 to 2 hour set.
What is the dress code like at Las Vegas nightclubs?
Guys can wear nice jeans and a form fitting plain t-shirt or a nice button down shirt. Girls can wear jeans or a comfortable but stylish dress if they prefer. Of course guys and girls can never go wrong with dressing up even more – there is no such thing as overdressing when it comes to clubs.
How can I get into Las Vegas nightclubs for free?
Some Las Vegas nightclubs have a free ladies guest list, and have a free even ratio guest list – free if you have the same number of girls (or more) in your party.
Keep in mind that many Las Vegas nightclubs are more exclusive and require bottle service to get in. You can sign up for the guest list on our events page.
How can I book bottle service for Las Vegas nightclubs?
You can book bottle service directly on Discotech by visiting the Las Vegas page.
How much is bottle service at Las Vegas clubs?
Bottle service and table minimums at nightclubs can get pretty expensive in Las Vegas, but every nightclub is different.
The best way to find out is to visit the events page and choose the event you're thinking of going.
Should I buy tickets to get into Las Vegas nightclubs?
If the nightclub has tickets, we recommend buying tickets during holiday weekends and for big name artists. The ticket line is generally faster and shorter than the guest list.
Many nightclubs in Las Vegas are bottle service only – meaning you must book a table reservation in order to get inside.
Which Las Vegas nightclubs play EDM and electronic music?
Which Las Vegas nightclubs play hip-hop?