Best Mötley Crüe Songs of All Time – Top 10 Tracks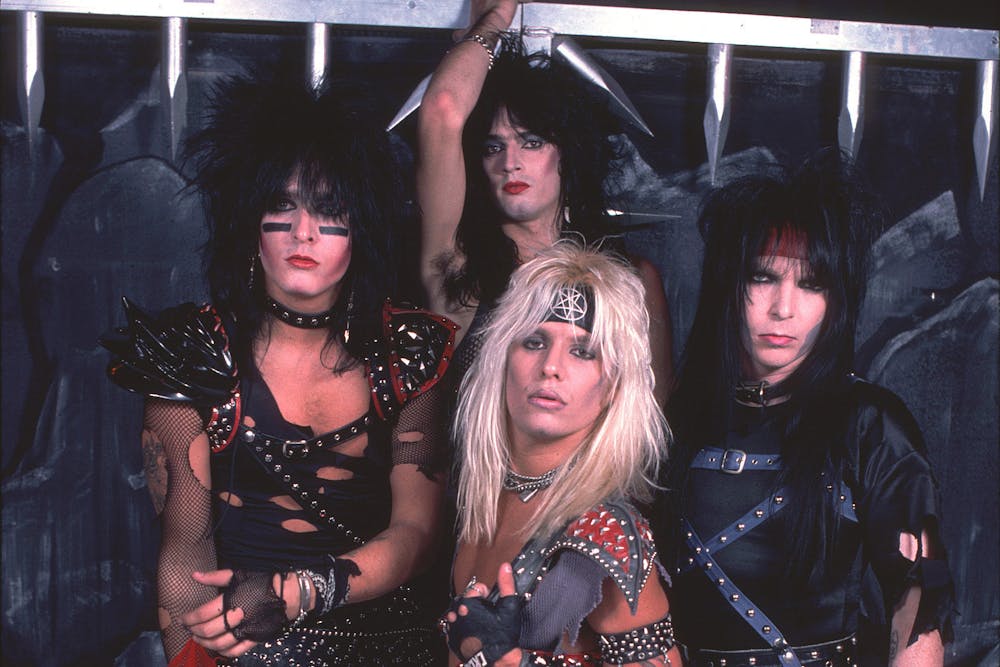 Follow Mötley Crüe!
Follow Mötley Crüe to get alerts about upcoming events and special deals!
Mötley Crüe is an American heavy metal band formed in Los Angeles in 1981.
Mötley Crüe has performed in venues such as: Alamodome, Bank of America Stadium, Bills Stadium, Busch Stadium, Camping World Stadium, Citi Field, Citizens Bank Park, Comerica Park, Fenway Park, FirstEnergy Stadium
Mötley Crüe has upcoming events in Truist Park, Hard Rock Stadium, Camping World Stadium, Nationals Park, Citi Field, Citizens Bank Park, Bank of America Stadium, Nissan Stadium, TIAA Bank Field, Busch Stadium
Without further ado, here are Mötley Crüe top 10 tracks of all time:
1. Kickstart My Heart
2. Girls, Girls, Girls
3. Home Sweet Home
4. Dr. Feelgood
5. Shout At The Devil
6. Wild Side
7. Live Wire
8. Looks That Kill
9. Same Ol' Situation (S.O.S.)
10. Smokin' In The Boys Room
Mötley Crüe Details
Rock
Mötley Crüe is an American heavy metal band formed in Los Angeles in 1981. The group was founded by bassist Nikki Sixx, drummer Tommy Lee, lead guitarist Mick Mars and lead singer Vince Neil. Mötley Crüe has sold over 100 million albums worldwide. They have also achieved seven platinum or multi-platinum certifications, nine Top 10 albums on the Billboard 200 chart (including 1989's Dr. Feelgood, which is Mötley Crüe's only album to reach number one), twenty-two Top 40 mainstream rock hits, and six Top 20 pop singles. The band experienced several short-term lineup changes in the 1990s and 2000s; these included the introduction of vocalist John Corabi (who was Neil's replacement from 1992 to 1996) and drummers Randy Castillo and Samantha Maloney, both of whom filled in for Lee during his absence from the band from 1999 to 2004.
The members of Mötley Crüe have often been noted for their hedonistic lifestyles and the androgynous personae they maintained. Following the hard rock and heavy metal origins on the band's first two albums, Too Fast for Love (1981) and Shout at the Devil (1983), the release of its third album Theatre of Pain (1985) saw Mötley Crüe joining the first wave of glam metal. The band has also been known for their elaborate live performances, which features flame thrower guitars, roller coaster drum kits, and heavy use of pyrotechnics. Mötley Crüe's most recent studio album, Saints of Los Angeles, was released on June 24, 2008. What was planned to be the band's final show took place on New Year's Eve, December 31, 2015. The concert was filmed for a theatrical and Blu-ray release in 2016.
After two-and-a-half years of inactivity, Neil announced in September 2018 that Mötley Crüe had reunited and was working on new material. On March 22, 2019, the band released four new songs on the soundtrack for its Netflix biopic The Dirt, based on the band's New York Times best-selling autobiography. The soundtrack went to Number 1 on the iTunes All Genres Album Chart, Number 3 on Billboard Top Album and Digital Album sales chart, Number 10 on Billboard Top 200, and Top 10 worldwide. The autobiography returned to New York Times Best Seller list at number 6 on Nonfiction Print and number 8 on Nonfiction Combined Print & E-Book.