Best Rabbit In the Moon Songs of All Time – Top 10 Tracks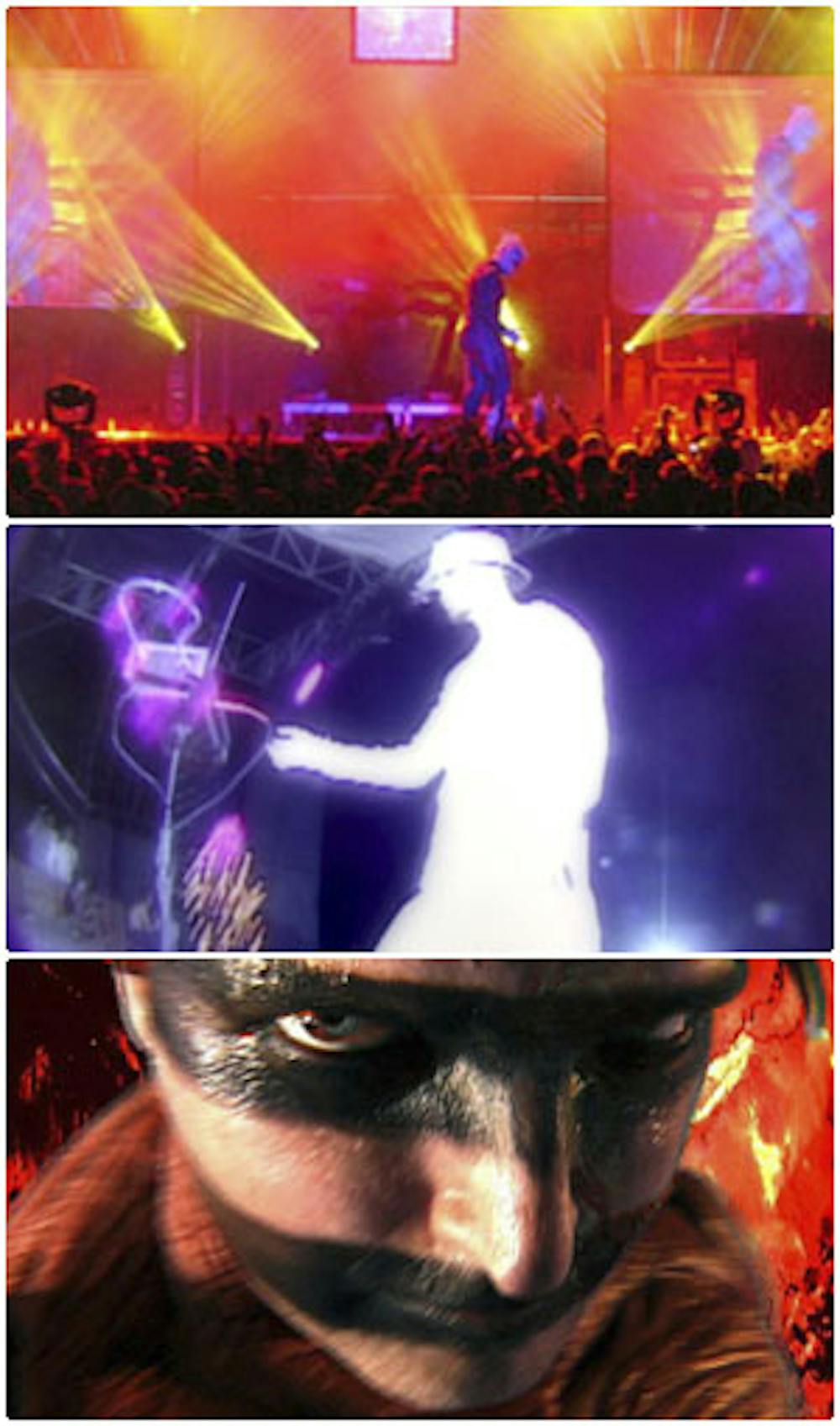 Follow Rabbit In the Moon!
Follow Rabbit In the Moon to get alerts about upcoming events and special deals!
R.I.T.M.
Rabbit In the Moon has performed in venues such as: Temple, Rise Rooftop, 45 East, Ace Cafe, Revolution Live, Sky, Terrace Afterhours
Without further ado, here are Rabbit In the Moon top 10 tracks of all time:
1. Out of Body Experience
2. Dark Lord
3. I Wanna Be Adored - Bloody Valentine Edit
The Stone Roses, Rabbit In the Moon
4. I Am The Future
5. In My Brain
6. Seven Loves Electro
7. East - Humate Remix
Humate, Rabbit In the Moon
8. Deeper
9. East
Humate, Rabbit In the Moon
10. Possession - Remix
Rabbit In the Moon, Sunsha
Rabbit In the Moon Details
Electronic, House
R.I.T.M. IS THE MOST ORIGINAL ELECTRONIC GROUP IN THE WORLD, WITH THE RELEASE OF THEIR 12" SINGLES, REMIX WORK, AND EXPLORATION IN LIVE PERFORMANCE, R.I.T.M. HAVE ESTABLISHED AN ENORMOUS FAN BASE THAT CONTINUES TO GROW. THEY ARE A BAND THAT EXISTS ON MANY LEVELS, AND CELEBRATES OVER TEN YEARS OF ATTACKING YOUR SENSES AND EMOTIONS.
THE MUSIC
MOST PEOPLE'S FIRST EXPOSURE TO RABBIT WAS TO THEIR SONG CALLED OUT-OF- BODY EXPERIENCE. O.B.E. WAS RELEASED IN 93, AND TO THIS DAY, IS STILL PLAYED IN CLUBS AROUND THE WORLD, WHILE MOST OTHER ARTIST'S TRACKS ARE LEFT FOR DEAD AFTER 2 WEEKS. IN 2003, MUZIK MAGAZINE LISTED O.B.E. AS THE NUMBER ONE MOST SOUGHT AFTER RECORD IN THE LAST DECADE.
AFTER THE RELEASE OF "PHASES OF AN OUT OF BODY EXPERIENCE" (THE REMIXES OF O.B.E.) ON HARDKISS RECORDINGS '94 THE DEMAND FOR R.I.T.M. BECAME ENORMOUS. THEY BEGAN COLLABORATING AND DOING REMIX WORK FOR EVERYONE FROM GOLDIE, SARAH MCLACHLAN, AND GARBAGE, TO THE SMASHING PUMPKINS,SVEN VATH, STONE ROSES, AND ERIC CLAPTON. THEIR STYLE OF ELECTRONIC MUSIC IS TIMELESS, BUT TO TRULY UNDERSTAND THIS GROUP IS TO SEE AND HEAR THEM LIVE.
RABBIT IN THE MOON'S LIVE EXPERIENCE HAS THE POWER TO EVOKE EMOTION AT WILL. WITH A MIX OF PERFORMANCE ART, LIVE VIDEO PROJECTIONS, AND ORIGINAL MUSIC, R.I.T.M. CREATE A POWERFUL CONNECTION WITH THEIR AUDIENCE. IN THE READERS POLL AWARDS 1997 URB MAGAZINE, R.I.T.M. WAS VOTED THE NUMBER ONE LIVE PERFORMANCE ACT IN THE COUNTRY. RABBIT HAS BEEN CALLED "THE GRATEFUL DEAD" & "PINK FLOYD" OF ELECTRONIC MUSIC, WHILE THEIR FANS ARE REFERRED TO AS "RABBITHEADS". WHEREVER RABBIT PERFORMS, NEW BELIEVERS ARE BORN. FOR MANY, THE SHOW IS A RELIGIOUS EXPERIENCE, WHERE LIVES ARE CHANGED. ALL OF THESE THINGS SPAWN FROM A BAND THAT HAS NEVER HAD TO GRACE THE SCREENS OF MUSIC TELEVISION FOR AN AUDIENCE. ALTERNATELY, R.I.T.M. HAS BEEN ON A GRASS ROOTS JOURNEY, MAKING BELIEVERS OUT OF CROWDS,ONE SHOW AT A TIME. FROM L.A. TO MANHATTAN ALL OF THE FANS WITH RABBIT IN THE MOON TATTOOS TAKE NOTICE, AND ADMIRE THEM FOR THAT. THE FANS TELL THE STORY. THIS ISN'T A NOW THING, IT'S A FOREVER THING...
THE MOST AMAZING PART OF RABBIT'S STORY IS THAT THEY HAVE ACCOMPLISHED ALL OF THESE THINGS ON THEIR OWN. THEY'VE NEVER BEEN SIGNED TO A MAJOR LABEL. THERE HAS BEEN A MASSIVE MEDIA PUSH NOR HAS THERE BEEN MILLIONS SPENT TO CONVINCE THE MASSES THAT THEY ARE SOMETHING SPECIAL, THEY JUST ARE. PROVING IT EVERY TIME THEY WALK ON A STAGE OR RECORD IN A STUDIO.
THE HISTORY
THE STORY OF THESE ARTISTS IS ONE SHROUDED IN MYSTERY, WELLING UP FROM SOME PRIMORDIAL SWAMPLAND. RABBIT IN THE MOON WAS FORMED IN THE FALL OF '92 BY PRODUCER T.CONFUCIUS AND MONK, A WELL-ESTABLISHED DJ IN FLORIDA. THEY HAD ALREADY BEEN PART OF THROWING THE FIRST UNDERGROUND RAVE PARTY IN FLORIDA, AS WELL AS COLLABORATING ON NEW FORMS OF ELECTRONIC MUSIC WITH THEIR PROJECT ANARCH-E, MIXING CLUB MUSIC WITH HARDCORE PUNK AND ALTERNATIVE. BUT CONFUCIUS HAD AN AWAKENING ONE NIGHT AT AN UNDERGROUND PARTY IN ORLANDO, FEELING THERE WAS A SPIRITUAL VIBE MISSING FROM THEIR MUSICAL ADVENTURES. SO HE BEGAN WORKING ON A SOUND THAT WOULD CHANGE THEIR MUSICAL DESTINY AND INFLUENCE THE NEXT GENERATION OF DANCE MUSIC FOREVER. WITH MONK'S ENTHUSIASM AND DIRECTION, THEY FORMED RABBIT IN THE MOON AND AN INDEPENDENT LABEL, HALLUCINATION RECORDINGS, TO RELEASE THIS NEW SOUND UNTO THE MASSES. THE FUTURE WAS BORN.
AS RABBIT IN THE MOON'S MUSIC GAINED POPULARITY IN THE UNDERGROUND, THEY REALIZED THE NEXT STEP THAT HAD TO BE MADE. THEY NEEDED TO PERFORM LIVE, BUT NOT LIKE EVERYONE ELSE - R.I.T.M HAD TO BE SOMETHING SPECIAL...
ENTER THE BUNNY, AN INNOVATIVE PERFORMANCE ARTIST WHO WAS FRONTING AN INDUSTRIAL BAND IN TAMPA AT THE TIME... THE BUNNY CREATED ABSTRACT COSTUMES THAT WOULD POSSESS HIM ON STAGE. EACH NEW CHARACTER ACTING OUT STRANGE RITUALS, AND FORCING THE CROWD TO TAKE PART. AND OBVIOUSLY THERE WAS NO IGNORING THE FACT THAT HIS NAME WAS BUNNY!
MONK HAD ALREADY DJ'D SOME OF THE LARGEST CLUBS AND UNDERGROUND PARTIES IN FLORIDA, AND IT WAS AT ONE OF THESE EVENTS IN THE SUMMER OF '92 EVEN BEFORE RABBIT'S MUSIC WAS CREATED, THAT SOMETHING YOU COULD ONLY DESCRIBE AS MAGICAL HAPPENED. IT WAS AT ONE OF MONK'S FIRST LARGE DJ APPEARANCES IN ORLANDO, AT THE LEGENDARY EDGE NIGHTCLUB. WITH CONFUCIUS AT HIS SIDE, ARMED WITH A SAMPLER, THEY CREATED SPONTANEOUS LIVE REMIXES OF SONGS THAT MONK WOULD SPIN, AND MIXED IN THEIR OWN ORIGINAL MUSIC AS WELL. AS THE SET PROGRESSED, AT THE APEX OF THE NIGHT, WITH 5000 PEOPLE SCREAMING AT THE TOP OF THEIR LUNGS, BUNNY WAS UNLEASHED...A MIRROR CLAD SCREAMING HUMAN DISCO BALL, SLITHERED DOWN A ROPE FROM THE RAFTERS 2 STORIES ABOVE THE DANCE FLOOR WHILE MONK AND CONFUCIUS SUPPLIED THE SOUNDTRACK. EVERY LIGHT IN THE CLUB FOCUSED ON HIM SO THAT THE ONLY THING TO BE SEEN, WERE THE COLORS REFRACTING OFF HIS HANGING BODY, AND THE MASS OF HANDS REACHING TOWARDS THE LIGHT. WHEN BUNNY REACHED THE HANDS OF THE CROWD HE HUNG UPSIDE DOWN AS THEY SWUNG HIM LIKE A PENDULUM OVER THEIR HEADS. AS HE WAS LOWERED TO THE CROWD THEY DID NOT LET HIM TOUCH THE GROUND. THEY CARRIED HIM TO THE STAGE, AS IF HE WAS THEIR SACRIFICE. THE CROWD WAS IN A FRENZY. BUNNY HAD PULLED OUT A GRINDER AND PUT IT TO A METAL MASK THAT WAS NOW OVER HIS FACE SHOOTING SPARKS 10 FEET IN THE AIR.
IT WAS THIS FORESHADOWED MOMENT THAT CONFUCIUS AND MONK'S VISION FOR WHAT WAS TO BECOME THE RABBIT IN THE MOON LIVE EXPERIENCE WAS NOW COMPLETE. WITH THE COMBINATION OF GROUNDBREAKING MUSIC, AND BUNNY'S MIND-ALTERING PERFORMANCES, RABBIT WAS PROPELLED TO THE FOREFRONT OF LIVE ELECTRONIC MUSIC.
IN THE NEW MILLENNIUM RABBIT IN THE MOON'S LIVE SHOWS HAVE GROWN INTO FULL-BLOWN PRODUCTIONS. INCLUDING THE USE OF LIVE INTERACTIVE VIDEO (FROM OVT VISUALS CHICAGO), LIVE INSTRUMENTS, VOCALS BY BUNNY, FIRE DANCERS, PYRO TECHNIQUES, AND A CAST OF ROTATING PERFORMERS.
WHAT NOW
CONFUCIUS AND BUNNY ARE CURRENTLY WRITING AND RECORDING NEW SONGS FOR RABBIT IN THE MOON'S FIRST FULL-LENGTH ALBUM. MONK HAS LEFT R.I.T.M. TO CONTINUE THE PROGRESSION OF ARTISTS ON THE HALLUCINATION IMPRINT, AND TO PURSUE THE DEVELOPMENT OF HIS OWN RECORDINGS, COLLABORATIONS, REMIXES AND DJING. (WWW.HALLUCINATION.COM & WWW.DJMONK.COM)
BE ON THE LOOK OUT FOR THE NEWEST RABBIT IN THE MOON SINGLE "TIME BOMB" WITH REMIXES BY ARTISTS LIKE HAWKE AND TERRY FRANCIS. FOR MORE INFORMATION ON R.I.T.M., VISIT THEIR HOMEPAGE WWW.RABBITINTHEMOON.COM.