Best Poison Songs of All Time – Top 10 Tracks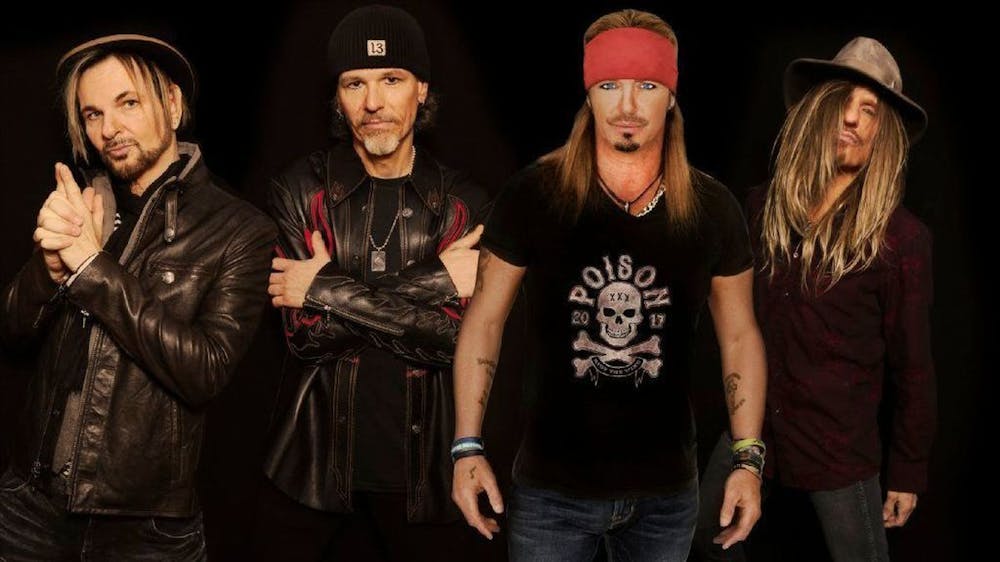 Follow Poison!
Follow Poison to get alerts about upcoming events and special deals!
Poison is an American glam metal band formed in 1983, in Mechanicsburg, Pennsylvania.
Poison has performed in venues such as: Hersheypark Stadium, Fenway Park, SoFi Stadium, Petco Park, Alamodome, Allegiant Stadium, Bank of America Stadium, BC Place, Bills (Highmark) Stadium, BOK Center
Poison has upcoming events in PNC Park, US Bank Stadium, Lucas Oil Stadium, Minute Maid Park, BOK Center, Alamodome, Globe Life Field, State Farm Stadium, SoFi Stadium, Petco Park
Without further ado, here are Poison top 10 tracks of all time:
1. Every Rose Has Its Thorn - Remastered 2003
2. Nothin' But A Good Time - Remastered 2006
3. Talk Dirty To Me
4. Unskinny Bop
5. Fallen Angel - Remastered
6. Something To Believe In - Remastered
7. I Won't Forget You - Remastered
8. Your Mama Don't Dance
9. Ride The Wind
10. Life Goes On - Remastered
Poison Details
Pop, Rock
Poison is an American glam metal band formed in 1983, in Mechanicsburg, Pennsylvania. The band achieved commercial success in the mid-1980s through the mid-1990s and has sold 15 million records in the United States and over 50 million albums worldwide. The band is perhaps best known for the Billboard Hot 100 number one hit single "Every Rose Has Its Thorn," and other top 40 hit singles in the 1980s and 1990s, including "Talk Dirty to Me," "I Won't Forget You," "Nothin' but a Good Time," "Fallen Angel," "Your Mama Don't Dance," "Unskinny Bop," "Something to Believe In," "Ride the Wind," and "Life Goes On." The band's breakthrough debut album, the multi-platinum Look What the Cat Dragged In, was released in 1986, followed by Open Up and Say... Ahh!, which was certified 5× platinum in the US. Their third consecutive multi-platinum and best selling album was Flesh & Blood. The most successful incarnation of the band consists of founding members lead singer and rhythm guitarist Bret Michaels, drummer Rikki Rockett, bassist and pianist Bobby Dall and longtime lead guitarist and backing vocalist C.C. DeVille. In the 1990s following the release of the band's first live album, Swallow This Live, the band experienced some line up changes and the fall of glam metal with the grunge movement. But the band's fourth studio album, Native Tongue, still achieved Gold status and the band's first compilation album, Poison's Greatest Hits: 1986–1996, went double platinum.
The original line up reformed for a greatest hits reunion tour in 1999. The band began the 2000s with the release of Crack a Smile... and More!, followed by the Power to the People album. They released the album, Hollyweird, in 2002 and in 2006 the band celebrated their 20-year anniversary with The Best of Poison: 20 Years of Rock tour and album, which was certified Gold and marked Poison's return to the Billboard top 20 charts for the first time since 1993. Band members have released several solo albums and starred in reality TV shows. After 30 years, the band is still recording music and performing. Since their debut in 1986, they have released seven studio albums, four live albums, five compilation albums, and have issued 28 singles to radio. In 2012 VH1 ranked them at #1 on their list of the "Top 5 Hair Bands of the '80s".