Best Major Lazer Songs of All Time – Top 10 Tracks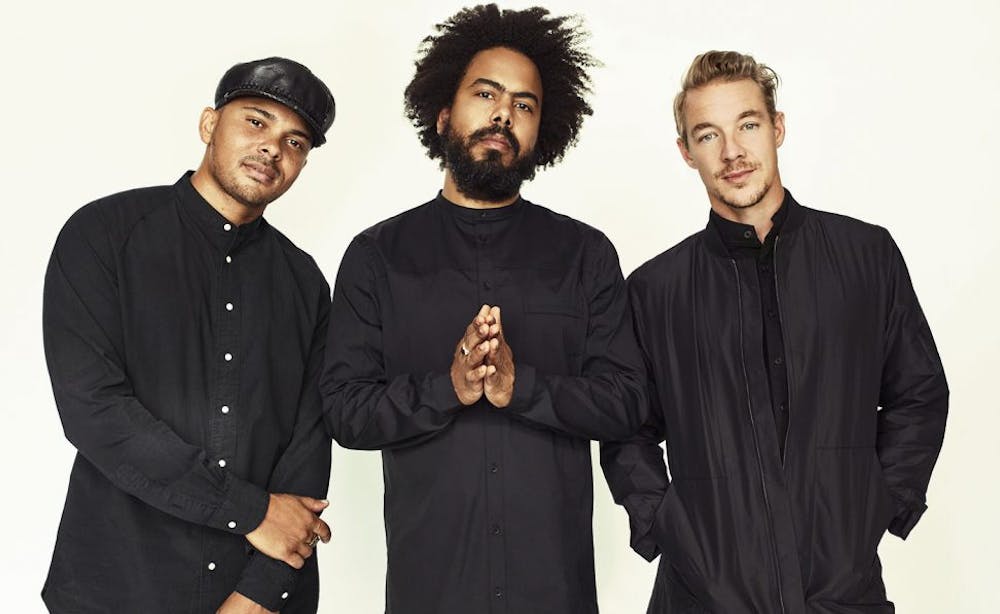 Follow Major Lazer!
Follow Major Lazer to get alerts about upcoming events and special deals!
Ladies and gentlemen, Major Lazer has arrived.
Major Lazer has performed in venues such as: Encore Beach Club (EBC), EBC at Night, XS, E11even, EDC, Hyde Beach, Hard Summer, Yaam, Red Rabbit Club
Major Lazer has played in major festivals like EDC, Hard Summer
Major Lazer has upcoming events in XS, Encore Beach Club (EBC)
Without further ado, here are Major Lazer top 10 tracks of all time:
1. Lean On
Major Lazer, MØ, DJ Snake
2. Titans (feat. Sia & Labrinth)
Major Lazer, Sia, Labrinth, Diplo
3. Light It Up - Remix
Major Lazer, Nyla, Fuse ODG
4. Cold Water
Major Lazer, Justin Bieber, MØ
5. ALREADY
Beyoncé, Shatta Wale, Major Lazer
6. C'est Cuit (feat. Aya Nakamura & Swae Lee)
Major Lazer, Aya Nakamura, Swae Lee, Diplo
7. Que Calor (feat. J Balvin & El Alfa)
Major Lazer, J Balvin, El Alfa, Diplo
8. Trigger
Major Lazer, Khalid, Death Stranding: Timefall, Diplo
9. Titans (feat. Sia & Labrinth) - Imanbek Remix
Major Lazer, Sia, Labrinth, Diplo, Imanbek
10. Watch Out For This (Bumaye)
Major Lazer, Busy Signal, The Flexican, FS Green
Major Lazer Details
Electronic, Pop, Trap, Rap / Hip-Hop
Ladies and gentlemen, Major Lazer has arrived. That epic dancehall collaboration from DJ/producers Diplo and Switch, and a slew of guest contributors like M.I.A., Santigold and Amanda Blank, it's a hit! Shit, it's bigger than that. It's one of the most epic projects to hit music in the last decade, moseying its way into the mainstream like a maverick at high noon. And hundreds of sweat-drenched, flush-faced audiences can attest to this point. Fronted by a cartoon zombie-slaying Jamaican soldier the Major Lazer experience is beyond surreal. It's a freaky sideshow brought to you by two of the scene's biggest and brightest talents who bend genres onto themselves with seamless ease, swarming pop culture with an outlandish outpouring of mayhem that spans from absurd live shows to chart-smacking bangers with breakthrough performances worldwide. From festivals to clubs to legendary Carnival parties, Major Lazer is making it's mark like a red-hot branding on the face of modern music. Sure it stings but oh it feels so good.
Having collaborated on M.I.A.'s surprise hit "Paper Planes" and Santigold's debut album, Diplo and Switch birthed Major Lazer from a shared appreciation for the Jamaican dancehall genre and spirit of the sound system. From there the two traveled to the music's motherland, holed up in the legendary Tuff Gong studio and enlisted the help of a who's-who list of Jamaican vocalists to produce an authentically twisted mashup of styles and influences. And so became such club staples as "Pon de Floor," "Hold the Line," and "Keep It Going Louder," not to mention an onslaught of madcap remixes, videos and oh just a minor cultural phenomenon to lead the way.
Since, it's been total world domination. A nonstop touring schedule, which included this year's Coachella, Pitchfork and HARD Summer festivals as well as a frenzy of shows across the globe from London to Kuala Lampur. A recent collaboration with British electro-pop outfit La Roux on the Lazerproof mixtape and the upcoming Lazers Never Die EP--featuring the handy work of M.I.A., Collie Buddz, and Thom Yorke, among others--are set to make 2010 the year Major Lazer establishes its reign, dominating clubs with swift daggering dance moves into each stop's, errr, gut.
Meanwhile, Diplo and Switch will return to Tuff Gong to resume work in the studio and record the next Major Lazer album as the world waits with anxious anticipation.