Best Hot Chelle Rae Songs of All Time – Top 10 Tracks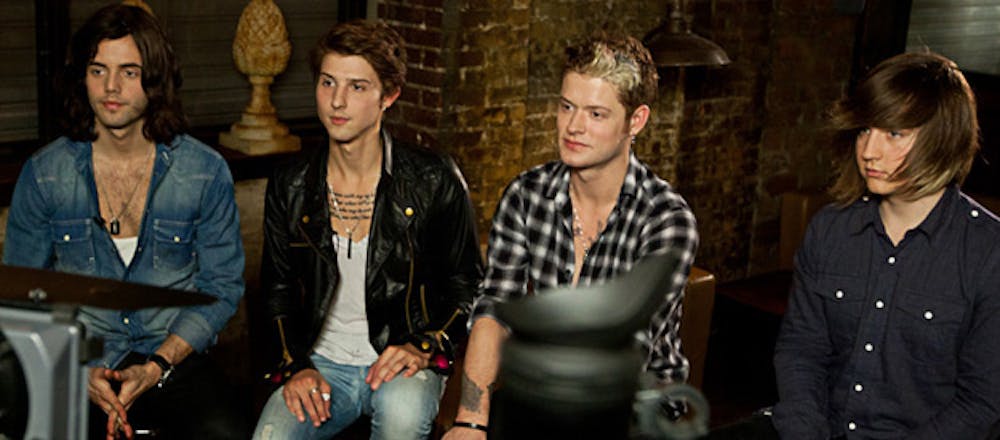 Follow Hot Chelle Rae!
Follow Hot Chelle Rae to get alerts about upcoming events and special deals!
Hot Chelle Rae announce themselves as a force to be reckoned with on their debut album Lovesick Electric.
Hot Chelle Rae has performed in venues such as: August Hall, Buckhead Theatre, The Complex, Concord Music Hall, House of Blues, House of Blues, Marathon Music Works, Neumos, The Pool After Dark, Go Pool
Without further ado, here are Hot Chelle Rae top 10 tracks of all time:
1. Tonight Tonight
2. I Like It Like That (feat. New Boyz)
3. Why Don't You Love Me (feat. Demi Lovato)
4. Honestly
5. Don't Say Goodnight
6. Do The Damn Thing
Hot Chelle Rae, Chord Overstreet, Levi
7. Hung Up
8. Downtown Girl
9. I Hate LA
10. Radio (feat. Bei Maejor)
Hot Chelle Rae, Maejor
Hot Chelle Rae Details
Electronic, Pop
Hot Chelle Rae announce themselves as a force to be reckoned with on their debut album Lovesick Electric. How can you argue with bold, swaggering vocals, monster sing-along choruses, crunching rock guitar, and a propulsive rhythm section that just won't quit?
"We wanted the music to sound larger than life," says guitarist Nash Overstreet of the group's epic dance-rock sound. "We wanted it to sound explosive and new and fun and be better than anything out there," adds frontman Ryan Keith Follese. Indeed, stomping, blistering jams like "I Like to Dance," "Never Have I Ever," "Say (Half Past Nine)," and "Bushes," will sound equally fierce whether they're blasting from a car stereo or emanating from an arena stage.
As one reviewer has already raved about the Nashville newcomers: "Hot Chelle Rae are honest to goodness rock and roll at its finest — ripe and arrogant, sweating with tangible promise that hangs in the air at their live shows. Posh arrangements featuring refreshingly tasteful guitar, sly lyrics, and a 22-year-old lead singer dripping with charisma, leave you knowing that these guys will end up somewhere—everywhere."
High praise, but not surprising considering that all four band members were raised with music in their DNA. Ryan, his brother/drummer Jamie, and Overstreet are the sons of A- list Nashville songwriters with multiple number one hits between them, while bassist Ian Keaggy's dad is a world renowned Grammy-nominated guitarist.
"Growing up around music didn't hurt, but I was never pushed to do it," Overstreet says. "I just can't remember a time when I didn't want to play or write music." Follese says his father actually encouraged him not to go into the music business. "But I don't know what else I can do," he says. "Music is the only thing I truly have a passion for."
And so the guys claimed their destiny by forming Hot Chelle Rae, which they named after one of the group's most devoted female fans. The band began to take shape in early 2005 when a mutual friend recommended that Overstreet and Follese meet. Follese was doing what he calls "the singer-songwriter thing" and was looking for a guitar player. But their first meeting didn't go too smoothly. "We definitely didn't like each other," Follese says. "We dressed differently. I was clean-cut and Nash wasn't. We looked like polar opposites, and it was just, like, no." But the two managed to overcome their initial impressions and form their first band, which they called Miracle Drug. When their first show in August 2006 went well, they decided to try writing songs together and "we just clicked right away," Follese says.
They brought in Nash's childhood friend Ian Keaggy — a guitarist who didn't even play bass until he joined the band. "Ian came to one of our shows where we had a hired gun on bass and he said, 'If that guy can play bass, I can play bass,'" Follese recalls. "And that was that. He makes up the most creative stuff. We've written so many songs that have started with his bass riffs." Ryan's brother Jamie joined up soon after. "At first we weren't sure because he was young, but we had a couple rehearsals with him and he knew every song because he'd been playing them for ages," Follese says. "Anything Nash and I wrote, even if we hadn't recorded it, he knew it. He's a human metronome. He just stepped in and sat down and was like, 'I know these songs.'"
At this point, Hot Chelle Rae had already been taken under the wing of entertainment exec John Hamlin, who signed them up for management. Hamlin then teamed up with music industry vet Don Ienner who guided them toward a deal with Jive Records. After signing with the label in October 2008, the guys began to gear up to make their first album, sorting through dozens of songs they had already written. "My dad told me early on that writing hit songs is just like your batting average," Follese says. "He reminded me that Barry Bonds hits 70 homeruns a year, but he doesn't hit a homerun every time — it's maybe one out of ten. So if you want to write hit songs, you're going to have to write 50 songs for your first record,' which is what we did. We threw out loads of songs."
To help them narrow it down, the band took advice from two of their producers, Eric Valentine and Butch Walker, both of whom know a little something about serving up hit albums. Valentine, who produced five tracks including "Say" and "I Like to Dance," has worked with All-American Rejects and Good Charlotte, while artist/producer Butch Walker, who produced two tracks, "The Distance" and "Bushes," has worked with Katy Perry, Avril Lavigne, and Pink. "I don't know if there's a guy on earth more driven to make something sound the best that it can sound than Eric," Follese says. "He is obsessive and only produces songs that he truly connects with, which is really cool." "And Butch Walker is someone we've always really looked up to and have wanted to work with for a long time," adds Overstreet. "When we were trying to decide who should produce the record, we figured why not shoot high? There's so much passion and power in everything he puts to tape, he really helped us get that across."
Lovesick Electric brims with the confidence and youthful energy that only a group of musicians with serious chops can deliver. "I think the album really reflects who we are and how we want the world to feel," Overstreet says. "We can have a lot of fun and goof off, or we can be very serious and work really hard, and the album shows it all. We've got songs for people to listen to if they're going through a break-up, like 'The Distance' or 'Last One Standing,' or if they want to just forget about work, like 'I Like to Dance,' or they want to dream about the future, like 'Say.' We've tried hard to make it completely accessible and something people can really relate to no matter what's going on in their lives."