Best Zion & Lennox Songs of All Time – Top 10 Tracks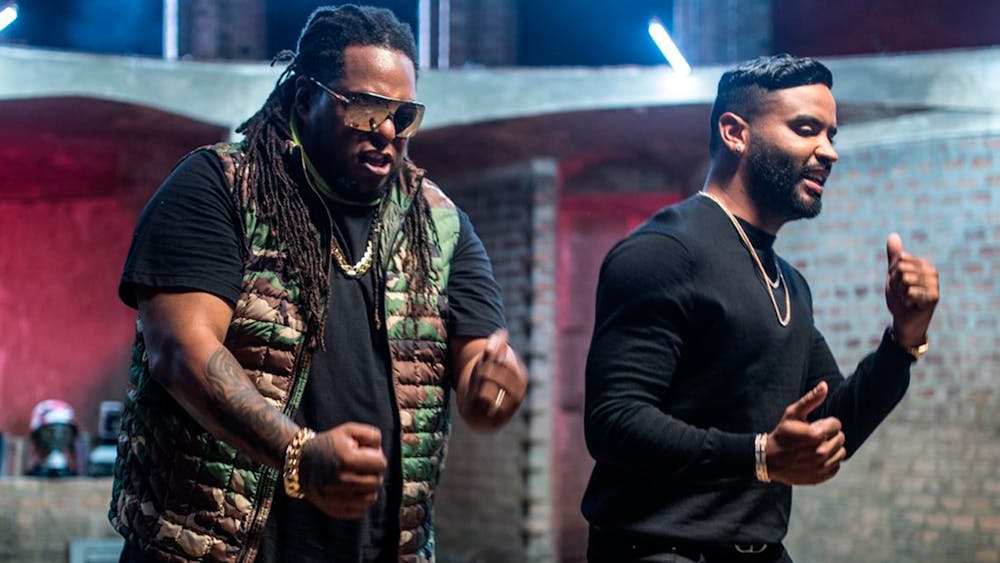 Follow Zion & Lennox!
Follow Zion & Lennox to get alerts about upcoming events and special deals!
Zion & Lennox are a reggaeton duo from Carolina, Puerto Rico.
Zion & Lennox has performed in venues such as: AYU Dayclub, LIV, Echostage, Prudential Center, STORY, Kia Forum, Amway Center, Eaglebank Arena, FLA Live Arena (formerly BB&T Center), Myth
Zion & Lennox has played in major festivals like Vibra Urbana Festival
Without further ado, here are Zion & Lennox top 10 tracks of all time:
1. Yo Voy (feat. Daddy Yankee)
2. La Pasamos CXBRXN
3. Berlin
Zion & Lennox, Maria Becerra
4. Loco
Justin Quiles, Chimbala, Zion & Lennox
5. Otra vez (feat. J Balvin)
6. La player (Bandolera)
7. SUBEME LA RADIO (feat. Descemer Bueno & Zion & Lennox)
Enrique Iglesias, Descemer Bueno, Zion & Lennox
8. Brisa
9. No Es Justo
10. Te Quiero Pa´Mi
Zion & Lennox Details
Reggaeton
Zion & Lennox are a reggaeton duo from Carolina, Puerto Rico. As of 2010, Zion & Lennox released their 3rd studio album titled Los Verdaderos under Pina Records.
They have been in the music business for a long time, but had failed to get any recognition for the majority of those years. They had minor hits such as "Baila Conmigo" for the 2003 compilation album "Desafío" and "Me Pones Tensión" for the album The Noise: La Biografía. These hits, along with others in the near future and increased radio play gave them more recognition. This gave them the chance to appear in major Reggaeton albums such as Luny Tunes' Mas Flow (2003) and Mas Flow 2 (2005), Blin Blin vol.1 (2003-4), Contra la Corriente (2004), and Cazadores, Primera Búsqueda (2005).
In May 2004, they released their first solo album, Motivando a la Yal. With hits such as "Doncella", "Bandida", and "Yo Voy" (featuring Daddy Yankee), the album reached gold certification]. With the reggaeton genre becoming a worldwide phenomenon, Zion and Lennox's popularity increased. Motivando a la Yal: Special Edition was released a year later. The special edition had new songs along with remixed songs of the previous edition, such as "Don't Stop", "Bachatéalo", a remix to the song "Bandida", and a hip-hop remix of "Yo Voy" with Miri Ben-Ari, Fatman Scoop, and Pitbull entitled "Jump & Spread Out (DJ Precise and Cheeky Starr Version)".
Both Zion and Lennox are very active with solo songs. Zion has been more notable with songs like "Yo Voy a Llegar" for Reggaeton producer DJ Nelson's compilation album Flow la Discoteka, "Alócate" released on Luny Tunes's album Mas Flow 2.5, and "Con Ella Me Quedare" released in the fifth installment of the Alex Gargolas series, entitled Gargolas: The Next Generation. He also has turned up a new hit, "Que Pasara", for DJ Nelson's Flow la Discoteka 2. Zion has released a solo album entitled The Perfect Melody on June 5, 2007, with appearances by artists such as Akon and Play-n-Skillz. "The Way She Moves" is the lead single from the album and features Akon. Lennox has been working on songs on his own album, but has also been very active in bringing new artist to his label "Toma Enterprise". The label is set to release an album named Los Mero Meros.
Zion y Lennox's music is much different than mainstream reggaeton. What truly distinguishes them from other artists is that they typically sing about love and relationships, similar to RKM y Ken-Y(in 1970s R&B fashion) and refrain from the typical obscene sex, drugs and violence lyrics heard in a lot of other reggaeton and hip hop songs
After three years of building their fan base and positive reputation with guest spots and compilation records, Zion & Lennox released their first full-length record, Motivando a la Yal. The record featured the work of renowned producers Luny Tunes, Noriega, Nely "El Arma Secreta", and Eliel, some of the most visible the style had to offer. Thanks to the record's success as it hit the charts with force, Zion & Lennox toured all over the Americas, performing before large and appreciative audiences. Soon industry demand and personal pressure caused Zion & Lennox to go in different directions. Boldly boasting to be one of the greatest singers ever to hail not only from Puerto Rico but all of Latin America, Ortiz started his own record label, Baby Records, for whom he is the flagship act and CEO. Lennox continues to make guest appearances and collaborate with important genre artists. It came after a lengthy discussion in a New York hotel in which they parted amicably. Recently, as of February 8, 2008, Zion y Lennox are on a "reunited" tour. They also set the reggaeton world on notice slating a November 2008 release of their latest effort which has yet to be publicly titled. Zion participated in a beach festival named "Back to School", on August 9, 2008. In early 2010, they joined and signed a contract with Pina Records appearing on the compilation album Golpe De Estado (2010).