Best Scooter And Lavelle Songs of All Time – Top 10 Tracks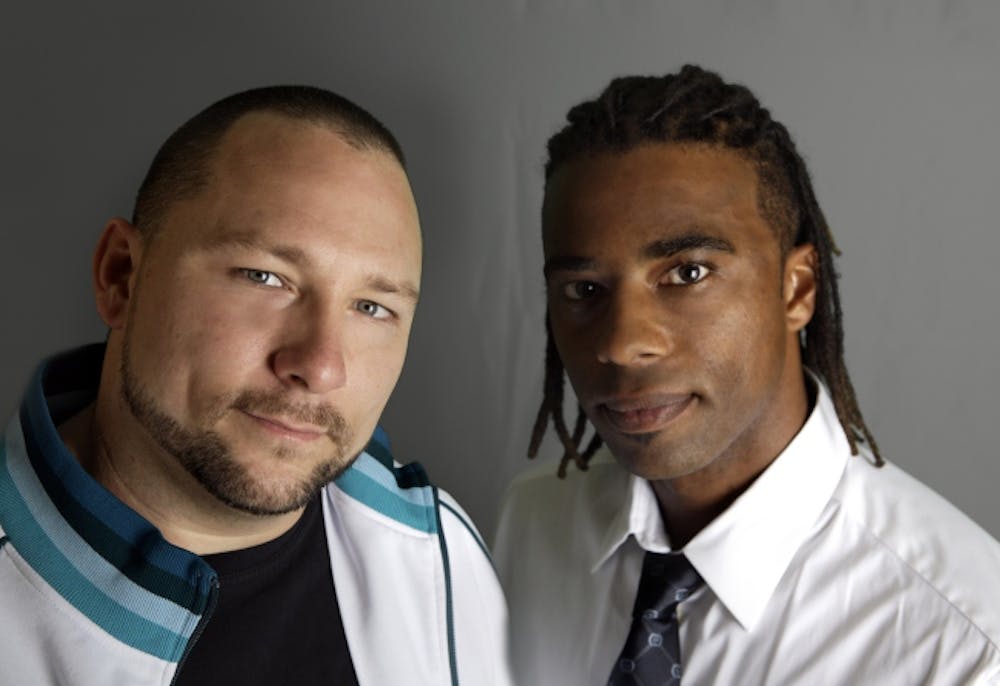 Follow Scooter And Lavelle!
Follow Scooter And Lavelle to get alerts about upcoming events and special deals!
With their jaw dropping mixing style, phenomenal production skills, easily recognizable look and unique sound, Scooter and Lavelle, are quickly climbing the dj ranks.
Scooter And Lavelle has performed in venues such as: Jewel, Groove Cruise Cabo, Liquid, Shrine
Scooter And Lavelle has upcoming events in Groove Cruise Cabo
Without further ado, here are Scooter And Lavelle top 10 tracks of all time:
1. Bonk Donk - Original Mix
2. The Deep End - Original Mix
3. We Got Chicks - Original Mix
4. The Deep End - George Acosta Pool Remix
Scooter And Lavelle, George Acosta
5. Wander (George Acosta Remix)
Scooter And Lavelle, Lavelle
6. Me and the Clan
7. Gangsta Party
8. Wander - Original Mix
9. Crazius - Original Mix
10. Camel Toe - Camel Toe remix instrumental
Scooter And Lavelle Details
Electronic
With their jaw dropping mixing style, phenomenal production skills, easily recognizable look and unique sound, Scooter and Lavelle, are quickly climbing the dj ranks. Yes they are award winning dj's unto themselves, but when they spin together on 4 turntables - there is, quite literally, nothing like them out there. They have perfected the art of playing 4 records at once into a seamless sound uniquely theirs. Lavelle's banging progressive mixes is the foundation of their music, and to it Scooter adds in scratching and turntablism as well as hip-hop, rock and pop music loops. They've been known to mix in everything from the Sesame Street theme song to Eminem's "Slim Shady." They have self proclaimed the genre- "bangin progressive turntablism." No one else has been able to duplicate what they do and no one else could. Their ability to rock every party with their unique take on house music has garnered them international attention. Spinning together for over 9 years, they have blown up dance floors all across America and recently completed a 30 city US tour with Charles Feelgood.
When they met years ago, they were both resident dj's at a small underground club in San Diego called The Candy Bar. Scooter would start off the night with his hip hop set, while Lavelle and others would close spinning house. On one chance occurrence, as Scooter waited for his check so he could leave, he began playing over Lavelle's music with one of his scratch records. The crowd gathered around in awe. Mouths hung open. Afterwards, everyone, including the promoter, expressed amazement. Scooter knew it could be even better if he had his own two turntables to work with. They agreed to bring in another set for the next show. That following week magic was born as Lavelle played solid house tracks and Scooter scratched, rocked doubles and threw in loops over it. The crowd ate it up! So well received, they were immediately asked to become residents by the promoter of one of San Diego's premier house venues. With over 2,000 club goers every weekend, they quickly became household names in San Diego and began playing up and down the west coast. And the rest, as they say, is history.
Scooter and LaVelle have played together at some of America's top parties including Gods Kitchen (USA), Winter Music Conference (Miami), House of Blues (Los Angeles & Las Vegas) Crow Bar (Miami) and the Sundance Film Festival (Salt Lake City) just to name a few. They currently hold residencies at Las Vegas's premier party venues- Rehab at The Hard Rock Hotel as well as America's #1 Halloween party, The Fantasy and Fetish Ball. Voted one of the world's top 10 parties that must be experienced by Maxim Magazine, Scooter and LaVelle have rocked it every year since 2001. Their other residencies include San Diego's Aubergine and largest club venue, On Broadway. In Los Angeles you can find them at playing to sold out crowds at Club Rubber, Diezel and Naked LA and Denver continues to fly them out to rock Club Vinyl. They have built up a solid reputation in the dance scene and take a huge following on the road with them everywhere they play!
A big part of their success is their complete outpouring of love for the music they play. These two are a high energy act. You will never find them bored behind the decks smoking a cigarette and staring at the crowd in disdain while they wait to play their next song. Instead you will find them in constant motion, whether it's with lightning fast hands rocking doubles, jumping up and down with the crowd or pumping their hands in the air- motivating the club to "make some noise!" Their act is always fresh and they continue to surprise both each other and their fans by bringing out secret records neither knows the other is going to play. Whether it's a classic house track or one of today's top hits, it has an appeal they know their audience will love.
When they are not performing, they're busy using their production talents in the studio. The gifted team have produced numerous songs including, "Sandman", an illicit remix of the Metallica smash. Another club hit, "Can't Stop" appeared on DJ Miss Lisa's cd "Magnetism" that was released on Topaz Records in 2003. Although Scooter and Lavelle have included their own singles on past compilation cd's, their fifth album "Hard Act to Follow," is made entirely of original music produced and arranged by the talented dj duo. With over 20 years combined in the music industry, Scooter and Lavelle know the music that motivates a dance floor. Played in nightclubs across the country, the songs of "Hard Act to Follow" have already proven themselves club hits. "Freaks" and "Power" are two great examples of their bangin', peak-time, big room tracks while "6 Million Dj's" showcases their diversity and ability to both produce and play funkier house tracks. "Feelin' Devine" is a great example of their studio production skills.
They've been featured in Playboy's "Girls of the Hard Rock" and the award winning feature film "Put the Needle on the Record" (http://dj-film.com.) They've also appeared in the 2005 season of "The Club" on Spike TV and on the E Channel's Vegas Nightlife episode. They have shared the stage with such greats as Paul Okenfold, Tall Paul, DJ Dan, Donald Glaude, Grant Plant, Jon Bishop, Christopher Lawrence, and Richard "Humpty" Vision, to name just a few. Their most recent awards include being voted San Diego's Best DJ's @ 944 magazine in 2005 and St. Louis' Best DJ Show @ Velocity Promotions.
With their ability to play bangin' house, hip hop and every genre in between, Scooter and LaVelle can rock any dance floor, anywhere, any time! They are a complete package! Currently touring in support of their latest album "Gettin' It Done," these two are unstoppable. Make sure to check them out at a venue in a city near you, cause if you haven't seen them, you haven't truly heard them!