Best Mstrkrft Songs of All Time – Top 10 Tracks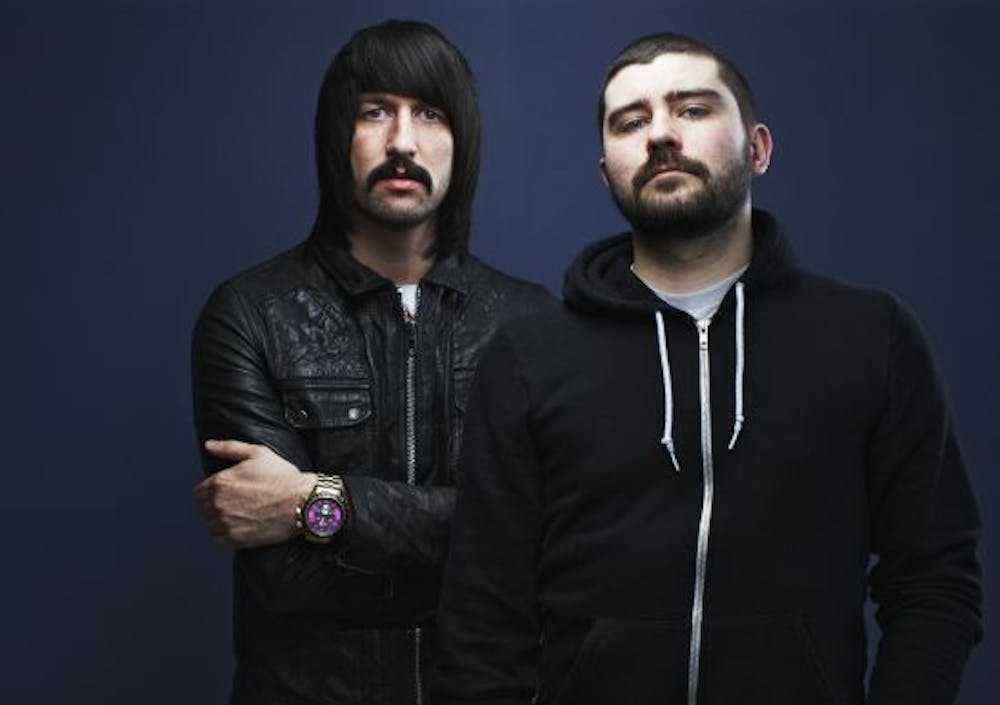 Follow Mstrkrft!
Follow Mstrkrft to get alerts about upcoming events and special deals!
"We tried to make 'festival weapons,' so when we play them, it's like throwing a million hatchets into the audience," explains Jesse F.
Mstrkrft has performed in venues such as: EDC Orlando, 45 East, Bang Bang, Coda, Sound, Academy, Audio Discotech, New City Gas, Newspeak, Q Nightclub
Mstrkrft has played in major festivals like EDC Orlando
Without further ado, here are Mstrkrft top 10 tracks of all time:
1. Heartbreaker (feat. John Legend)
2. D.A.N.C.E. - MSTRKRFT Remix
3. Easy Love
4. 1,000 Cigarettes
5. Heartbreaker (feat. John Legend) - Radio Edit
6. Neon Knights
7. Bounce (feat. N.O.R.E & ISIS)
Mstrkrft, Isis, N.O.R.E.
8. So Deep (feat. Jahmal of the Carps)
Mstrkrft, Jahmal of The Carps
9. Work On You
10. Spirit Of Truth
Mstrkrft Details
Electronic
"We tried to make 'festival weapons,' so when we play them, it's like throwing a million hatchets into the audience," explains Jesse F. Keeler, one half of DJ/production duo MSTRKRFT, describing the songs from the upcoming album, Fist Of God (to be released 3/17 on Dim Mak/Downtown). "When we play our own records, they need to be big." Indeed, when it came to following up their acclaimed debut, 2006's The Looks, MSTRKRFT looked to their experience behind the decks, spinning everywhere from packed, sweaty clubs to major festivals like the World Electronic Music Festival and Bonnaroo. "When we made The Looks, we hadn't started DJ-ing professionally," says Al Puodziukas, the other half of MSTRKRFT better known as Al-P. "This record is more like what we'd play out in our sets." "Making The Looks was a debauched time," Jesse adds. "We'd go out and party every single night, then come to the studio at 1:00 pm. We're still going out every night, but around the world, which is a very different experience. It may sound arrogant, but from our DJ experience we've developed ideas about what people should be listening to." That's demonstrated by Fist of God's sonic evolution. Not only are the beats fatter than ever this time around, they also represent Al-P and Jesse's mutation of today's best urban music into MSTRKRFT's distinctively brutal club grooves. Throughout Fist, slamming cameos from the likes of John Legend, N.O.R.E., Ghostface Killah, E-40, Freeway, and Isis of Thunderheist all get MSTRKRFTED. "It wasn't a conscious decision to incorporate more of those sounds," Jesse clarifies. "It's just a reflection of where our heads are at."
At first, however, the rappers needed a little convincing to fuck with these Canadian club dudes in suspiciously tight jeans. "E-40's son [the pioneering hyphy producer Droop-E] is a fan of ours," Jesse says. "Droop told him, 'You should do this, Dad.'" The Bay Area mic legend came around, when he heard MSTRKRFT's powerful beats: as E-40 spits on "Click Click", "How many rappers you know can get on an up tempo 120, man, and still gas it?" MSTRKRFT's embrace of urban sounds doesn't seem so shocking, either, considering the group's musical background. Al-P and Jesse started collaborating in 2004, when Al produced You're A Woman, I'm A Machine, the first (and only) album from Jesse's former band, the acclaimed Toronto noise-rock iconoclast duo Death From Above 1979, which went Gold in their native Canada. Before that, however, Al-P worked as a studio engineer. "I got into engineering through playing in punk bands, recording little EP's on a half-inch eight track in my parent's basement," Al explains, "and then I found myself doing corporate hip-hop in New York. The way I'm involved now is completely different: hip-hop recontextualized for our own use has become exciting."
Indeed, locking down Fist's rapper cameos has provided its own share of thrills. To get N.O.R.E. for the first single, "Bounce," the group had to go through a friend of a friend who had a connection with the Queens rap legend. "Welcome to the world of MSTRKRFT," Jesse deadpans. "To record N.O.R.E., we went to Miami to this studio in a desolate part of the 'hood; when we arrived, it was totally dark, and there were all these guys. But they were cool with us right away, and the track totally clicked with N.O.R.E. He's talented as hell. We want to take our collaborators out of their element: N.O.R.E. got that, and the risk paid off—the track is massive, and now we're good friends." As for getting Ghostface's verse for the gritty neo hip-house anthem "Word Up," MSTRKRFT were inspired by The Pretty Toney Album – Ghostface got it right away. Meanwhile, John Legend's astonishing performance on "Heartbreaker"—Fist's unclassifiable, synth-pop-meets-Journey ballad co-written with Space Cowboy—came about after Legend proved impressed with MSTRKRFT's remix of his single "Green Light." "Other than his multimillion dollar voice, John just gave the track what it needed," Jesse says. "No one else could've completed it like that. The fact that John has worked with producers like Kanye and will.i.am puts us in great company. I'm quite positive 'Heartbreaker' is not the end of MSTRKRFT's relationship with John Legend."
According to Jesse, Fist of God's curveball nature was a natural progression: MSTRKRFT had no interest in exploring the trendy electro or New Wave nostalgia so prevalent on today's dancefloors. "Neither of us listen to cool music," Jesse claims. "We're more interested in Steely Dan, Billy Joel, Hank Williams or Robert Johnson." As such, Fist Of God proves not retro, but timeless. "We've never tried to make a 'now' record," Jesse says. "We like our music to be confusing as to when it was made—so it sounds new and old at the same time." To that end, Jesse and Al-P returned to dance music's classic roots, evidenced by "Word Up"s transmogrified Chicago booty juke and the updated Paradise Garage proto-house of "Breakaway" featuring a soulful vocal from Jahmal, singer for Toronto band The Carps. In exploring primordial club styles, MSTRKRFT found a connection to the immediacy of their punk roots. "Like punk, early dance music sonically sounds like garbage, but has ten times the feeling of most music today," Jesse says. "We wanted to get more of the raw Chicago-Detroit vibe in our music. That whole era of rap, hip-house and dance music resonates emotionally for me—it's my youth. It was pre-computer music, and much more emotional; the more modern intricacies and nerdiness distract from getting emotion across."
To keep the tracks fresh, Jesse and Al-P avoided most computer recording technologies. Upgrading the drum-machine 4/4 beats and squelching vocoders of The Looks for Fist, MSTRKRFT fed SuperJupiter and MKS-80 synthesizers, live bass, Wurlitzer organ and other instruments into Pro Tools. "We have a live room, so we make real drums sounds and sequence them tight," Jesse explains. "We're not these guys just sitting in front of a computer." "I don't want to be limited by my index finger," Al-P adds. The restricted, all-analog approach produced not minimal grooves, but maximal ones using as few elements as possible. "Every time we do a remix for a big pop artist, they always send us 60 vocal tracks," Jesse says. "Fuck, the Beatles used just four tracks, so what do we need all that shit for? We'd rather have fewer sounds done well, that have some life to them: we come from punk rock, so we're used to being creative with the same things over and over." The results prove more idiosyncratic than typical dance music, yet still bang in the club: "1,000 Cigarettes" for example freaks ZZ Top boogie through robot-rock synths. "We're riff guys—we shy away from moments when there's no hook," Jesse explains. "It can't be complicated—it's party music. If it loses track of that, it doesn't work."
Probably the most massive riff on MSTRKRFT's new album is the insanely pounding title track, which works up an almost death-metal intensity. "We're always trying to be brutal and pummeling," Jesse says. "It's a good reflection of how our brains are deformed." "Making sure the rest of the songs live up to that title was also helpful," adds Al-P. Jesse claims the title comes from the name of a '70s-era synthesizer that is so big, it takes up an entire room. "It makes sounds that turn speakers into dust," he says. "I always liked that it was so big and loud, they called it 'Fist of God.' Like it, this record trying to do something that doesn't really exist—we're always trying to do what we haven't done already." MSTRKRFT has never in fact played by the fickle genre rules of the club scene—they've toured with everyone from John Digweed to Z-Trip, and remixed everyone from Wolfmother and Metric to Armand Van Helden and Usher—and they're not about to start. As such, Fist Of God creates a new lane, per standard practice. "MSTRKRFT isn't defined by form, but by substance," Jesse concludes. "Neither of us pay attention to what's going on in music: our goal is to have our own scene, like Sonic Youth. They do whatever the fuck they want, detached from whatever trend is happening, and people respect that. We spit in face of purists all the time. Our next record, we're going to do something completely different, so you'll have to rethink us again. So go fuck yourself—we just like music."