Best LMFAO Songs of All Time – Top 10 Tracks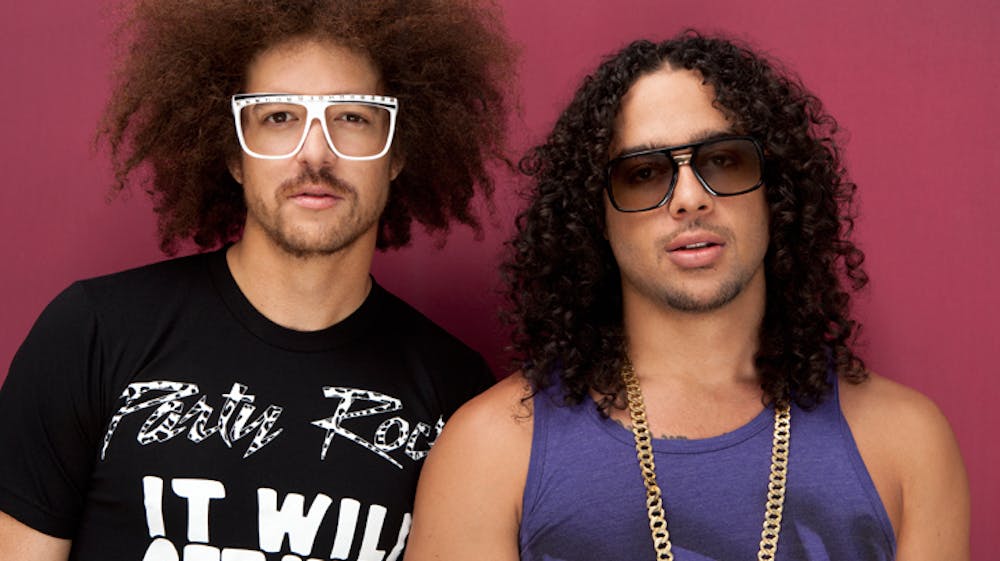 Follow LMFAO!
Follow LMFAO to get alerts about upcoming events and special deals!
What began as party music, hip-hop has evolved to encompass countless styles and trends.
Without further ado, here are LMFAO top 10 tracks of all time:
1. Party Rock Anthem
LMFAO, Lauren Bennett, GoonRock
2. Shots
3. Sexy And I Know It
4. Yes
5. Sorry For Party Rocking
6. Champagne Showers
7. La La La
8. I'm In Miami Bitch
9. Let The Bass Kick In Miami Girl - The Only Way Is Essex Mix
10. Get Crazy
LMFAO Details
Electronic, Pop, House, Rap / Hip-Hop
What began as party music, hip-hop has evolved to encompass countless styles and trends. From party jams to socially conscious music and gangsta rap to retro, hip hop continues to evolve. At the forefront of the evolution is a surprising group affectionately referred to as LMFAO.
Everyone today understands what the acronym LMFAO means. It's an acronym that has made its way into popular American vernacular. That fact is not lost on Red Foo and Sky Blu, the members of LMFAO. One conversation with the guys of LMFAO will lead anyone to the conclusion that LMFAO aren't the center of attention they are the life of the party. For a group that is at the core of the Los Angeles party culture – Even Paris Hilton calls them her friends – LMFAO was a perfect name for the group. Although light-hearted and a little comedic, LMFAO may have just innocently discovered a brand new sound and musical genre - A new subculture of American hip-hop they have deemed "New 80's." "People would ask us what type of music we make and we'd tell them, 'Electro hip-hop,' but now we just say 'New 80's'," Red Foo explains.
It has been said that perfect vision only works in reverse. It is only now that LMFAO can connect the dots of their past and visualize their future. What originally started out as a simple request for ghost production on a DJ AM produced commercial has led to the discovery of a new sound that seems to be catching momentum. DJ AM, celebrity DJ and pop culture fixture, is best known for pioneering a new DJ culture of mixing genres of music. Red Foo recalls working with AM, "He hired me to work on some ghost production on a commercial. He was into this whole electro thing and was saying that all the DJs were into this stuff. At the time, he was creating a theme night at the club called, 'Banana Split,' with DJ Steve Aoki so he gave us a CD with all these different beats. It reminded us of hip-hop, but on some futuristic stuff. We were inspired."
Red Foo and Sky Blu's relationship with DJ AM blossomed and the group was eventually invited to DJ for New Years 2007 at LAX, the LA based celebrity hot spot owned by DJ AM. The only advice AM offered to LMFAO was simple, "Follow the crowd and don't be afraid to change the genre." Foo and Blu quickly learned how to please the crowd. As DJs, LMFAO wanted to find music that had great transitions so musically it would be easier to change from one genre to the other. As producers and artists, they had the ability to create that music. It was a natural evolution.
"We started making music not for radio, not for consumers, but for the DJs. Even if we make a sad song lyrically, we still wanted our song to work at a party," says Red Foo. Actually, Red Foo's musical counterpart, Sky Blu is decidely less vocal and the two share a Jay and Silent Bob type of relationship. But, both are in total agreement regarding their reason for first deciding to create music in addition to playing music as DJs.
As artists, LMFAO continue to push the envelope of musical boundaries, but they also haven't taken themselves too seriously. In fact, their personalities are the polar opposite to seriousness. LMFAO has developed quite an earnest following because of their easygoing fun nature. With thousands of Myspace friends and even more Youtube hits, LMFAO is already a viral phenom Online. Red Foo and Sky Blu speak directly to the technologic savvy skeptical MTV Generation. Actually, a mish-mash of insanly funny and crazy outlandish over-the-top personality filled clips have already gotten the group banned from Youtube for creating an insanely popular low-budget music video for their song, "I'm In Miami Bitch," filmed on the streets and in the hotels of Miami during this past year's Winter Music Conference. When Youtube informed Foo and Blu that they had banned their video for inappropriate content, the guys simply responded with, "Don't judge us you bastards." Since then, LMFAO's popularity has sky-rocketed.
Another source of LMFAO's popularity comes from a clever remix of Fergie's song, "Clumsy." The remix received a great amount of radio airplay in 2007 and continues to gain on the charts. Surely evidence of the group's rising stardom is their recently signed publishing deal with the UK company, Global Talent, the musical home to Grammy Award winning artist Corrine Bailey Rae and many others.
With a mountain of new music such as the inspirational "Everyday I See My Dream," and the infectious "YES," LMFAO is poised to not only find their own groove but create one for others to follow. But if you ask Red Foo or Sky Blu about their plans, the response is rather simple and humble. "Working hard feels good if it's something you love doing. We can make it through this life without doing music. But why try?