Best Judge Jules Songs of All Time – Top 10 Tracks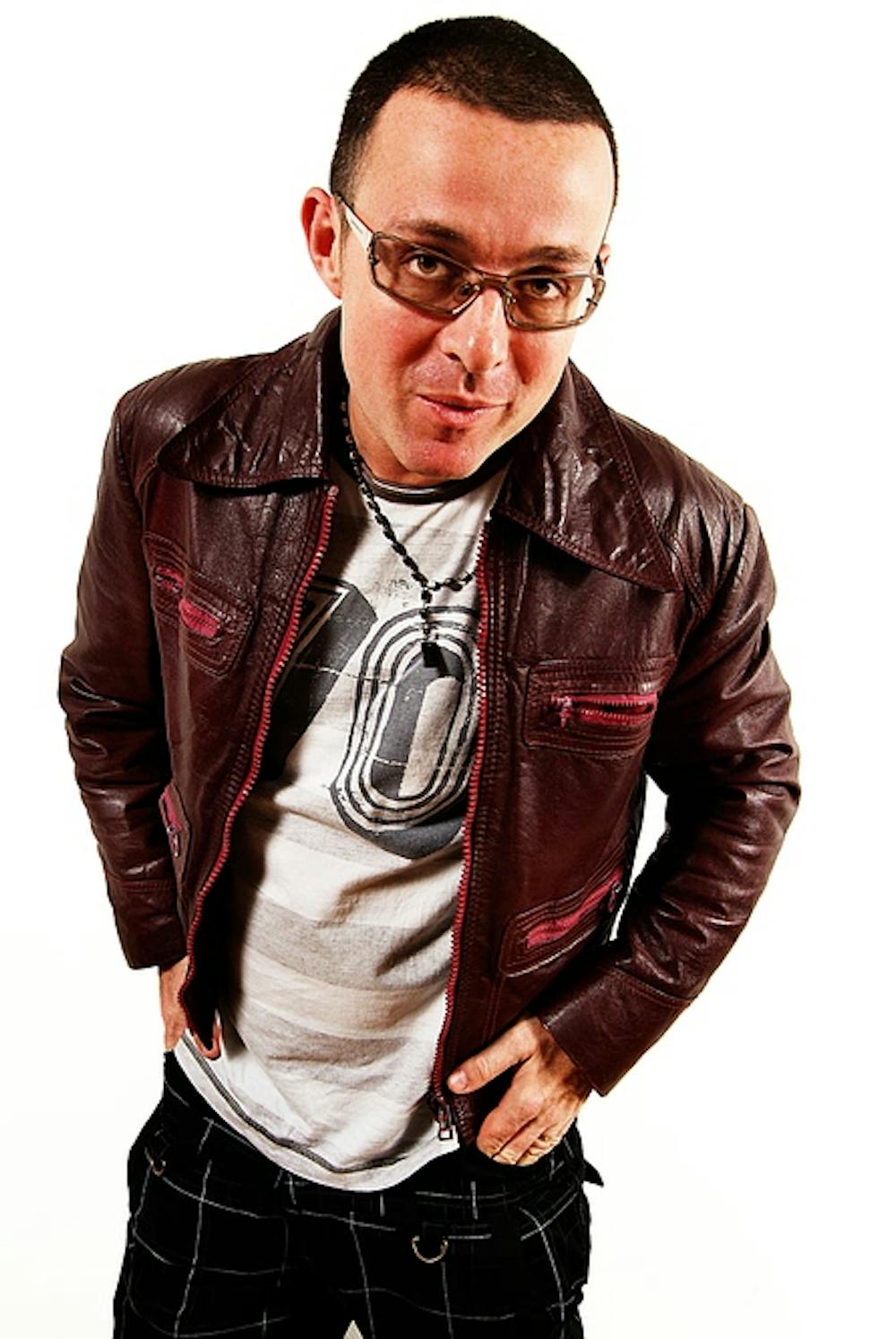 Follow Judge Jules!
Follow Judge Jules to get alerts about upcoming events and special deals!
Jules has lived in North London for the majority of his life, now settling in the Highgate area with his wife Amanda and son Jake.
Judge Jules has performed in venues such as: Ibiza Rocks, Halcyon, O2 Academy Islington, O2 Victoria Warehouse
Without further ado, here are Judge Jules top 10 tracks of all time:
1. Getting Played
2. Deep & Meaningful
3. Te Quiero
4. FA Premier League Anthem 2004 - 2007 - Judge Jules 2005 Mix
5. Burn In The Sun - Original Mix
Judge Jules, Richard Bedford
6. Gotta Be Heard
7. FA Premier League Anthem 2004 - 2007 - Handshake Mix
8. Excited - Judge Jules Remix
M People, Judge Jules
9. Erotica
10. Verano Loco
Judge Jules Details
Electronic
Jules has lived in North London for the majority of his life, now settling in the Highgate area with his wife Amanda and son Jake. Jules met Amanda around six years ago and they then married in March 1998; their son Jake arrived on the scene just over a year later in June 1999. Jules has continued his ascension to world domination into the 21st century and has a view to cover the globe with his djing and productions over the forthcoming years.
Jules leads a very pro-active life juggling the numerous facets to his career that has made him not only the man he is today, but also the emissary to the world dance music industry at home and abroad.
The DJ
Jules began playing in 1987, since then he has played across the length and breadth of the United Kingdom and on almost every continent in the world. Jules is now at the peak of his profession, with his worldwide appeal ever increasing. He blends passion with technically brilliant sets that maintain his domestic and international demand.
Over the past five years, he has risen to meteoric success. In 1998 was voted No.3 in the 'Top 150 DJs in the World' in DJ Magazine, along with the No.1 position at the 'Mixmag Clublife / BBC2 Awards'.
In 1999, Jules was voted 'Best DJ' at the Muzik Awards and No.1. in the 'Mixmag Readers' Poll', at the Ministry Awards Jules won 'Best DJ' and 'Best Radio DJ' and at one of the final award ceremonies of the year, the 'Smirnoff Dance Awards" in Ireland, Jules won "Best International DJ". Judge Jules has in essence 'cleaned-up' in '99, collecting most of the major titles at all the music awards.
In 2000 Jules got the No.6 spot in the DJ Magazine 'Top 100 DJs in the World' and has added to this accolade by winning the 'Best Radio DJ' at the Smirnoff Dance Star Awards and 'Best International DJ' at the BBM Awards.
In 2001, Jules has been the 'Best Radio DJ' for the second year running at the Smirnoff Dance Star Awards. In September 2001, Jules won the 'Best Trance DJ' category at the 'Ibiza Pascha Awards 2001'. He also picked up the 'Best International DJ' at the BBM Awards at the end of the year.
The Club Work
Jules plays at all the top club nights in the UK:
Cream,Gods Kitchen, Miss Moneypennys, Progress, Passion, Temple Theatre (Dublin), Serious @ The Cross, Inside Out (Glasgow), Gatecrasher (Residency)
Jules is said to be the largest crowd-puller on the club circuit and has been titled 'The Peoples DJ' in the majority of the dance music press. Jules also plays regularly in Europe, the U.S., the Southern hemisphere (e.g. Brazil, Argentina, Australia, Hong Kong and Singapore to name but a few), on the African continent (e.g. The Pyramids, Egypt) and also U.A.E.
On the Radio
Jules started radio djing in 1987 on the then pirate radio station, Kiss FM that went legal in 1990. Jules hosted Kiss' two flagship weekend shows. Jules' shows were syndicated to Manchester / NW and Yorkshire with audience figures for the syndicated show topping 250,000. Jules won three consecutive Kiss FM awards for 'Best Club DJ 91-94'.
Then in October 1997, Jules moved to BBC Radio 1 (Saturday's 5pm - 7pm) and now broadcasts to over 2.2 million per week, which Jules has maintained and increased in 2001. In 2000 Jules has continued his University tours for Radio 1 and will be increasing his live shows in 2001/2002 on Friday nights from around the UK.
On Journalism
Over the decade that Jules has been within the Music Industry, he has written articles for The Face, I-D, Time Out, Record Mirror and Mixmag (current Music Reviews page). Jules has also featured in the above and all the top music publications that are circulating at present: Ministry Magazine, Muzik, DJ Magazine, M8, Seven, BBM, Flipside, Bassline, BPM, Fast Times and numerous others, in this country and overseas.
Jules has also been featured in a number of the major newspapers, such as: 'Sunday Times (Relative Values feature), The Guardian (Home entertainment, G2), The Evening Standard, The Independent, The Telegraph, The Sun, The Mirror' and 'The Mail on Sunday'. Along with numerous features and reviews in specialist magazines such as 'Top Gear' and Local & Regional press.
The Producer / Writer / A&R
At present Jules is working with Paul Masterson on their 'Hi-Gate' project. Their third release due called 'You & me', which follows 'Pitchin', which rose to number six in the national charts, 'I Can Hear Voices/Caned & Unable' and then 'Gonna Work It Out' which have all made the 'Top Twenty' in 2001. Jules is now completing an album with Paul, which will be released midway through 2002. They have a number of production guises; one of the more memorable names is 'Yomanda'. Jules has previously worked with John Kelly under the guise of 'Sticks 'n' Stoned'.
Jules has produced and mixed a number of top selling compilations; Kiss in Ibiza '96; Retrospective of House Vol.1 & Vol.2; Journeys By DJ Vol.2 & Dance Wars; Positiva - Phase One; Introspective of House - 1st Dimension, including ten for the 'Ministry' record label ('Ministry of Sound Vol.3 & 4, Ministry Classics' and 'Ministry Clubbers Guide to' plus various 'Ministry Annuals'), three of which became the biggest sellers in '98.
In '99 & 2000, Jules wrote remixes for Sonique and co-produced for Angelic in 2000 & 2001. Jules also joined the Serious Records team in 2001 becoming the 'Head of A&R' for the ever-expanding label and producing his CD compilations - 'Clubbed' on Serious Records also, after his contract with Ministry of Sound ended, which is now on its third release in 2002. Jules and Paul will have a number of productions that will be released in the first half of 2002 under various pseudonyms so do watch the music press and his web site (www.JudgeJules.Net) for further details.
On TV
Jules was the presenter and anchorman on Kiss TV's "Judge and The Jury" which appeared weekly on Granada's satellite channel. Jules has also had numerous TV appearances on mainstream programmes including: Big Breakfast, South Bank Show, Kilroy, Hypnosis, South East At Six, MTV, O-zone and regular appearances on Club@vision, with co-presentation work on BPM. In addition, during the summer '99 Jules consulted on 'Kevin & Perry' - Harry Enfield's film on Tiger Aspect Productions.
Now in the millennium, Jules has added another 'O-zone' appearance, and 2 'Top of the Pops' appearances with 'Hi-Gate', along with a report that he did on car audio systems for 'Top Gear'. Jules has also been interviewed on the '11 O'clock show' on Channel 4. There are also a number of television interviews that he has featured in over the year so far: 'Chemical Generation, The Dogs Balearics' (Channel 4), 'Creamfields, Loves Like A Dog (Channel 4) and 'Club World' (BBC 2 & BBC Choice). Numerous appearances on Rapture and Sky 1 and for various music based programs.
Jules has recently featured on Channel 4's "Top 100 No.1's" with Graham Norton. Jules has filmed a 10 part series called 'Spin Cities', which follows Jules to a number of destinations throughout the world. He will be hosting this series and the first program was aired in February 2002 on Play UK (with a view to syndication onto terrestrial TV). He will be interviewed for a BBC2's regular dance club program 'World Choice Clubbing'. Also, with a number of TV appearances on the terrestrial channels over the ensuing months.
On the Internet
Judge Jules now has his own website - www.judgejules.net. Jules leads by taking a pro-active role in the running of the site. The website contains all the information anyone could need on the multi-award winning Radio 1 DJ. It also has special features, competitions, the tunes that are tantalising the nation and many more fully immersive experiences. It is growing in size and stature reflecting the popularity that Jules has built, with new sections being added throughout the year to maintain the level of quality you can expect. The JudgeJules.Net web site was nominated for the 'Best Dance Act' at the Online Music Awards (Music Week) 2001 and we are hoping to transform that into an award in 2002 with all the additions we have created.
Promoter
To add to this already colourful career, after the success of Jules' night - Judgement Sunday's @ Eden in Ibiza in 2000, the night has rapidly grown over the last 2 years and is now established as one of the premier nights in Ibiza. It has now come to the British Isles and holds events on bank holiday weekends, with two events being held in March and May 2002.
Charity Work
Jules supports 'Shelter', 'Cancer Research UK', 'C.A.L.M. (Campaign Against Living Miserably)'and has also been involved with all the Radio 1 charity fund raising events, such as 'Essential Relief '(for Comic Relief) and 'Guide Dogs for the Blind'.
In 2002, Jules has got involved with the Government campaign - 'Aim Higher' promoting the younger generation to continue with education. He has got heavily involved with the Nordorf-Robins Music Therapy - 'World DJ Day' campaign, which aims to raise money from the music industry to aid the disabled through music therapy.