Best Ike Turner Songs of All Time – Top 10 Tracks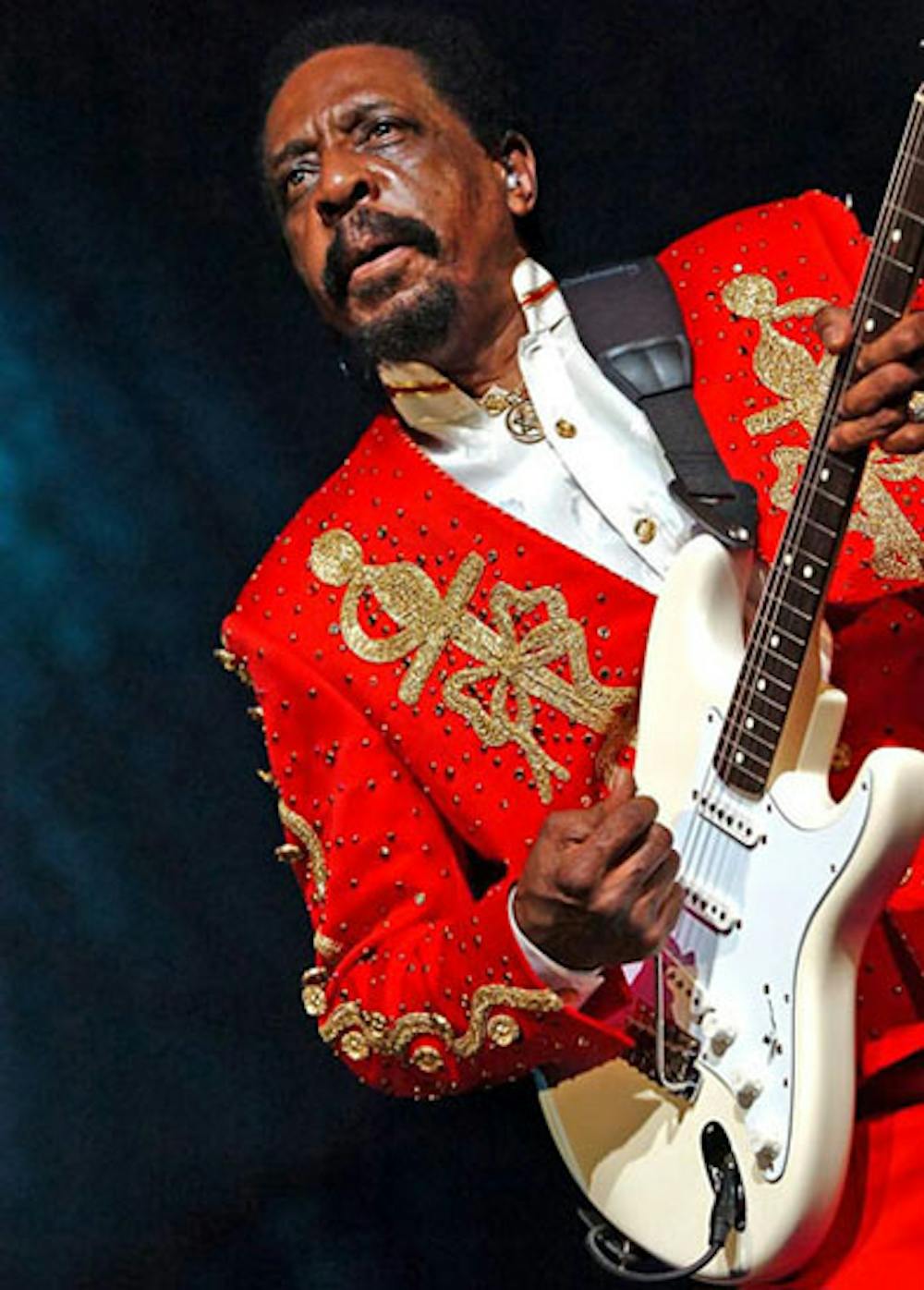 Follow Ike Turner!
Follow Ike Turner to get alerts about upcoming events and special deals!
Ike Turner is certainly one of the most dehumanized figures in rock history.
Without further ado, here are Ike Turner top 10 tracks of all time:
1. Rocket 88
2. Rocket 88 (Alternative Take)
Ike Turner, Jackie Brenston
3. She Made My Blood Run Cold
4. Shake A Tail Feather
Ike Turner, Tina Turner
5. A Fool In Love
Ike Turner, Tina Turner
6. I'm Fed Up
Ike Turner, Tina Turner
7. Too Hot To Hold
Ike Turner, Tina Turner
8. It Sho Ain't Me
Ike Turner, Tina Turner
9. Ain't Nobody's Business
Ike Turner, Tina Turner
10. I'm Tore Up
Ike Turner Details
Rock, Jazz / Blues
Ike Turner is certainly one of the most dehumanized figures in rock history. Mention his name and the first association that comes to most anyone's mind is "abusive husband," not "soul star" or "rock & roll pioneer." According to legend, Turner was a tyrannical ogre who used physical violence and psychological intimidation to control his infinitely more talented wife Tina, while indulging his own appetites for cocaine and women at every turn. That's not entirely accurate, although by most accounts Turner did quite a bit to earn that reputation; he spent time in prison due to his drug problems, and his own refutations of Tina's allegations of abuse have been inconsistent at best over the years. Still, this view of Turner as villain does a disservice to his very real musical legacy as an instrumentalist and bandleader. As a pianist in the early '50s, Turner helped lay the groundwork for rock & roll; he was also a distinctive guitarist with a biting, nasty tone, and was one of the first to make the whammy bar an integral part of his sound. It's true that he was nowhere near the singer Tina was, and it's probably also true that she was his ticket to stardom; moreover, his songwriting, while sometimes inspired, often possessed a generic quality that made consistent chart appearances difficult. But as a bandleader, his disciplinarian approach -- when it wasn't manifesting itself in darker fashion, that is -- resulted in undeniably tight, well-drilled ensembles and some of the most exhilarating live shows the R&B world ever saw -- centered around Tina, yes, but spectacles nonetheless. If Turner isn't exactly the most defensible character around, in the end his musical strengths and weaknesses deserve the same objective appraisal as anyone.
Izear Luster Turner, Jr. was born November 5, 1931, in Clarksdale, MS, the heart of the segregated South. His father was beaten to death by a mob of angry whites, and growing up in a hostile environment unquestionably hardened Turner. He found his calling in music from an early age; he learned boogie-woogie piano firsthand from his inspiration, Pinetop Perkins, and as a teenager talked himself into a DJ slot on the local radio station, where he played everything from the jump blues of Louis Jordan to country & western. He formed his first band while still in high school, and by the late '40s had assembled an outfit dubbed the Kings of Rhythm. In 1951, the Kings of Rhythm traveled to Memphis to record at Sam Phillips' Sun studio. Their original tune "Rocket 88" (actual authorship is still disputed) was recorded with a lead vocal by sax player Jackie Brenston, and as a result was released under the name Jackie Brenston & His Delta Cats, not Ike Turner & His Kings of Rhythm. "Rocket 88" zoomed to the top of the R&B charts and is today regarded by many critics as being quite possibly the first true rock & roll record. Brenston subsequently departed for an unsuccessful solo career, while Turner and his band became session regulars around Memphis; they went on to back legendary bluesmen like Howlin' Wolf ("How Many More Years"), Elmore James, Otis Rush ("Double Trouble," "All Your Love"), Robert Nighthawk, Buddy Guy, and Sonny Boy Williamson II, plus an assortment of Sun artists. During the early '50s, Turner switched from piano to guitar, and also doubled as a talent scout for the Bihari Brothers' Los Angeles-based Modern Records, where he helped get early breaks for artists like Howlin' Wolf and B.B. King.
During the mid-'50s, Turner moved the Kings of Rhythm to East St. Louis, where they rose to the top of the local R&B circuit; Brenston rejoined in 1955, and the group also continued its session activity. Turner sometimes issued records under his own name on labels like Flair, RPM, and Federal, also using the aliases Icky Renrut and Lover Boy. Adopting a revue format for their live performances, the Kings of Rhythm worked with a revolving group of vocalists during this period. One was a teenaged singer originally from Tennessee named Anna Mae Bullock, who met Turner in 1956. She joined the revue, and moved into Turner's house after becoming pregnant by the band's sax player; soon, she and Turner began their own relationship and had a child of their own, marrying in 1958.
Renamed Tina, Turner's new (and latest) wife got her first chance to sing lead on a recording in late 1959, cutting "A Fool in Love" for the Sue label. Released the following year, the song was a runaway smash on the R&B charts, peaking at number two. Turner realized he'd discovered a potential breakout star, and reshaped the band into the Ike & Tina Turner Revue, with Tina now the centerpiece of the act. It took a little time for all involved to get their bearings, but in the meantime, the hits kept coming; "I Idolize You," "It's Gonna Work Out Fine," "Poor Fool," and "Tra La La La La" all hit the R&B Top Ten, a string that ran through 1962. (All except "It's Gonna Work Out Fine" were written by Turner.) 1962 also saw the release of Dance With Ike & Tina Turner & Their Kings of Rhythm Band, an all-instrumental album that showcased Turner's unpredictable guitar work at its best. As Ike & Tina became one of the hardest-working, most popular acts on the so-called chitlin circuit, they recorded for a number of independent labels over the next few years; however, since Turner's original material was increasingly standard-issue, their chart fortunes declined somewhat.
At the same time, the temptations of fame were proving too much for Turner; he developed a severe addiction to cocaine that, when mixed with his dominant personality and quick temper, made for a volatile combination. According to Tina's autobiography, Turner grew increasingly violent, beating her frequently and even burning her with cigarettes and coffee if she got out of line. Turner himself disputes the severity of Tina's claims, but it's worth noting that he had a widespread reputation for being difficult. When producer Phil Spector attempted a commercial comeback around Tina in 1966, he struck a deal with Turner: in exchange for being allowed to record Tina, Ike would receive full credit and billing on the records, but Ike would also not be allowed to set foot in the studio or to meddle with the finished recordings. Spector's collaboration with Tina produced the epic "River Deep - Mountain High," still regarded by many as one of rock's greatest singles, and Ike's involvement was nil -- which, naturally, didn't sit well with him.
In 1969, Ike & Tina were invited to open for the Rolling Stones, and Turner realized that changing times had made the Revue's rough, nasty brand of soul music more palatable to white rock audiences. Accordingly, Turner incorporated contemporary rock & roll covers into the Revue's repertoire, giving them a whole new lease on life. Versions of "Come Together," "I Want to Take You Higher," and "Proud Mary" revived Ike & Tina's chart fortunes -- especially "Proud Mary," which became their first Top Five pop single in 1971 and also won a Grammy. However, Turner's off-stage problems were taking their toll on the act; 1973's "Nutbush City Limits," a song written by Tina, would be their last major hit, and Tina walked out on him in the middle of a 1975 tour.
The Turners' divorce was finalized the following year, and Ike never quite recovered from the loss. For a while, he quit touring to settle in and run the recording studio, Bolic, he'd opened in Los Angeles in 1970. He was too accustomed to life on the road, though, and formed a new outfit that, naturally, didn't measure up to his past success; he also released a couple of solo records on Red Lightnin'. Turner's cocaine addiction drained most of his finances, and his recording studio burned to the ground in 1982. He ran afoul of the law as well, and was arrested numerous times on mostly drug-related offenses. When he and Tina were jointly inducted into the Rock and Roll Hall of Fame in 1991, he was unable to attend the ceremony because he was serving prison time. When Tina's autobiography was adapted into the 1993 film What's Love Got to Do With It, Turner signed away all of his rights, allowing the filmmakers to take narrative liberties for dramatic effect if they chose. Turner attempted a comeback after being released from prison; he also remarried and finally overcame his addictions to live a clean, sober life. At first he tried to keep up with the times musically, but after touring with Joe Louis Walker as a pianist and guitarist, he realized there was more demand for his original style, and formed a new version of the Kings of Rhythm. His autobiography, -Takin' Back My Name, was published by a U.K. company in 1999, and in 2001 he released a new album, Here and Now, which was nominated for a Grammy in the Best Traditional Blues Album category; it was also nominated for several W.C. Handy Awards (the blues equivalent of the Grammys) and took honors for Comeback Album of the Year. Risin' with the Blues, released five years later, was nominated for a Grammy in the same category. Steve Huey, All Music Guide