Best Fischerspooner Songs of All Time – Top 10 Tracks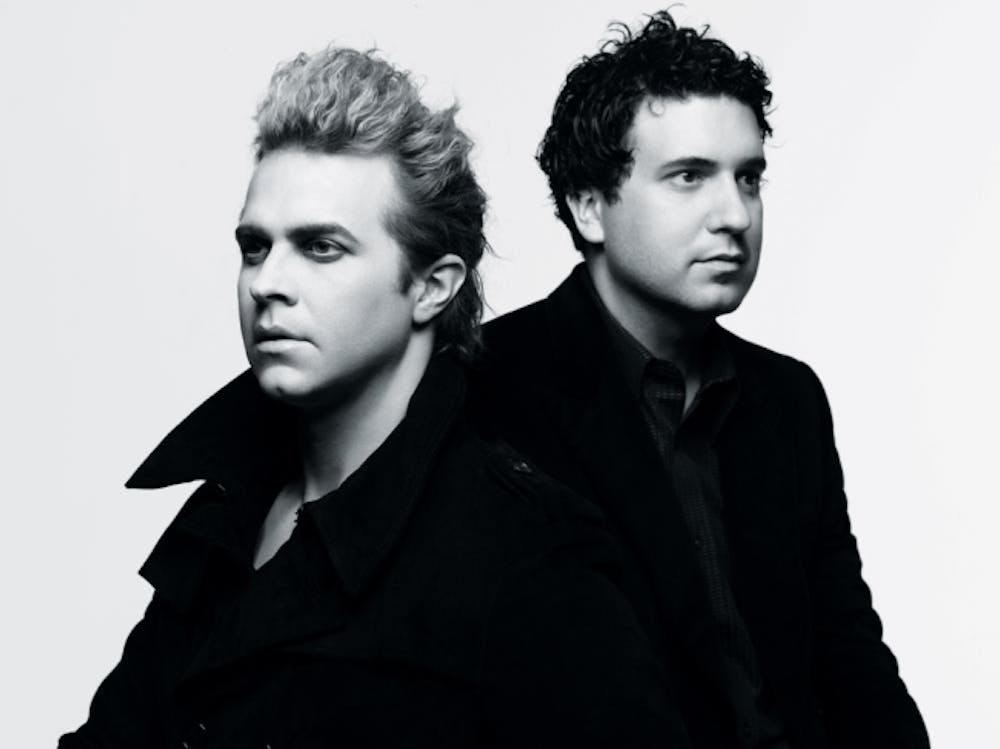 Follow Fischerspooner!
Follow Fischerspooner to get alerts about upcoming events and special deals!
New York art-pop duo Fischerspooner's debut album, #1, was an end-of-the-millennium musical statement of pure digital and visual style.
Fischerspooner has performed in venues such as: The Observatory
Without further ado, here are Fischerspooner top 10 tracks of all time:
1. Emerge
2. Never Win
3. TopBrazil - Benny Benassi vs. Constantin & MazZz Radio Edit
Fischerspooner, Benny Benassi, Constantin, MazZz
4. The 15th
5. All We Are
6. Emerge - Junkie XL Remix
7. Have Fun Tonight
8. Smile Like You Mean It - Fischerspooner Mix
9. TopBrazil
10. Cloud
Fischerspooner Details
Rock
New York art-pop duo Fischerspooner's debut album, #1, was an end-of-the-millennium musical statement of pure digital and visual style. Written in part to accompany an "outsider" pop show bursting with dancers, stage effects and elaborate wardrobe, its songs were infused with raw punk energy, modern sounds and conceptual lyrics.
Rolling Stone called #1 "an alternate-galaxy hit," and NME called it "the best thing to happen to music since electricity."
A daunting act to follow, but Warren Fischer and Casey Spooner had something even bigger up their sleeves. Odyssey is a vast musical leap forward and its realization took over two years and stretched the duo to their physical and creative breaking point.
The hard work paid off with even more outstanding reviews. Rolling Stone said "This time around the tunes are stronger and the arrangements are thicker.. they soar" and NME claimed Odyssey is "Brilliant 8/10".
Fischer and Spooner met in an experimental video class at the School of the Art Institute of Chicago. The two collaborated on performance art pieces but eventually lost touch until years later when both had moved to New York. By this time Warren had begun a career as a commercial director out of frustration with the stagnating alternative music scene, and Casey had been struggling to make his name in experimental theater. Wanting to collaborate again, they attempted a TV pilot but became more interested in the digital soundtrack Warren had composed for the show.
Between 1999 and 2000 they wrote a spate of cool, electronic tracks, like the anthemic hit-to-be "Emerge," to accompany a new experimental performance idea. Spooner was the natural front man and Fischer the behind-the-scenes musical wizard in their own burgeoning Oz. With the help of a network of dancers, singers, costumers and other artist friends the performances grew over a year into controversial "pop" spectaculars.
With the songs available for free through their website, an underground release on Germany's Gigolo Records and their hyper-stylish performances leaving packed houses awestruck, Fischerspooner spearheaded the swelling international electro movement and quickly created a cult of fans around the world. They traveled the show to Europe where intense press attention and a deal with club pioneers Ministry of Sound drove "Emerge" into the UK Top 40 and garnered a worldwide record deal with Capitol Records.
The film, photography, performance and music Fischerspooner were producing also captured the attention of New York's art world, as a unique hybrid of modern pop culture and performance art. A partnership with downtown gallery Deitch Projects led them to perform and show their work at galleries, museums and private collectors' homes around the world.
For their second album, Fischerspooner had a new agenda. They wanted a cohesive album of songs that were more expressive and emotional than their predecessors, aiming for a rich, warm sound in contrast to the crisp surfaces and digital conceptualism of #1. Billboard magazine summed up the new direction saying "Surprise! - Big fat hooks, live drums and guitars, melodies, springy beats and catchy choruses.. a great pop leap for Fischerspooner".
Inspired musically by classic and psychedelic rock, the familiar Fischerspooner sound is now suffused with a lush ambience. "I was thinking of songs I remembered hearing on the radio as a kid," says Fischer. "That warm seventies FM sound coming off the radio from bands like Fleetwood Mac, The Beatles or Pink Floyd." To that end, their creative process had to change dramatically. Warren tried to incorporate as many analog sounds and live instruments as possible. "In a sense, I created a virtual band," says Fischer. Session musicians were brought into studios in Brooklyn where Warren worked with longtime engineer and collaborator Nicolas Vernhes (Fiery Furnaces, Black Dice) to lay down over thirty instrumentals, from which the album would take shape. In a similar departure from the previous album, Casey began to reveal more emotion and a personal perspective in his lyrics and vocal style, pulling from classical and romantic ideas in his search for themes for the new material.
While their new writing approach unfolded, the pair also decided to step outside of their inner circle for the first time, with a wish list of likeminded songwriters and musicians. Warren traveled to Los Angeles to work with producer Tony Hoffer (Beck, Air) at the legendary Sunset Sound Studios. In turn Casey put out calls to the unlikely pairing of hit songwriter Linda Perry and pre-eminent intellectual Susan Sontag, in a bid to reflect the twin pillars of their creative inspiration, high art and pop culture.
"When I approached Susan, it was September 2003" says Casey, "I went to her house and had this fantasy that we would pick something to work on together from my note book of ideas." Instead, after a brief discussion, she disappeared into her library and returned fifteen minutes later with a printed sheet of lyrics titled "We Need A War." "I read them and said 'I don't think I can say the word war, I'm not comfortable saying it." Sontag responded, "You need to get comfortable saying the word war. Your president approved eighty billion dollars for a war in Iraq yesterday."
However, as the half-finished songs piled up, and with the physical toll of the many months in the studio, tensions over creative balance began to swell. Whereas with #1 they worked sporadically over a few years, Fischer would program the music at his apartment and Casey would similarly hammer out lyrics alone, only coming together when it was time to record vocals. For Odyssey, the two would work together intensely in the studio critiquing and pushing each other. Inevitably conflicts arose as their diverse musical perspectives began to clash. "At first it was really uncomfortable to have my process exposed, I'm used to writing by myself and suddenly I was getting feedback on unfinished tracks," says Fischer "but I realized you get to better ideas sometimes because you get pushed." Spooner adds, "We both went a little crazy making the album. We really had to grow as artists and to grow you have to change. Change is never easy."
In the final stages they looked to French producer Mirwais (Madonna's Music, among others) to help put the finishing touches on the album. "I really liked his solo record and the way he's maintained his integrity with massive pop success. We had been working on the album together for over a year, almost at our wits end, and he brought in a huge burst of creative energy and a fresh perspective," says Fischer. Also adding to the final inspiration was a weekly, private "Salon" series they hosted throughout the summer of 2004 to showcase new music, visual ideas and dance to the Williamsburg scene that spawned the project. The energy and vitality of the eclectic following that developed around the weekly events fed back into the album's quintessentially New York style.
Odyssey, so named for the unexpected emotional and artistic journey it took to make it, takes a sonic leap forward, sounding like nothing before it but still unmistakably Fischerspooner. Like the classic rock albums that inspired it, it's a bona fide headphone album, layered with hidden sounds and ideas that reward the close listener. While #1 perfectly captured the plugged-in hyperspace of the turn of the millennium, the timeless Odyssey is touched with sweet melancholy and a bruised strength that reflects the turmoil not only between the duo but also in the world around them.
2005 sees Fischerspooner taking a redesigned show on the road creating a whole new take on their live performance to reflect the organic direction of the album. In this latest incarnation, they have put together a six-piece rock band that blends beautifully with the signature art performance elements that remain in the show's visuals, dancers and of course Casey's "inimitable" stage persona. The New York Post were astounded saying "The metamorphosis of Fischerspooner into a real band is as remarkable as Pinocchio cutting the strings and coming to life."
The rest of 2005 will be filled with more surprises.. Stay tuned!