Best Die Mannequin Songs of All Time – Top 10 Tracks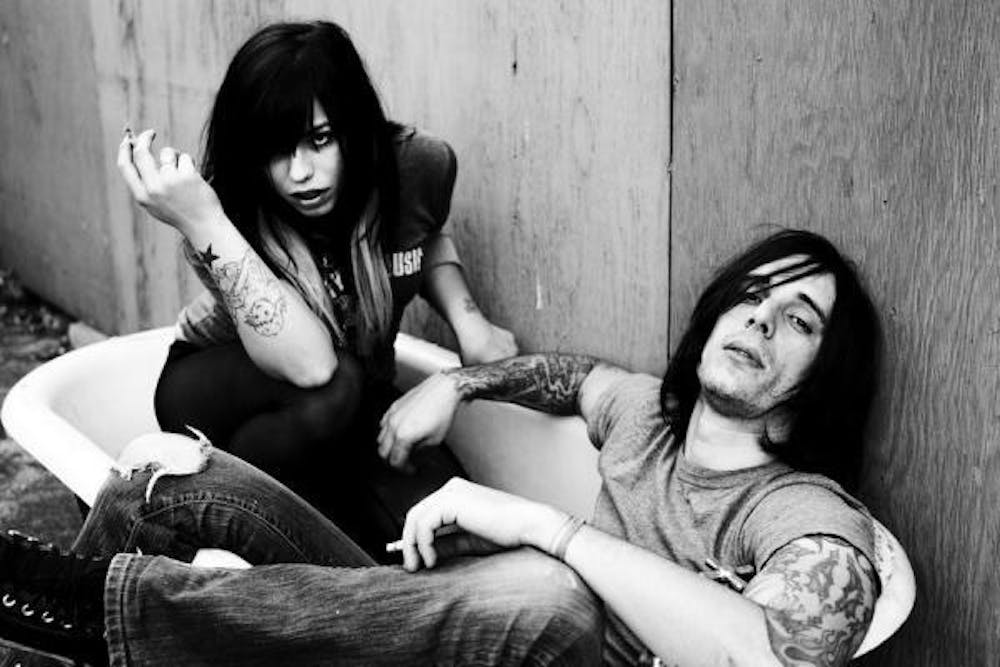 Follow Die Mannequin!
Follow Die Mannequin to get alerts about upcoming events and special deals!
Yeah, we love 'em, too.
Without further ado, here are Die Mannequin top 10 tracks of all time:
1. Sucker Punch
2. Do It or Die
3. Saved by Strangers
4. Dead Honey
5. I'm Just A Girl
6. Autumn Cannibalist
7. Welcome To The Badlands
8. Murder On The Dancefloor
9. Knock Me Out
10. Orson Welles & 2012
Die Mannequin Details
Pop
Yeah, we love 'em, too. We figured they'd be a household name by now, actually, since roundabout the release of the Toronto quartet's scorching 2009 debut, Fino + Bleed, it looked like old-beyond-her-years rock-chick wunderkind Care Failure was finally bound for the acclaim and the adulation pretty much everyone who knows what she's about and what she's capable of has long figured would, with the right set of circumstances in place, just kinda fall into her lap.
But, hey, stuff happens. Even with the right set of circumstances in place – a ripping first album released with the full blessing of a major record label, produced by former Porno for Pyros/Monster Magnet/Fu Manchu boardsman Matt Hyde and featuring drums by Jack Irons of Red Hot Chili Peppers/Pearl Jam infamy that was eventually nominated for a pair of Juno Awards for Rock Album of the Year and New Group of the Year in 2011, for instance – the best-laid plans sometimes go awry.
Die Mannequin isn't interested in dwelling on the details anymore, nor in laying blame in any particular direction – hell, Die Mannequin is happy to shoulder any blame it's due, too – but it's no exaggeration to say a whole lotta bad luck got in the way of Fino + Bleed and any steps it might have (and, frankly, should have) afforded the band towards total world domination.
There was the usual weirdness at the label level experienced by any underground band thrust into the big-biz, boardroom-bothered realm of multinational music marketing, true. But then there were irritating hiccups like Care breaking her foot onstage while opening for Marilyn Manson right before the album came out and thus setting touring plans back for weeks. And then there was sooooo much more screwiness on the management front that … well, at the end of it all, Die Mannequin didn't even have a van left to tour in anymore, let alone a major-label record deal.
"We have a dark cloud," says Care. "Anyone that knows us knows about the little cloud that follows us around."
"My story is that we had a flat on the van," laughs bassist Anthony Bleed, the other half of Die Mannequin's stable creative core. "And we couldn't figure out how to fix it for, like, two years."
So, anyway, here's Die Mannequin again, comin' back hard on the edge of what a lot of folks claim is the 2012 apocalypse with a new label, a new lease on life overall and a ferocious new EP entitled Danceland and a new record label in eOne Music Canada.
Danceland is partly born of the band's recent star turn playing itself in Canadian indie-film god Bruce McDonald's 2011 rock 'n' roll meta-sequel Hard Core Logo 2. Fino + Bleed's grunge-tastic "Candide" reappears after being revived as that film's title track, along with eight other tunes. Three of the songs were recorded live off the floor by Peter Moore – the man who brought the Cowboy Junkies' classic The Trinity Session to vivid life with the aid of a single microphone in 1988 – at the actual Danceland, a massive, 80-year-old dancehall on Watrous, Sask.'s Manitou Beach where Elvis Presley and Buddy Holly played back in the day and much of Hard Core Logo 2 was shot.
Apparently, Danceland is known for an uncommonly springy dancefloor padded with a lining of horsehair. In Hard Core Logo 2, however, it's the place where Care Failure is visited by the spirit of the original Hard Core Logo's doomed punk-rock protagonist, Joe Dick, and channels his lingering id and self-immolating energy into new songs of her own. Which is kind of fitting, since McDonald cast her as the lead in the film because the real-life Care Failure reminded him so much of the fictional Joe Dick sourced from Michael Turner's essential 1993 Can-Lit novel and brought to life onscreen by ex-Headstone Hugh Dillon in the first Hard Core Logo.
"It was really cool," says Care. "He could have picked a band with an actual fan base and real followers and shit. And then he took us."
McDonald, of course, has displayed an uncommon grasp on rock 'n' roll realism since Roadkill and Highway 61, so it's not surprising he'd enlist Care Failure and Die Mannequin for his second kick at the Hard Core Logo can. As has often been stated, they don't come much more "real" than Care.
Born Caroline Kawa, the career hellraiser fled a home where she'd been denied rock music and essentially "placed under house arrest" at 16, juggling homelessness, addiction and the occasional stint dealing drugs for a living while she played in "seven bands at once" until a slew of concerned music-industry believers took her under their wings. EMI Publishing Canada literally plucked her off the street to sign her to a development deal. MSTRKRFT's Al-P and Jesse Keeler (of Death from Above 1979) produced Die Mannequin's 2006 debut EP, How to Kill. Billy Talent's Ian D'Sa and A-list producer Junior Sanchez helmed split production duties on a second mini-album, 2007's Slaughter Daughter. After Care was invited to sing on a cover of "I Fought the Law" with Geddy Lee, Geoff Burrows, Ian Thornley and Three Days Grace's Adam Gontier recorded under the moniker the Big Dirty Band for the soundtrack to the Trailer Park Boys Movie, Rush's Alex Lifeson took her under his wing, donating guitars and fatherly advice to an unvarnished talent he recognized as going places.
Then, of course, there's McDonald, who directed a video for the single "Saved By Strangers" and a TV documentary entitled The Rawside of Die Mannequin in 2008 before giving the band a generous cinematic platform last year in Hard Core Logo 2.
"I guess he figured 'I'll do it with a bunch of jerks I'm familiar with,'" jokes Care, but she's downplaying her talents. She's a rogue talent, a punk-metal femme-rocker sans pareil that fellow artists seem pathologically committed to getting behind. They know what's up. So this time, fingers crossed, everything's gonna go as planned.
Die Mannequin is a full-fledged, ass-kickin' band right now, having solidified into an ace four-piece featuring second guitarist Stacy Stray and drummer Dazzer Scott unafraid of hitting the road in earnest until everyone who needs to hear Die Mannequin has had the chance.
"More than anything, those guys are both committed to whatever is needed," says Bleed. "Bands always deal with stuff like 'So-and-so wants to stay with his girlfriend and have a kid.' We don't have those guys."
"We're all lifers and we can see it. Maybe a little too much," says Care. "I don't know what else I'd do. I couldn't do anything else."
Danceland is but the first volley in the rejuvenated Die Mannequin's arsenal. There's a new album in the offing as soon as Care can get the dozens and dozens of songs waiting on her hard drive bashed into finished form with the band and convince her new friends at eOne Music Canada – "people who we trust" – to release them.
"I kinda put my foot down and said 'I want something out,'" she says of the new EP. "It's to whet the appetite. But really, I'm dying to put this record out. I think I'm going to start recording in the next coupla weeks. I'm gonna start with some friends, do it cheap, get out all the stuff that I know is done and then piece together and Frankenstein together all the other songs like I always do.
"I just want to put shit out. I don't really care anymore. We're supposed to be a band so we're supposed to make music, put it out and tour. A lot of those things were taken away from us … I want the next record out, like, now. I want it out yesterday."
It's been nice to discover, too, during the run-up to Danceland, that Die Mannequin's fans haven't forgotten about them during the band's little sojourn in the wilderness. The band just finished a cross-Canada, pre-release tour with their pals Dearly Beloved, before which Care wondered "what our crowd was gonna be, whether it was gonna be the same. And it was a nice surprise that it was.
"The fans, they come out with really sweet things and really high praises," she says.
"There's a lot of 'Your music saved my life,'" nods Bleed. "So it's cool to know that while we were away, while we were dealing with our bullshit, our music was still affecting people, still playing a part in people's lives."
"That's what I want it do," affirms Care. "So that's a good thing."
Maybe those dark clouds are beginning to part.