Best Con Funk Shun Songs of All Time – Top 10 Tracks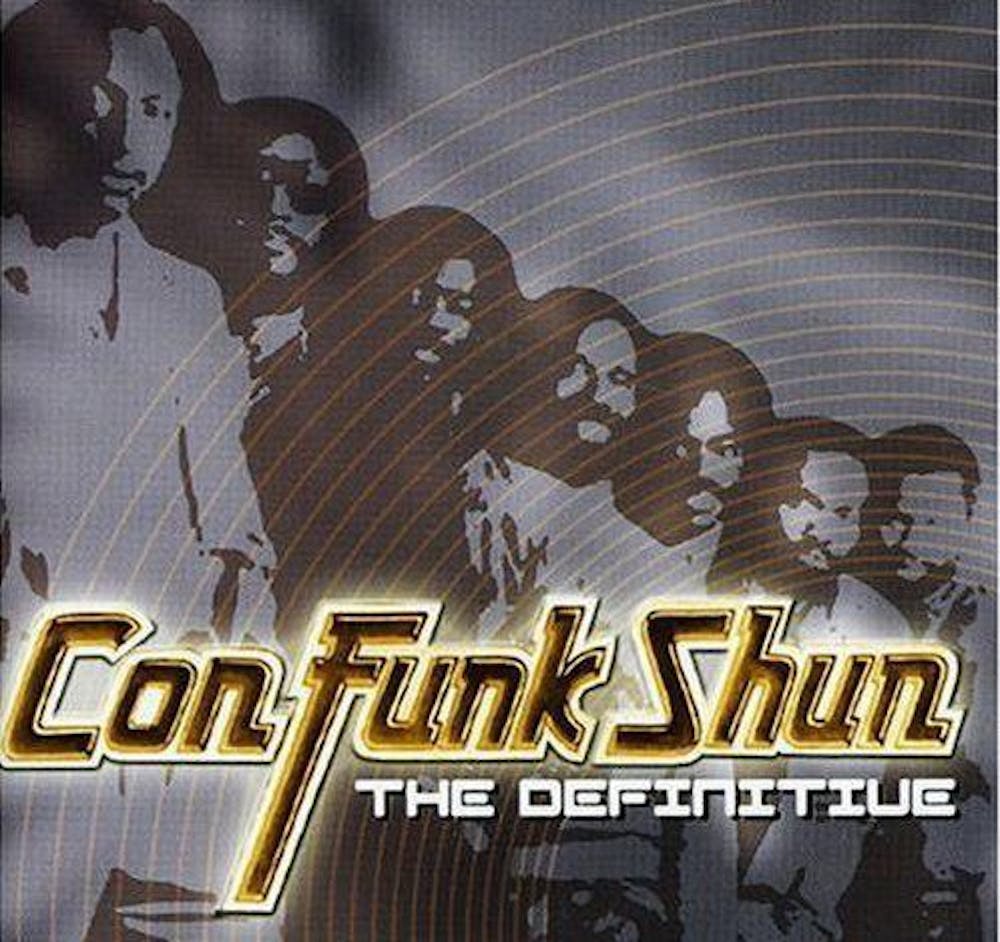 Follow Con Funk Shun!
Follow Con Funk Shun to get alerts about upcoming events and special deals!
CON FUNK SHUN was one of the most popular R&B & funk bands of the 1970s and 1980s, with numerous hit records including "Ffun", a Billboard magazine "1 With A Bullet" Top R&B Single.
Without further ado, here are Con Funk Shun top 10 tracks of all time:
1. Love's Train
2. Ffun
3. Straight From The Heart
4. Got To Be Enough
5. Too Tight
6. I'm Leaving Baby
7. By Your Side
8. All Up To You
9. Chase Me
10. Baby I'm Hooked (Right Into Your Love)
Con Funk Shun Details
R&B, Funk / Disco
CON FUNK SHUN was one of the most popular R&B & funk bands of the 1970s and 1980s, with numerous hit records including "Ffun", a Billboard magazine "1 With A Bullet" Top R&B Single. Other hits singles included "Sure Feels Good To Me", "Let Me Put Love On Your Mind", "Baby, I'm Hooked", "Shake and Dance With Me", "Love's Train", "California 1", "Straight From The Heart", and "I'm Leaving, Baby". The act recorded a total of 11 albums with Mercury Records and still enjoys success with the release of numerous compilations and original albums being released as compact discs.
The band was formed in Vallejo, California in 1969 by high-school classmates Louis A. McCall and Michael V. Cooper. With Louis on drums and percussion and Michael providing lead vocals and lead guitar, the group soon included Karl "Deacon" Fuller (trumpet/vocals), Paul "Maceo" Harrell (saxophone/flute/vocals) Cedric Martin (bass guitar/vocals), Danny "Sweet Man" Thomas (keyboards/vocals), and Felton "Slyde Clyde" Pilate (trombone/lead vocals).
Originally named Project Soul, the group became a backup band for the Stax Records artists The Soul Children in the early 1970s Renaming themselves Confunkshun, the group moved to Memphis, Tennessee and became one of the label's most sought-after studio bands. They supported themselves by performing throughout the mid-South and Japan at clubs and colleges. They came to the attention of Estelle Axton and recorded an album and several singles on her Fretone Records label.
By 1976, Con Funk Shun, was one of the most sought-after groups in the South, performing at several clubs, festivals, and college functions at least fours nights of every week. Yet, for a while, it still had not secured a major recording deal. That all changed in July 1976 when Mercury Records A&R man Jud Phillips finally signed the group to a major recording contract. By that time, drummer Louis McCall's wife, publicist/songwriter Linda Lou McCall, had "tweaked" the spelling of the band's name (originally "Confunkshun"), and their first album, "Con Funk Shun", was released later that year.
The band's second album ''Secrets'' was released in 1977 to critical and commercial success. Their first hit single was "Ffun", written by Michael Cooper rose swiftly up the charts and landed at "1 With A Bullet" on Billboard magazine's Top Soul Singles chart in July 1977. Over the course of 10 years, Con Funk Shun recorded 11 albums with Mercury, with five of them achieving "gold album" status (selling in excess of 500,000 units). The band performed to sold-out coliseums all over the country and Japan. They had numerous Top 40 hits including "Chase Me", "Love's Train", "Straight From The Heart", "Bad Lady", "Shake & Dance With Me", and "I'm Leaving, Baby". The band was equally adept at writing, producing and arranging both uptempo funky dance songs and smooth, jazz-influenced ballads, with Cooper and Pilate alternating on lead vocals. Their milestone album, " 7", released in 1981, was the seventh album for the seven band members. Showcasing the band's growth as musicians and producers, the album includes ballads "Straight From The Heart" and "Promise You Love", along with their signature dance sound on "Body Lovers" and the ''Billboard'' Top 20 R&B Single, "Bad Lady". Michael delivers a memorable rock guitar solo on Felton's masterfully arranged "California 1", with words and music by Louis and his wife who were influenced by Christopher Cross' Grammy award-winning hit song, "Sailing".
''Burning Love", released in 1986, was Con Funk Shun's last album with Mercury Records. It was recorded without lead singer/songwriter, Felton Pilate, who left the group in 1985. With the group"s 10 year relationship with Mercury ending, other labels expressed interest in signing the band. In spite of declining records sales at the time, Con Funk Shun remained in high demand for live performances around the world. But the 7 young men who had idealistically thrown their hats into the ring together almost two decades prior were now 7 grown men with different visions. In spite of offers from several record labels, Michael Cooper, the band's lead singer and songwriter, wanted to try a solo career. Drummer Louis McCall suddenly began to suffer from major cognitive issues, the resulting of an prior serious auto accident at age 16, which almost took the lives of him and keyboardist Danny Thomas. For over a decade he'd performed in front of eardrum splitting sound monitors with blinding, migraine-type headaches. By the mid-80s, the lack of proper medical intervention and rest due to non-stop touring and recording was causing cognitive functioning problems, a fact that he refused to reveal to anyone, including his band mates. However, his disability had become evident by 1985 when his performing skills started to be severely impacted. Cooper, who had been jealous of Louis' business and negotiation skills - the one thing that kept food on their families tables long after the record sales stopped - decided to use this opportunity to "throw" Louis out of the band, later claiming that Louis "had lost his chops". He had absolutely no sympathy for the medical issues Louis was suffering from. A year later, the group disbanded.
Cooper then signed with Warner Bros. Records. His smooth vocal style produced several moderate hit songs like "Shoop Shoop" and "Dinner For Two", both copying the trademark Con Funk Shun sound. After Warner Bros. dropped him in 1993, he released a few more albums on smaller imprints. However, he never came close to his former glory days with Con Funk Shun.
One of the first musicians ever to have a home studio, Felton Pilate became a successful producer and musical director for rap phenom, M.C. Hammer. He was later nominated in 1991 for a Grammy for co-producing Hammer's hit record "U Can't Touch This" and an Oscar in 1992 for "Addams Groove" on the "Addams Family" soundtrack.
McCall got proper medical intervention, getting his debilitating headaches under control and went on to become a successful artist manager, consultant and event producer with clients such as M.C. Hammer, Danny Glover and Harry Belafonte. He also managed to acclimate into the hip-hop genre, marketing contemporary artists like Eminem, Puff Diddy, Mya, Three-6 Mafia, Tupac, T.L.C., Notorious B.I.G., and the Black-Eyed Peas.
In the 1990s, Michael Cooper attempted to kick-start his solo career but found that the audience were more interested in hearing the hits of the original band. Shortly thereafter, he included Felton Pilate, whose distinctive falsetto is the trademark on the band's ballads, Accordingly, without consulting original band members McCall, Martin, Harrell, Fuller, or Thomas, he began performing as the "Confunkshun Revue" in 1994, with unknown sidemen in place of their former band mates (and the band's name continuously misspelled!). Fuller and Harrell were eventually tapped to join but Harrell left after several years of being treated (and paid) like one of the sidemen, with Cooper totally in control. Sadly he has chosen to forget the contribution of the seven original members in his marketing material. His website makes no mention of the other guy's names or their hit records. In 2007, Louis' wife Linda Lou McCall, suggested that the surviving band members get together for a "Con Funk Shun 40th Anniversary Reunion Tour", which would consist of 5 shows in major markets throughout the country and one in Japan. Instead Michael unilaterally put on a "Boat Ride" in May 2008, which lacked luster, sophistication, and attendance. Original members Cedric Martin, Paul Harrell, Danny Thomas were not invited nor was Louis' widow and family. Yet Cooper thought he had the right to literally steal copyrighted photographs of the band from Linda Lou's personal website to be used in the "brochure" passed out on the failed boat ride.
Although very talented, the reconstituted band lacks the legendary tightness of the original rhythm section, the "hot brass" sound of their horns and the amazing personal charisma of seven good-looking young men who developed a unique and iconic sound. The new band performs at "old school" concerts and small clubs around the country. Many a ticket buyer has been disappointed thinking that they were going to see the original band, only to discover a set of virtually unknowns. However, the revue continues to perform throughout the world several times a year, keeping Con Funk Shun's legendary sound alive.
Founder and drummer, Louis A. McCall, moved his family from Los Angeles to metro Atlanta in 1995, in search of a safer place to raise his children. Tragically, he was murdered on June 25, 1997 in Stone Mountain, Georgia in a home invasion robbery. The case was closed three times without an arrest. His wife, Linda Lou, fought for almost a decade to bring the case to trial. The trial began on July 21, 2008 and went to the jury on the 23rd. However, after only a few hours of deliberation, the judge declared a mistrial due to an issue with the prosecution's case. On August 5, 2008, the case was dismissed without prejudice, meaning that the state can bring charges again should more solid evidence surface in the future.
Con Funk Shun's original music continues to garner radio play, especially the sultry ballads "Love's Train" and "I'm Leaving, Baby". "Chase Me" and "Ffun" were featured in ''Gone In 60 Seconds'', and ''Next Friday'' and ''American Pimp", respectively. Most recently, "Honey Wild", (written by Louis McCall, Linda Lou McCall, and Danny Thomas), from their 1980 "Spirit of Love" album was sampled by rapper Lil Wayne for "Kush", one of the tunes on his best-selling CD "Tha Carter III - Deluxe Edition". This 2-CD set includes the 5 tracks leaked to the public in June 2007 and later released as "The Leak", originally a digital download-only EP.