Best Bubba Sparxxx Songs of All Time – Top 10 Tracks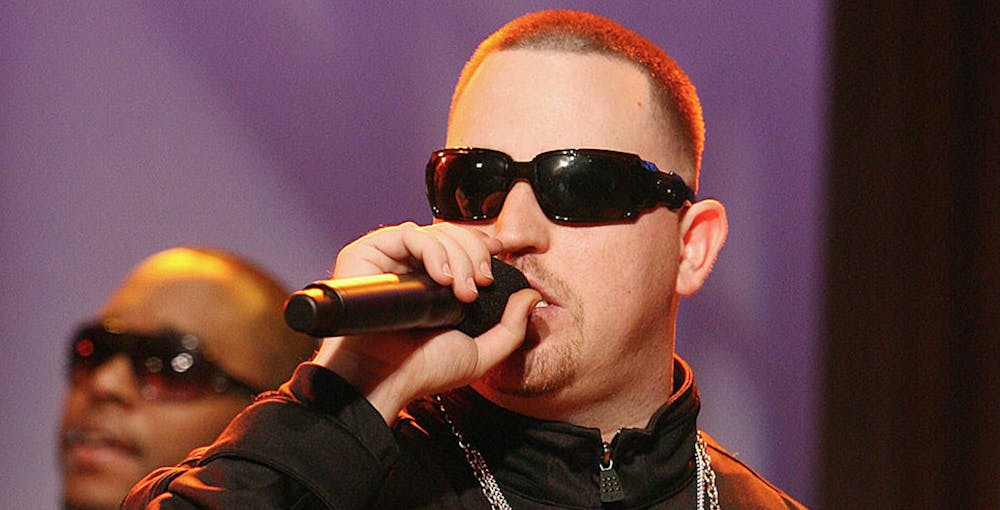 Follow Bubba Sparxxx!
Follow Bubba Sparxxx to get alerts about upcoming events and special deals!
It seems like Country Rap is starting to take over mainstream.
Without further ado, here are Bubba Sparxxx top 10 tracks of all time:
1. Ms. New Booty
Bubba Sparxxx, Ying Yang Twins, Mr. Collipark
2. Deliverance
3. Outback (Extended Remix)
Moonshine Bandits, Durwood Black, Redneck Souljers, Bubba Sparxxx, Demun Jones, The Lacs, D. Thrash, Moccasin Creek, Lenny Cooper
4. Country Folks (feat. Colt Ford & Danny Boone)
Bubba Sparxxx, Colt Ford, Danny Boone
5. Put in Work
6. Country to the City (feat. Jg Made Um Look)
Bubba Sparxxx, Good Ol' Boyz, JG MadeUmLook
7. Heat It Up
8. Ugly
9. Ms. New Booty
Bubba Sparxxx, Ying Yang Twins, Mr. Collipark
10. Way Down South (feat. Kyle Cook, Danny Boone, and Demun Jones)
Bubba Sparxxx, Kyle Cook, Danny Boone, Demun Jones
Bubba Sparxxx Details
R&B, Rap / Hip-Hop
It seems like Country Rap is starting to take over mainstream. With the recent success of Colt Ford and The Lacs along with current "rap style" hits by country mega stars Jason Aldean (Dirt Road Anthem), Toby Keith (Red Solo Cup) and Tim McGraw (Truck Yeah), one would think that this is a new concept. But if you are a true hip-hop historian you would recall that this movement actual began in 2001 with the release of Bubba Sparxxx's debut album "Dark Days, Bright Nights". The
video for the first single "Ugly" featured Bubba and pals in the mud with pigs, on
tractors and performing in front of a house covered with bug lights. If that's not the epitome of Country, then nothing is.
Fast forward 11 years and you find Bubba re-uniting with his original collaborator Shannon "Fat Shan" Houchins who has built the successful record label Average Joe's Entertainment on the foundation of blending musical genres. "Bubba and
I grew up listening to hip-hop and riding in jacked up trucks." Houchins says, "I was producing mainstream rap and R&B records when Bubs first came to me and
said 'why don't we combine the music we like with lyrics about the lifestyle we live'." This wake up call led to the creation of the movement.
The platinum certified "Dark Days, Bright Nights" debuted on Interscope Records in October 2001 and was produced by Houchins and superstar producers
Timbaland and Organized Noize. It was follow-up by the critically acclaimed 2003 release "Deliverance".
"I remember thinking, as a 12 or 13 year old kid, that the spirit of hip-music wasn't a whole lot different than the spirit of "outlaw" country music I had grown up hearing around my pops and uncles." Bubba recalls. "The rebellious nature of say NWA, or 2 Live Crew, or The Geto Boys, in the late 80s, early 90s just wasn't that different from the movement that guys like Waylon Jennings, Willie Nelson, Billy Joe Shaver
and others created by simply being themselves and saying what they wanted. Not to mention things were changing in rural areas, during my teenage years. The various drug epidemics had penetrated my neck of the woods, and the "reality" of life in the country had begun to shift. Folks were still hard working, and had traditional values, but drugs, and violence had become more prevalent, as a new generation of boys and girls, became man and women, in this environment. In some ways, the lower class, even out there where we were, started to identify as much with rap music, as country. This coincided with hip-hop, and rap exploding on popular culture, so
the merging of the two genres, in terms of people riding around listening to both, happened long before a "country rap" song was ever recorded."
"This is what we knew, and what me, and Colt, started trying to sell Fat Shan on in the late 90s. Now, Shannon was a country guy, but had been living in Atlanta for a few years, producing traditional hip-hop, and R&B, so he wasn't necessarily seeing firsthand, what we were witnessing in outer provinces of the state. Then one day Shannon, and I took a trip back to Valdosta, and went to a "honky tonk" to drink a beer, and hang. He was blown away when around midnight, the line dancing came
to a halt, and the DJ started playing Kilo, 69 Boyz, and a lot of other "booty-shake"
music. And, these "rednecks" we're going crazy, lovin every minute of it! That's when I knew I had him."
"With the first album "Dark Days Bright Nights" we knew the people we wanted to reach, but didn't necessarily know how to reach them. This would really be the case with "Deliverance", a couple years later. We had hooked up with Organized
Noize, and Timbaland, two of the most accomplished, and respected names in urban music, and they had really bought in to what we were trying to do. This was
an exciting time! We were very successful with the first album, taking baby steps toward bringing the two worlds together. The lyrics, and imagery were definitely
country but the music was still pretty urban leaning. In retrospect, that's probably right where we needed to be at that time. As we prepared to record the 2nd album, "Deliverance", it was actually Timbaland, who decided the music needed to match the lyrics and imagery. "
"As bold as "Deliverance" was, it was probably too big of a leap forward to win commercially when it was released in 2003. We were still marketing, and promoting the "old way" and spending tons of money at radio and trying to get MTV and BET to play the video. It was also at a time when Lil John had the whole world "crunk."
Looking back, it's actually pretty remarkable that the song and album "Deliverance"did as well as they did. We just didn't know how to reach the people we wererepresenting. Keep in mind there was no YouTube, and the Internet was still an infant in terms of the impact it would soon have on music. Interscope Records did the best they could, based on the way they did things at the time, but in the end we all failed miserably in thinking of ways to market an album so outside of the box.
So "Deliverance" had failed by Interscope standards and my family couldn't eatcritical acclaim, so on the next album we definitely made a conscious effort to play it a little safer, and head back towards the "middle."
"It took time, but Shannon and Colt eventually ironed out the kinks, and really spearheaded the post-Deliverance "country-rap" movement. I salute everybody doing their thing in this lane. I would just encourage everybody to remember that what's going on here isn't country music, and it isn't rap music; it's some new shit that traditionalists on both sides may never accept, but that's "ok". Who cares? THE< PEOPLE WILL, and that's the point. And, I will slap anybody who questions my right to sit at this table, and eat. We fought wars for this, and it wasn't always this easy.
New South."